Going for gold: Sports and sponsorship changing lives in Bangladesh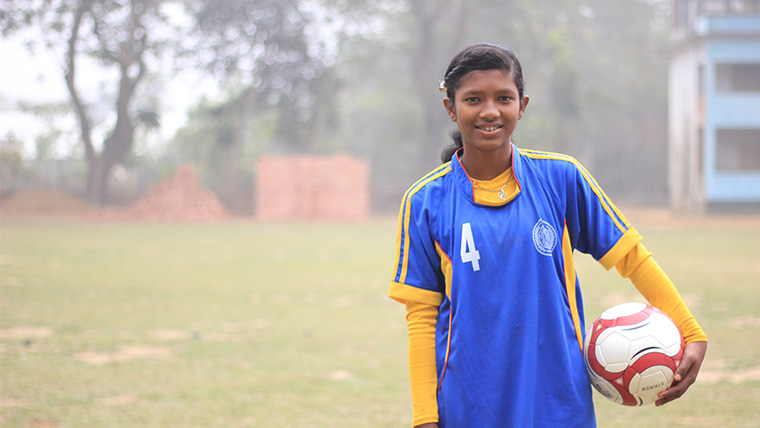 Giving girls access to sport is a great way of building confidence and a sense of empowerment. With the help of a World Vision football project, 14-year-old sponsored child Kolpona has hit the ground running, winning trophies and medals and dreaming of becoming a world-class footballer. Despite living in a poor community in central Bangladesh, Kolpona is optimistic about her future and sees new opportunities emerging…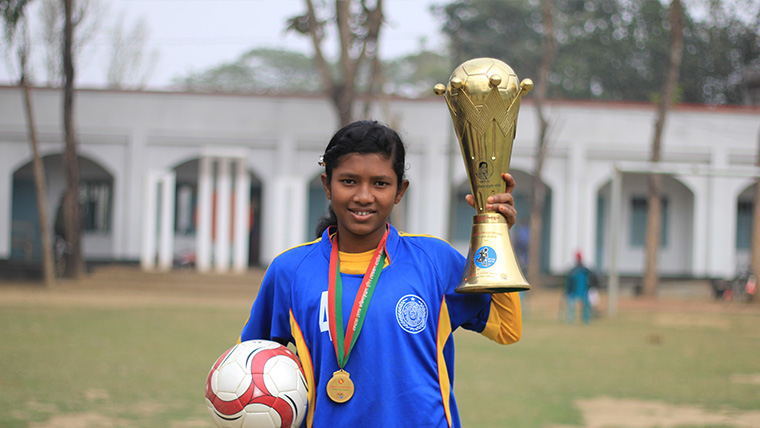 "We recently beat a team in the final of the Gold Cup tournament 4-1," says Kolpona, cheerfully holding their trophy aloft. She and her team now play nationally at district level, hoping to one day be good enough to represent the national side. Recently Kolpona and some of her team mates were given the opportunity to go to Nepal to play in the Under-16 Asia Cup, and she hopes that if she can overcome a niggling ankle injury she'll be able to go.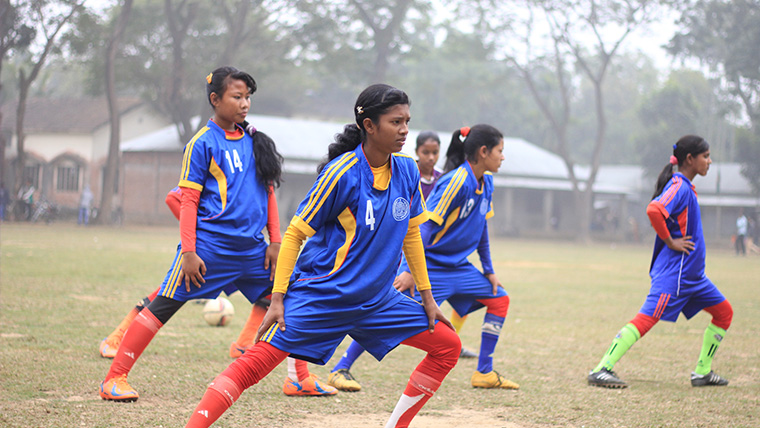 An aspect of playing for the football team that Kolpona really appreciates, is that she and her teammates get all the equipment they need provided for them - her boots, kit and the use of the training pitch, making the sport accessible. Coming from an impoverished background, Kolpona relishes the opportunity to compete. "I am grateful to those who supported me in becoming a football player and achieving my goal," she says.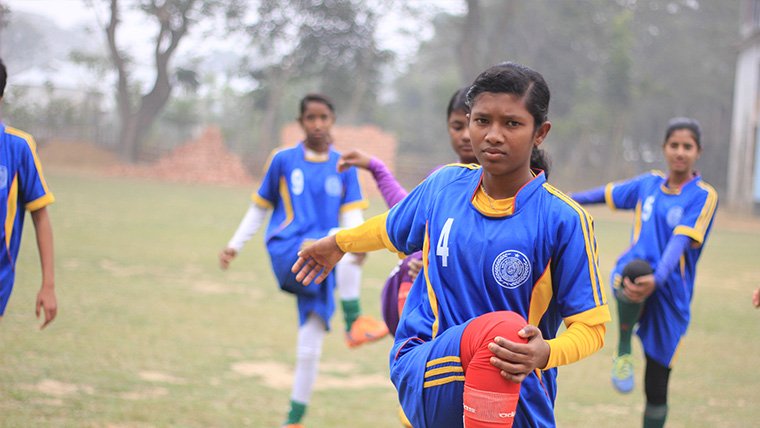 Like many of her teammates, Kolpona has an egg for breakfast and a glass of milk at night after dinner, as a way of keeping her body and mind in good shape. In addition to learning about good nutrition, World Vision has helped to provide a new hygienic toilet for Kolpona and her family to use.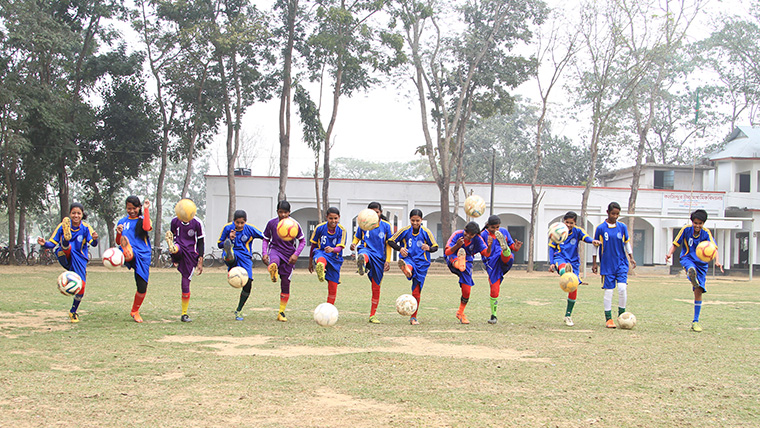 "The joy and excitement when we score a goal, knows no bounds!" Playing in defence, Kolpona loves nothing more than when her team scores and she can prevent the opposition from scoring. She still remembers when she first became interested in the sport. "When I saw girls were suddenly playing and scoring goals I became so fascinated and wished to play football. Our teachers were also highly encouraging of us getting involved and that inspired me a lot," she says.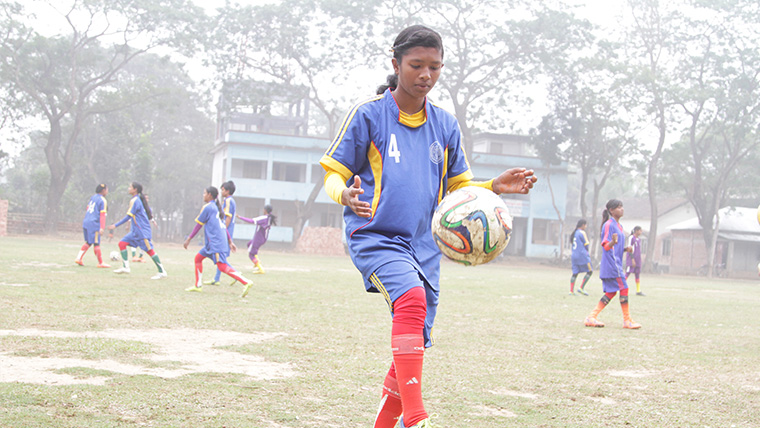 As well as supporting Kolpona through the football project, World Vision's sponsorship has helped support her education and provide essential materials like mosquito nets, bed sheets and soap to her family. "I would like to express my thankfulness to World Vision Bangladesh because without the support of this organization, I would not be able to come here. World Vision Bangladesh provide me with so many essential materials for my sport and daily life," she says.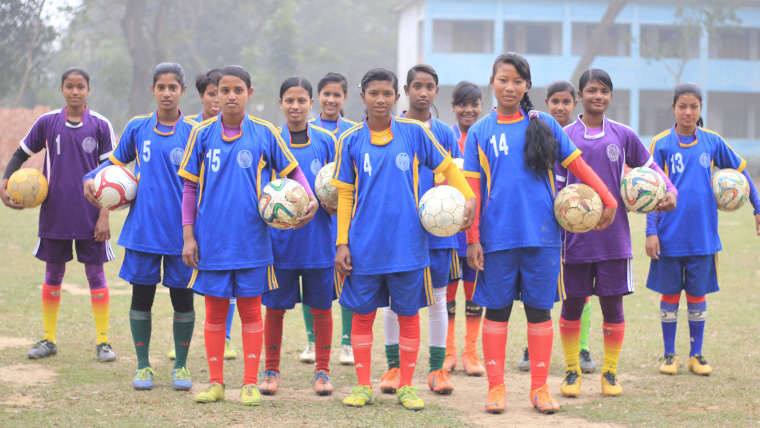 In Bangladesh, about 43% of the population live below the poverty line (UNICEF, 2012) meaning children like Kolpona don't always get the best start in life. World Vision has worked with some of the poorest communities Bangladesh and our child sponsorship programme plays a vital role in this partnership, with donors from the United Kingdom sponsoring over 6,375 girls and boys (as of April 2014). To find out how you can help support a child like Kolpona, click here»
More children than ever are out of school right now. Too many of them will become vulnerable to exploitation and abuse. Find out what can you do about it.
Mark and Christine from Newcastle, met their sponsored child in India during lockdown. The virtual visit is a new way to meet your sponsored child. See how it went.
Renee became a child sponsor hoping to make a difference to a child in poverty. Read her story of how Child Sponsorship brings change and joy to her life too.
One way or another, children around the world are getting back into education. Find the top 5 reasons why it matters.