5 recipes from around the world
Child sponsor Rhiannon shares some globally-inspired recipes
If you need some foodie inspiration you're not alone. Inspired by her sponsored children, World Vision sponsor Rhiannon Tuntevski set herself a culinary challenge.
Love free recipes?
Sign-up to receive recipes from around the world straight to your inbox
Sign up
In Spring 2020, my home suddenly became my office, my gym, the place I eat, the place I sleep and the place I relax. If someone put a GPS tracker on my ankle during the time since then, it would show, rather embarrassingly, that I've spent equal time at my work desk as in the kitchen.
I have become the person who has baked sourdough, perfected hot cross buns, made my own tortillas and rolled my own lasagne sheets (needless to say, I probably need to also increase the time spent in the "gym").
Don't get me wrong… I'm no Gordon Ramsey or Heston Blumenthal. My weeknight dinners are not usually fancy. But like many people, I've had some extra time over the last year and found myself looking for ways to spice up Isolation Life.
Then one day, spotting my sponsored child's picture looking back at me, (from yet another foray to the fridge) gave me a burst of inspiration for my next kitchen adventure.
Over the time I've been a sponsor, I've received local recipes from my sponsored children's countries. I decided to go back through recent cards and reports to see if I could find some that looked a) easy, b) possible with what was in the pantry and c) appetising (this is a safe sharing space).
You can receive some of these - and more - straight to your inbox. Just sign up for free recipes here.
In the meantime, here's a guide to my culinary adventure thanks to my sponsored children…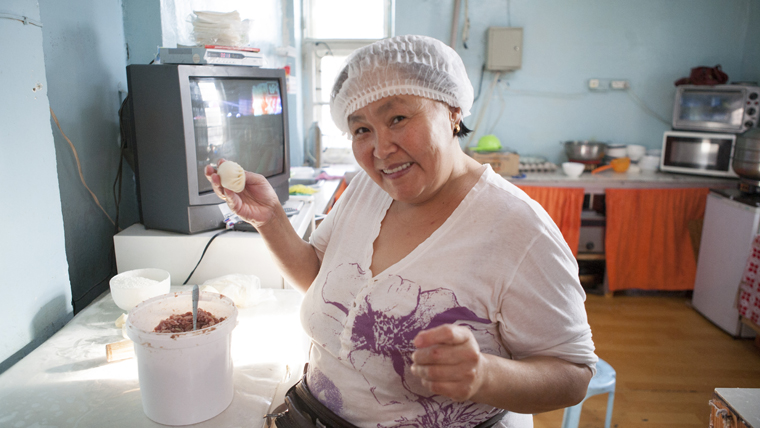 1. "Buzz" – Mongolian traditional steamed dumplings
Chef's note: 5 stars. Surprisingly relaxing to make.
Ingredients:
For the dough:
250g flour
150ml lukewarm water
A pinch of salt
For the filling:
300g minced beef or mutton (beef is more common)
½ an onion, chopped
1 clove garlic
Salt and pepper to taste
Method:
Prepare the filling: Mix ingredients together and add a small amount of water until it's smooth. Season with salt and pepper (some families add caraway).
Prepare the dough and dumplings: Mix ingredients together into a pliable dough and rest for 15 minutes. Roll dough into a tube shape, then tear off pieces and roll into circular shapes with the centre thicker than the edge. Add a ball of filling to the centre, covering it with the dough. Pinch the edges together at the top, leaving a small gap as a vent. Dip bottom of dumplings in vegetable oil to prevent sticking.
Cook: Steam dumplings for 20 mins. Serve with soy sauce.
2. "Halawet el-Jibn" – Lebanese sweet cheese rolls
Chef's note: I didn't have akawi cheese in the fridge, but I did have mozzarella. Worked fine.
Ingredients:
For the dough:
1kg thinly sliced akawi cheese
1½ cups fine semolina
3 cups sugar syrup
For the filling:
3 cups water
1 tin (397g) sweetened condensed milk
¾ cup cornflour
2 tablespoons blossom water
Method:
Soak cheese in water for 4 hours, changing water every hour. Drain. Mix milk, water and cornflour in large pan, bring to boil while stirring until sauce thickens. Add blossom water, stir, then cool to room temperature.
Put cheese in bowl over boiling water and stir until melted. Add semolina and stir for 5 to 6 minutes.
Sprinkle 4 tablespoons of hot sugar syrup over a work surface and lay hot dough on top. Add another 4 tablespoons of syrup. Roll dough into a thin layer. Cut into 7cm squares.
Stir cooled cream mixture until smooth, spoon 1 tablespoon on each dough piece and roll. Serve with the remaining syrup.
3. Brazilian "Salpicao" Salad
Chef's note: A salad with fries? Yes, thanks.
Ingredients:
2.2 lbs shredded skinless chicken breasts, poached and cooled
1 cup cooked peas
1 cup cooked corn kernels
1 cup cooked, diced carrot
1 small apple, peeled and diced
1 cup mayonnaise
½ cup seedless raisins
½ cup sliced, stuffed green olives
2 cups cooked shoestring potatoes (very thin-cut fries)
Salt and pepper
Method:
Toss chicken, vegetables, apple, raisins and olives in serving bowl.
Combine mayonnaise, then gently add salt and pepper to taste, remembering that your next step is to fold in the shoestring potatoes; and you don't want it to be too salty.
Add potatoes, right before you serve.
Garnish with olives, and a few shoestring potatoes scattered on top.
4. Armenian honey cake
Chef's note: This is wholesome. A must for the bakers.
Ingredients:
1 cup milk
1 cup honey
2 eggs
1/2 teaspoon baking soda
2 cups flour
2 teaspoons baking powder
3/4 cup butter
1 1/4 cups walnuts
1 to 1 1/2 teaspoons fresh ground nutmeg
Method:
Preheat oven to 180°C.
Place 1 1/4 cup walnut pieces on a baking sheet and toast for 5 to 7 minutes. Cool.
In a medium bowl, mix the honey and eggs into the milk.
Add baking soda and mix. Set it aside.
Sift together the flour and the baking powder into a large bowl.
Toss cubed butter into the dry ingredients.
Mash the butter into the dry ingredients with your hands until it's a more-or-less uniform, tan-coloured crumbly mixture.
Add nutmeg to the crumbly mixture.
Pour 1/3 to 1/2 of this crumbly mixture into a 9" spring-form pan. Press a crust out of it using your fingers and knuckles.
Set aside 1/2 cup of toasted walnut pieces. Once fairly cool, pulse the remaining walnuts in a food processor until uniformly fine.
Fold ground walnuts into your remaining crumbly mix.
Mix and stir the milk and honey in a separate bowl.
Pour into the dry mix and mix well. Pour the batter over the base in the spring-form pan. The batter will be very thin.
Gently sprinkle the remaining walnut pieces over the batter.
Bake in a preheated oven for about 40 to 50 minutes. You'll know it's done when the top is a deep golden brown and an inserted skewer comes out clean.
Allow to cool in the pan, and then release and serve.
5. Armenian "Ghapama" (stuffed pumpkin/pumpkin rice)
Chef's note: I'm adding this to my dining party repertoire. Low effort for max flavour.
Ingredients:
1.5kg pumpkin
1 cup par-boiled rice
1 cup golden raisins, washed
1 cup dried plums, apricots and/or peaches, sliced
¾ cup honey
1 cup sliced walnuts (and almonds if you'd prefer)
100g unsalted butter
Salt to taste
Method:
Wash pumpkin, cut off top, remove seeds and wash again.
In a bowl, mix par-cooked rice, raisins and dried plums, apricots and/or peaches. Stuff pumpkin with mixture and pour on honey.
Put top of pumpkin back on and bake at 150˚C until soft. (Poke with a toothpick to check if soft and ready).
Bring pumpkin to table whole and cut it up there to serve.
I hope you enjoy these as much as I did. Stay safe and cook much.