Current emergency responses
Wars and natural disasters are terrifying and traumatic experiences for children.
We're always one of the first organisations to respond to humanitarian emergencies bringing essential life-saving support but also, and just as importantly, ensuring children feel safe and protected.
A tropical depression that had caused serious flooding in Malawi and Zimbabwe progressed into Cyclone Idai that made landfall in Mozambique on March 14, before sweeping back through Malawi and Zimbabwe, killing more than 900 people and leaving 3 million in need of humanitarian assistance.
The conflict in Syria is now in its eigth year. With no end in sight, it has become one of the worst humanitarian crises of the 21st Century. The situation in Syria is heart-breaking and it is deteriorating.

Save
Save
Save
Save
Save
Save
Save
Save
Save
Save
Save
An earthquake with magnitude of 7.4 struck Central Sulawesi Province, Indonesia on 28 September 2018. The quake triggered a tsunami with waves up to six metres high in Dongala, Palu and Mamuju.
Devastatingly, over 2,000 people lost their lives, more than 1,300 are still missing and thousands more were seriously injured.
Typhoon Mangkhut (known locally as Ompong), one of the strongest storms of 2018, made landfall in the Philippines early on Saturday 15 September devastating Northern Luzon.
The typhoon claimed dozens of lives and destroyed farmlands, seriously affecting people's livelihoods.
KEEPING CHILDREN SAFE
Every year, millions of children are hit by emergencies. Conflicts, war and natural disasters leave countless children, their families and communities facing hunger, insecurity and violence.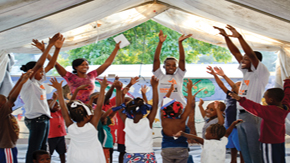 Without the necessary life skills and access to resources, children are particularly vulnerable in emergencies, especially when they are separated from their parents and other family members who have been injured, imprisoned or killed.
Without anyone to care for and protect them, children can fall prey to disease, malnutrition, trafficking and other threats to their survival and wellbeing. Their lives can be full of fear.
Please read the latest briefing: State of the world's emergencies produced by Bond's Humanitarian and Conflict Policy groups, World Vision is member of both groups, which gives an overview of the the current state of the world's emergencies.
Last year, we helped over 1.16 million children affected by disasters. With your help we can do even more in the year ahead:
Read about our impact on children's lives in our 2017 Impact Report ›
Save
Save
HOW WE HELP
Whether an emergency is caused by natural or man-made disasters, climate change, drought, famine or war, our dedicated on-the-ground teams work to prevent loss of life and reduce suffering as much as possible for affected children, as well as their families and communities.
Our life- saving humanitarian action revolves around three Rs: response, recovery and resilience. In emergency situations, we help meet the following needs:
Physical needs by providing food, water and healthcare
Psychosocial needs with child-focused programming and creating child-friendly spaces
Economic needs by rebuilding street markets or offering training in new livelihood skills and supporting/strengthening current livelihoods
Protection of human rights for children and other vulnerable groups
Spiritual needs, especially if children are used to belonging to a religious community.
In all of our emergency responses, we collaborate with the United Nations and other international and local aid agencies as well as with national and local government. This helps to avoid duplication, maximise efficiencies and ensure that all areas of need are properly met and there are no gaps in the overall humanitarian response – every child matters.
World Vision is committed to strengthening the local community's ability to prepare for, respond to and recover from disasters. We seek to transform suffering into wellbeing while protecting rights, dignity and livelihoods – with a focus on children.
STORIES AND BLOGS
Thursday 28, Mar, 2019
Paulito and his family survived Cyclone Idai. Now they face major concerns for their future.
Wednesday 27, Mar, 2019
Adelino has a beautiful smile, but when he speaks of Cyclone Idai which ripped apart his community - his world - his eyes betray…
Sunday 24, Mar, 2019
The full scale of the damage in Mozambique is unknown, but thousands of children are alone and vulnerable.
ACCOUNTABILITY
World Vision is committed to being fully accountable to the children and communities we serve, as well as to our donors, supporters and peers in the aid work sector. Find out more ›