Making it across the border is just the beginning
In an instant they became 'refugees' - they just didn't know what it meant
Hear the stories of four courageous Rohingya children
Four resilient Rohingya children – Mobarak (16), Achiya (15), Jonayed (12) and Sukutara (12) – tell their story of danger and courage. Speaking powerfully in their own words they share their hardships, which include fleeing war, making it across the border, becoming refugees and now living in the world's largest refugee camp , Cox's Bazar, Bangladesh.
This is their story ...
While we were in Myanmar we had no idea about what a refugee is! We never heard this word.
Achiya, 15
Rohingya refugee in a Bangladesh refugee camp
"We were oppressed there (Myanmar). Our home was burnt up, women were raped and many children died. We suffered a lot for food and other things." - Mobarak (16)
"Our neighbours and many of my friends were shot and burnt to death in Myanmar." - Joyaned (12)
"I came alone and met my parents 10 to 12 days later. I miss my home, belongings, mosque and my school back in Myanmar." - Sukutara (12)
"We already walked a long way but were chased back to our home. Again we started the journey, but there was a helicopter riding in the sky and chased us back. Somehow I managed to cross the border finally." - Sukutara
"We stayed in a village at the border for two months." - Mobarak
"We had to cross the river on the way to Bangladesh. We didn't have food to eat, nor a drop of water to drink. We starved all the way long." - Jonayed
"We couldn't bring anything with us while fleeing Myanmar. We just tried to save our lives, and we did it." – Achiya
"Living in the camp we suffer for food, shelter, bathroom, and toilet - everything." - Mobarak
"We receive less amount of rations. So food ration is not enough for us. That's also a big challenge. We receive 13kg of rice per person for a month, it's not enough to run the month." - Achiya
"Most difficult things in the camps are that every year landslide happens, our shelter gets damaged and tarpaulin gets tore off." - Sukutara
"It stinks while walking through the path in the camp. The camp is always dirty." - Joyaned
"We have gone through many difficulties since we travelled from Myanmar. Here in Bangladesh we've also been facing many challenges." – Achiya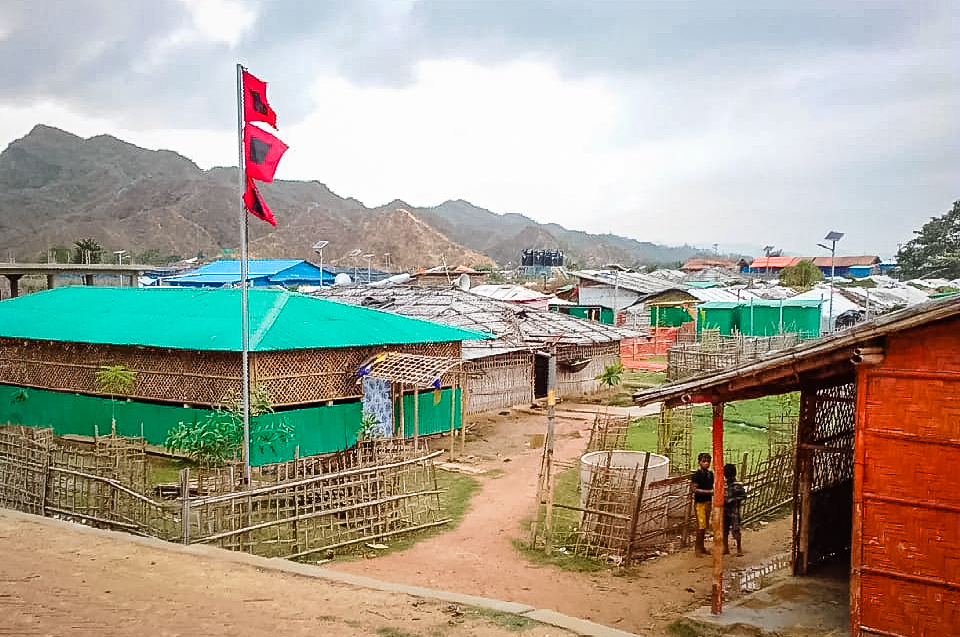 "We suffered a lot during lockdown. Our shelter is small and many people live in. The camp is densely populated. So it was difficult for us." - Sukutara
"We can't study and do nothing. Just passing our time meaningless. Our school is closed more than one year. I love most studying English in the school." - Joyaned
"Due to lockdown our school is closed for one year. Now we can't go to school. I love the subjects most in the school, one is English and another is Burmese." - Mobarak
"There is World Vision centre near us. I attended sessions there. I have learned skills like printing and embroidery on clothes. They also planned to teach us other skills. But because of lockdown the centre is closed now." – Achiya
On March 22, a massive fire raged through sections of the camp, causing destruction and loss of life.
"People started running as it was massive. I got separated from my parents and brothers. I became alone. I (got) lost in the crowd and scared to death. I thought I was going to die and no one could find me if I died there." - Sukutara
"Many shelters were burnt down. We were scared of dying. When we came back home there wasn't even a grain of rice to eat. Everything was looted from our home." - Achiya
"We were frightened because that was a really massive break down. All of our assets including money and other things all had been burnt up. We couldn't save anything. We cleaned the place and stayed here covering us by a tarpaulin." - Mobarak
"We almost settled down here. But the devastating fire again destroyed everything." – Sukutara
Together, we've helped those children and families affected by the fire to survive by delivering the life-saving essentials they need. Hot meal packages have been distributed to thousands of affected families, as well as hygiene and dignity kits given to women. Street lights have been installed in one of the worst affected camps, toilets repaired and life-saving emergency water supplied.
In the midst of disasters like fire, cyclones or a global pandemic, your support makes it possible to reach affected communities and help give refugee children and families what they most need.
Together, we'll continue to save and protect the most vulnerable children living in the world's hardest places. Helping them survive, recover from trauma and rebuild a future.
Help vulnerable children
You can protect children living in some of the most dangerous places
Donate