Childhood Rescue Nov 2022
Polina's escape from Mariupol
Your support is helping children living in areas of conflict
Together, we're keeping children safe and protected
Just like millions of other children in Ukraine, 12-year-old Polina's life has been changed in an instant by the devastating conflict. She lived in Mariupol with her mum and dad and has experienced fear that no child should ever have to.
Nowhere was safe as the city was subjected to constant bombing. After seven weeks of terror, and a rocket attack near their garden, Polina and her mum knew it was time to leave. Making sure they had pet dog "Stitz" with them, they escaped through a humanitarian corridor into Romania, leaving Polina's dad behind. Like so many other wives, Polina's mum had no other choice.
We met Polina at the border between Ukraine and Romania, having just crossed over into safety, where she now lives as a refugee.
She tells her powerful story in her own words…
"Every day we heard the sounds of airplanes, tanks and shooting in the streets. We have a two-floor home and one time we were in the basement and the whole house was shaking. A rocket blew up near our garden. Our neighbour's windows were all broken and my friends who live near us had their rooves fall in. Another friend's house caved in and had no walls. One house was on fire and the walls fell. There was ash all over the city."
"It was scary, very scary"
"Everyone came over and we all started living together because our home wasn't damaged. There were 12 of us. The first thing we lost was the gas, then we lost our lights and water. My father, grandfather and uncle would go outside to cook the food. When our food and water was finished, my father and some neighbours took a cart with bottles to draw from a well. It was very far away, they had to go a long way to get water." 
"We took a big risk and we decided it was time to leave"
"We tried joining a column of cars, but they weren't allowed to leave the city at first because the Ukrainian checkpoint had been bombed. Eventually we were allowed to go. 
"But Dad stayed behind because he can't leave."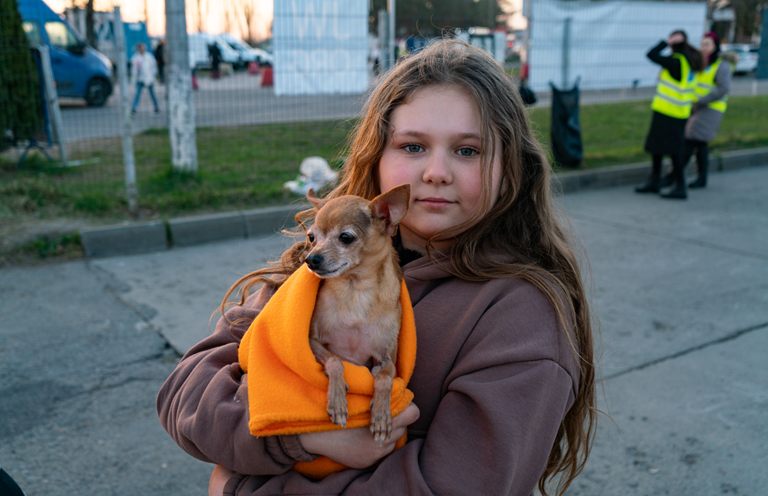 "We created a group of five cars with our neighbours. A projectile had created a hole in one of them. And another car had no windows. But we finally managed to get out. 
"Just now, my friend back home was finally able to answer me. She was without a connection. They are now without a house because it crashed. Also, they don't have a car because it was blown up. 
"We're really worried about our relatives and we'll continue to search for them. My cousin was injured by a fragment in the leg and his car was damaged by a tank after it moved through it. 
"But everyone is still alive. We hope this will finish soon. And we will be able to return home." 
Thankfully, Polina is now safe.  
Millions of people like Polina have had their lives turned upside down, forced to flee their homes, due to disasters, or conflict like that in Ukraine. They're being supported with food, hygiene packs, protection, and receiving educational and psychological support. This includes access to Child Friendly Spaces, a safe space where children can have normality after the horrors they've lived through. 
Thank you for supporting this vital work and showing vulnerable children in the world's most dangerous place that you care. Together we will help them survive, recover and build a future.  
Help vulnerable children
You can protect children living in some of the most dangerous places
Donate