Writing to your sponsored child
Make your child's day by writing to them
Send a message, letter or gift to your child
A few words from you can mean so much. The friendship that can grow between sponsors and children is a powerful part of Child Sponsorship. The relationship you share means you'll get a unique insight into the community you're helping. And we know that children who receive regular updates from their sponsors are more resilient, confident, and happy – so your letters and encouragement can play a big part in improving their well-being.
Hints and tips
1. Talk about your world - What your favourite hobbies are, describe what your town looks like, talk about your best friend, or even what the weather is like.
2. Send encouragement - Sponsored children treasure words of encouragement. Send some kind words to tell them you're thinking of them.
3. Ask a question - Turn the letter into a conversation by asking a question about their life.
How do I write to my child online?
The easiest way to write to your sponsored child is on My Sponsorship. You can choose a bright, colourful template, add your message and attach any photos you'd like to share with them. A picture says a thousand words - but a few extra setting the scene will help your child. 
Make sure to follow our advice and protocols for keeping your child safe online.
How do I send a letter or gift by post?
We know that sponsored children love to get letters through the post – and most of them will never have received something with an international stamp on it before! If you'd like to send a letter or gift, please make sure that anything you send fits in an A4 padded envelope, and that you:
Write their full name and Child ID number at the top of your letter AND on the back of the envelope
Write your own name and supporter ID number underneath
Add an airmail sticker and make sure you pay the right postage for airmail
You can find the address for your sponsored child's 'More about my community' page on My Sponsorship
One letter said I keep your photo in my room so I see your beautiful smile. I felt like there's someone out there who cares, who is interested in me.
Nancy
Former Sponsored Child
What kind of gifts can I send?
If you'd like to send your sponsored child a gift, please remember that simple gifts that they can share are best. Here are some ideas that we know other children have enjoyed receiving:
Young children
Balloons and stickers
Hairbrushes or combs
Crayons, pencils, pens, and colouring books
Small toys (without small pieces that could cause choking)
Inexpensive clothing
Older children
Exercise books and stationery
Football (send it deflated with a pump)
Solar-powered calculator or flash light
Sunhat or sunglasses
Inexpensive clothing
How long will it take to get a reply to my letter?
Your letters go on quite a journey to reach your sponsored child, so it can take up to 12 weeks to get your reply.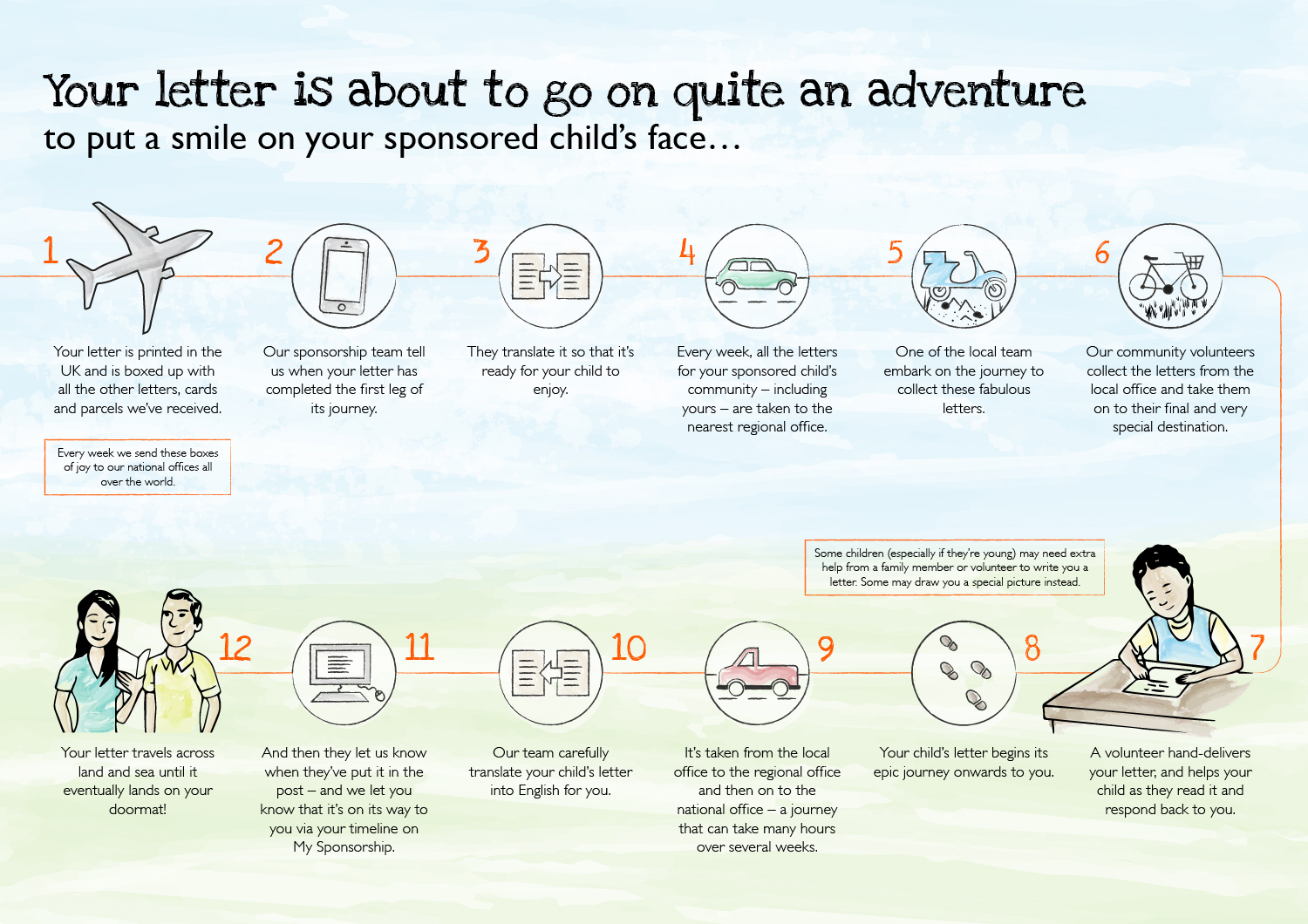 Frequently Asked Questions: letters, gifts and updates
Letters
1: What can I expect from my child's letters?
What you get from your sponsored child will depend on a number of things. If your child's young, it's likely to be a relative or someone close to them who writes to you. If they're older, please remember that – just like here in the UK – some children enjoy writing, and others aren't as keen. Some may prefer drawing and so you might find your letters contain pictures and colourings instead. Also, many countries don't have the same tradition of letter writing – or even of children being encouraged to express themselves – so this may be a new experience for your sponsored child.
Bear in mind too, that your sponsored child won't have had the same education as a child of the same age in the UK. This means that although children can voice what they want to say, they often struggle with reading and writing. So our volunteers make a big effort to write down exactly what your child says so that you can hear directly from them, even if they're still learning how to write.
2: How will writing to my child benefit them?
Our aim is for letter-writing to be an enjoyable and enriching experience for children. Often, our staff and volunteers will use fun storytelling cards and worksheets to help children learn to think, talk and write about how they feel. By writing to you and telling you their stories, your sponsored child will learn to express themselves, speak up and share their thoughts, possibly for the very first time.
3: Can I send extra money to my sponsored child?
Sometimes sponsors feel they'd like to send extra money to their sponsored child, their family or for the wider community. If you'd like to do this, please call our Supporter Care team on 01908 84 10 10 who'll arrange everything for you – please don't send the money directly.
Your gift needs to be £75 or more as there's a lot of work involved. But don't worry, we won't deduct anything. The project staff will take great care to make sure your gift benefits your child, their family and their community in the best way possible. And you'll get an update on how it was spent, usually within three months.
4: How often will I get updates from my sponsored child?
Throughout the year, you'll get updates by post and email (if you don't get emails from us and you'd like to, please get in touch either by email: sponsor@worldvision.org.uk or call us on 01908 84 10 10). Some of these will be directly from your child, others will be about the changes that are taking place in their wider community. These updates will include stories, photos and videos to show how your support is transforming the lives of vulnerable children. And each year we'll send you Christmas and birthday cards that you can personalise and send on to your child.
And remember, all your updates are kept together for you in your My Sponsorship account.
Christmas and birthday cards
1: Can I send my child a Christmas or birthday card online?
Yes! Sending a card online is quick and easy and is a great way to let your sponsored child know that you're thinking of them at these special times of the year. When it's time to send your cards, we'll send you an email as well as your card in the post (if you don't get emails from us and you'd like to, please contact us at sponsor@worldvision.org.uk or call us on 01908 84 10 10). Then you'll simply be able to click on the link and follow the steps to create your card – you'll also be able to make a donation if you'd like to.
2: Can I send a Christmas or birthday present to my child?
If you'd like to send a present to your sponsored child for their birthday or Christmas, it'll be easier for you to send it with the card that we send you in the post, so we can deliver them at the same time. You should receive your cards around six weeks before the event – if you haven't had them in this time please call us on 01908 84 10 10, or send us an email at sponsor@worldvision.org.uk.
Remember that anything you send needs to fit into an A4 padded envelope. You can find the address you'll need to send your gift to, on the 'More about my community' page.
3: Why isn't there a link to send my Christmas or birthday card on My Sponsorship?
You can only send your Christmas or birthday cards a couple of months before these special days. When it's time to send one of them, the link will appear in My Sponsorship and you'll be able to create your card and send it to your sponsored child.
If you're expecting a card to be there and it isn't, please call us on 01908 84 10 10, or send us an email at sponsor@worldvision.org.uk, and we'll be happy to help you.