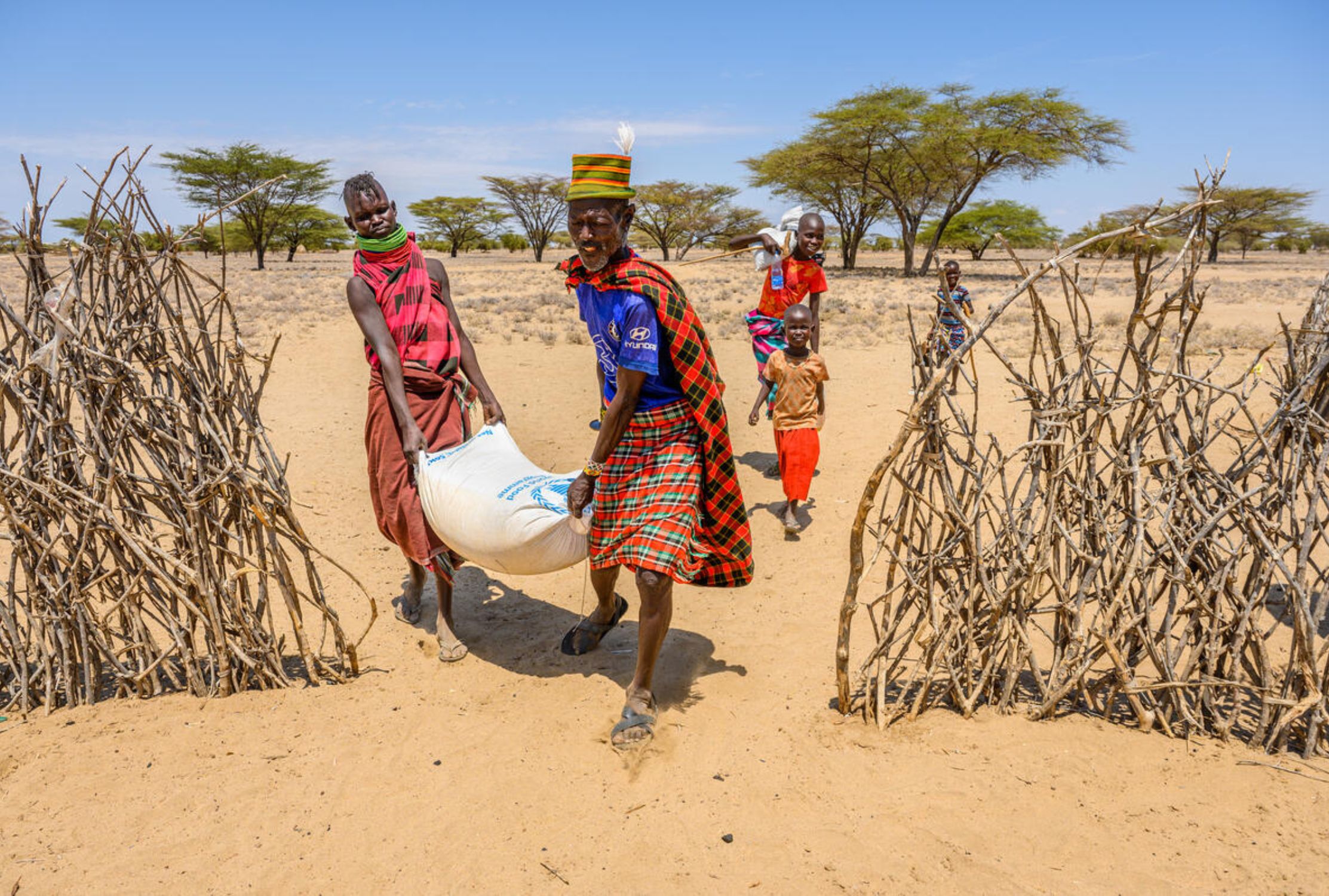 East Africa hunger crisis
Millions of children are facing starvation because of the drought
Help children survive, recover and build a future
Donate
Why is there hunger in East Africa?
Faced with the loss of crops and livestock, families are without food and safe water. Millions of people are forced to migrate, with most ending up in settlements for internally displaced persons (IDP), in the hope of getting help to survive the drought.
The United Nations reports that more than 37 million people are facing hunger in East Africa, with seven million children under the age of five acutely malnourished.
We cannot wait for a famine (IPC Phase 5) to be declared.
READ MORE: What is famine?
This video shows how the drought in Kenya is impacting the day-to-day lives of young girls like Tume.
Kenya is experiencing its worst drought in 40 years
Ekidor, a mother of six, lives in rural Kenya.
She is weaving reeds to make a flat round basket. This basket will take nearly three weeks to complete and bring in 400 shillings (US$3.36).
Her son, one-year-old Ebei, tries to nurse. But it is of no use. Ekidor can only produce milk when she eats, but not when she doesn't.
Ekidor says, "The situation has been the same. The rainfall comes once a year or once every two years. Getting rainfall is a blessing." But there have been no such blessings as of late. "The climate never changes."
READ MORE: How does climate change affect poverty?
One meal a day
Life for Ekidor's family is more difficult now. The family have lived here for 10 years, often moving around to find water. The drought caused their animals to die.
"Before the camel died, life was better," she says. "We had milk for the children."
It can be difficult for Ekidor to find food. She has only three cups of maize left to feed the children. She'll have to make it last until the food distribution in a week – the family eat just one meal a day.
She explains, "It is difficult. If we get food, we give it to the kids. We depend on food distributions."
"I always feel hungry"
Her daughter, Mante, 12-years-old, shows the wild fruit the family depends on. "It is sweet when you are eating it, but it doesn't satisfy. I always feel hungry."
Ekidor says her daughter cries because of a lack of food and is worried about the effects of hunger on children. "I want my children to be like other children," she laments.
Mante says she wants to become a teacher one day. "It's what I see around here." She loves school but doesn't go. "I went once but I came back home."
She didn't have money to buy books.
"I am so worried about the drought," Ekidor says. "I see them [her children] crying. I feel bad. Why can't God provide help? What can't God send help to see us through?"
READ MORE: Pray for the hunger crisis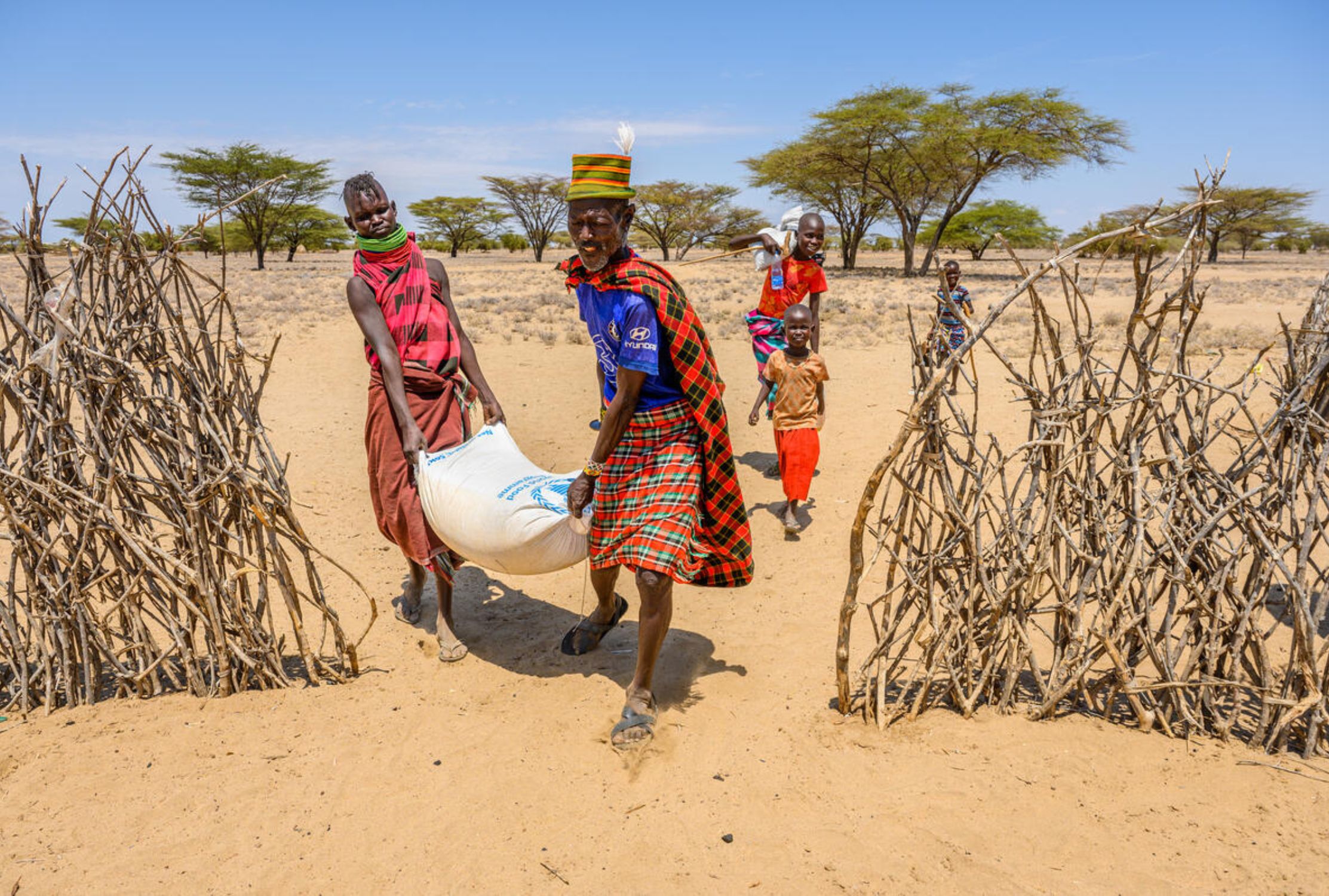 Hope for her children
Ekidor is among 150 families that benefit from World Vision's monthly food distribution in the area. She is excited to bring home sorghum, split peas, and vegetable oil. It is a Wednesday. They ran out of food last Thursday.
With the food home, she gives thanks.
This food from the distribution today will last one week. People are already waiting under a tree next to the house for her to share. Even though she has little, Ekidor shares what she can.
"I am praying to God to provide funding for World Vision," she says. "I am praying to God that I can support my children, so they go to school. I am praying that people will buy my basket."
Over the last five years, 89% of the severely malnourished children we treated made a full recovery
How is World Vision helping the East Africa hunger crisis?
World Vision is a global leader in providing food assistance at scale – delivering food rations and cash or vouchers to refugees, displaced people, and communities suffering drought and extreme hunger, in partnership with the World Food Programme.
As a Christian charity, we're focused on helping the most vulnerable children experience fullness of life.
With your support, we can: