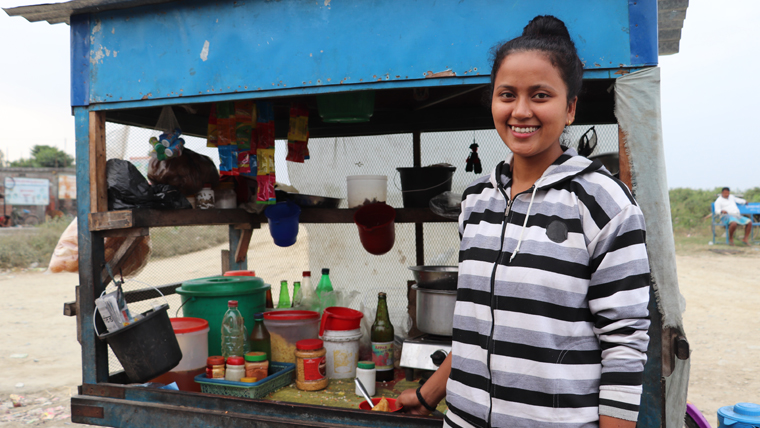 Transformed by sponsorship
Saru's World of Firsts
What if you were the first person to believe in a young girl's dreams for a better future?
Saru, an ambitious young girl from Nepal, experienced first-hand what it feels like to have someone believe in her so that she could realise her potential.
Saru was born and brought up in a poor, vulnerable family, with both of her parents working as daily wage labourers in a carpet factory. It was difficult to sustain the family on their meagre earnings. Though Saru dreamed of a better future, it seemed unlikely until, at the age of six, she was selected for Child Sponsorship through World Vision.
Child Sponsorship brought a new start
For the first time, Saru could hope and envision a better future. Her parents, who were struggling to provide even two meals a day, received small business support from the sponsorship programme and started a Chatpate (a type of spicy and tangy Nepali snack) cart.
While Saru's father continued his daily wage job, her mother ran the business and started selling Chatpate in their local market each week. As the business grew, her father quit his labour work to help with the business. Now, they have added more food items to their cart. Every day, they roll their cart to the local market and schools to sell food. They're earning a decent wage now.
"I had decided to quit my studies after grade 10 since our financial situation was not good," says Saru. "But after starting the Chatpate cart, my family's economic condition improved, and I could continue my education."
Currently, Saru is pursuing a bachelor's degree in business studies. "I am the only member in my family who has a higher education, and all my family members are proud of me," she says. "My parents want me to study further because they're able to support me now. Our Chatpate business is thriving, and we are also able to save some money."
"I probably would have been married by now"
When you sponsor a child in Nepal through World Vision, you're helping transform their life.
"I would not have been confident enough if World Vision had not come to my community. I probably would have been married by now. I hope that I can do much in the future," explains Saru.
Today, 20-year-old Saru works as a Key Leader at Nari Bikas Sangh (NBS), a partner organisation of World Vision International Nepal. Because she has received training on child protection, her main role is to identify and report any incidences of child abuse, child marriage, or other harm to children in her area. As a Peer Educator, she runs Rupantaran classes for adolescent boys and girls and teaches them various life skills. She is also involved with the SKYE (Skills and Knowledge for Youth Empowerment) club, formed by World Vision, and in community-level awareness activities against child marriage and child labour.
Paying it forward to her community
Since the COVID-19 pandemic started, she educates adolescents and others in her community about proper handwashing techniques and hygiene to remain safe from coronavirus. She has made the most of lockdown, watching YouTube videos to learn how to sew masks and make Kurta Surwal, a female dress typically worn in South Asian countries, for her mother.
To encourage adolescent girls and boys to remain inside their houses, practice healthy behaviours and engage in fruitful activities during coronavirus, Saru posts videos of her own activities to show how she is using her time to learn and grow during the lockdown.
"I like to learn new things and share with my friends and adolescents of the community. I believe our small effort could turn out to be a great support for our country to beat COVID-19," says Saru.
A new world of transformation and dignity
Saru's sponsorship with World Vision ended in 2019. She loved participating in programmes and drawing and writing messages to her sponsor. The last day of her sponsorship marked the beginning of her life as a young woman who aspires to be educated and contribute to the development of her community.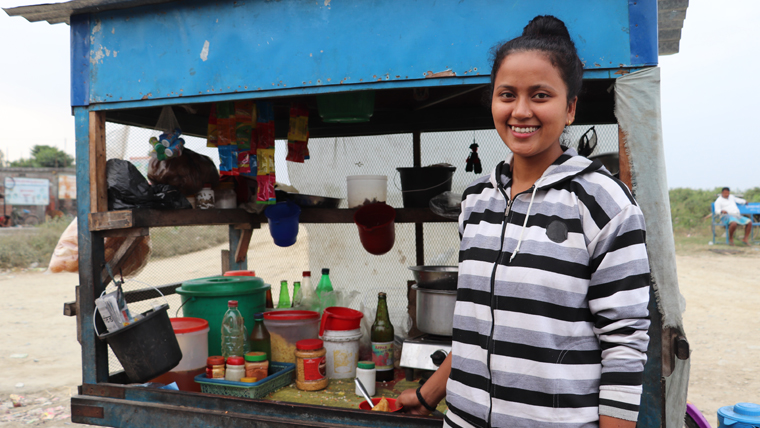 I never thought I could speak and present myself confidently. World Vision has transformed my life.
Saru, 20, Nepal
Former sponsored child
"I received training, and now I can teach and lead adolescents in my community, too."
Another first for Saru: "People in my community have started to recognise me. I belong to a low caste, but now people address me as 'Miss,' a title of respect for women."
What "first" can you make possible today?
It could be the beginning of a new life for someone just like Saru.