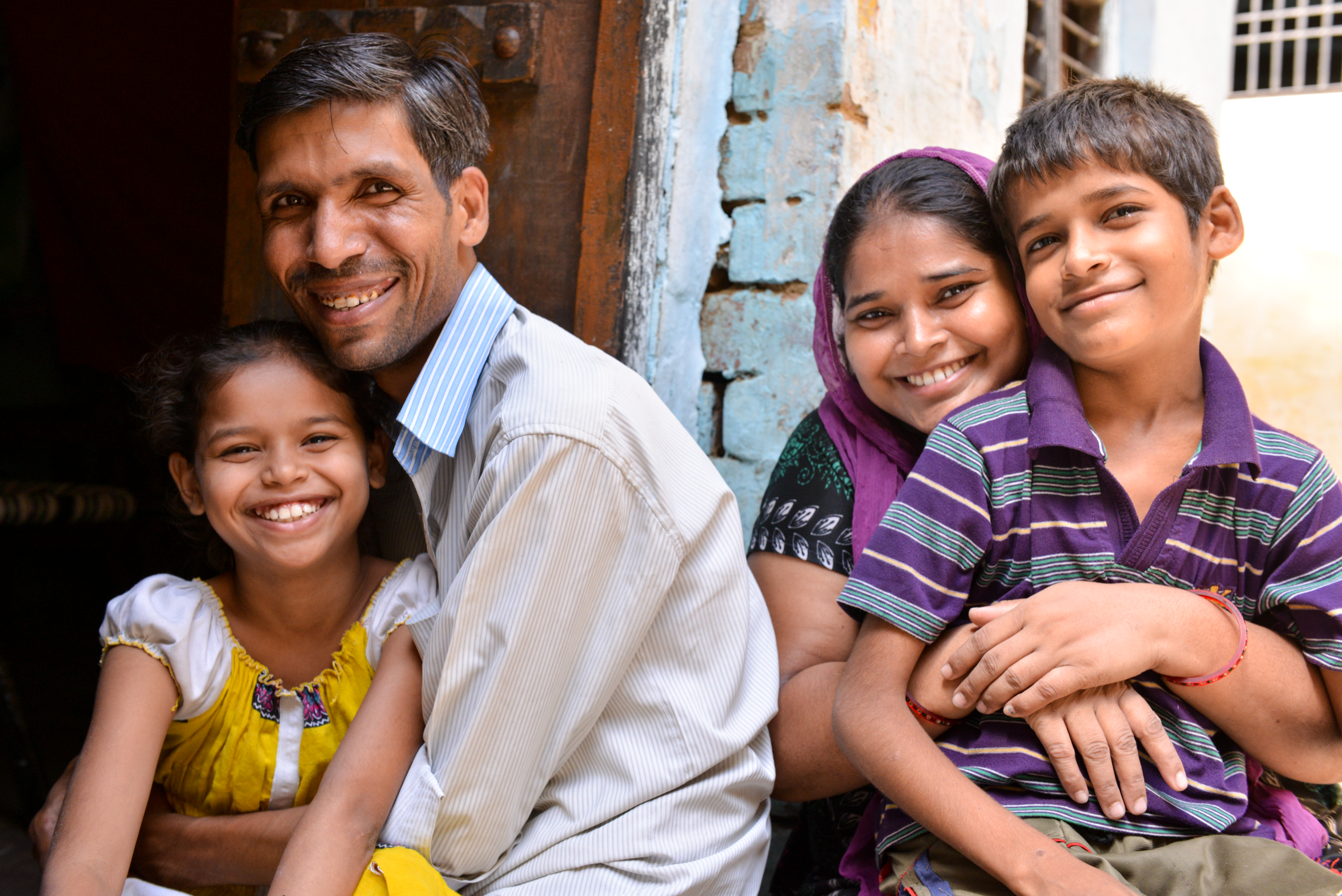 She's someone else's property: a father's story
Meet the Indian men empowering girls to protect them from child marriage
Two decades into the 21st Century, women and girls are still fighting to be treated equally. But now in India, they do not fight alone. True equality requires everyone to work for it together – old and young, women and men – and these groups of men are redefining their own roles, to empower their daughters and protect them from child marriage.
Men Care
Whispers cut through the mellow chirping of birds and the soothing whoosh of the wind, beneath the restful shade of the Neem tree where men gather for their regular Men Care Group meeting in the outskirts of rustic Agra, Uttar Pradesh.
"Another case," says a member of the group, rubbing his forehead repeatedly. Men exchange guarded glares, communicating the horror they share at another forced marriage.
"I'll find out about this family and why they've decided to marry their teen daughter," volunteers Jitender, the leader.
Girls are someone else's property
Mangay (above) understands the flawed decision-making and thinking about girls all too well.
"We are been made to believe by society that a girl is someone else's property. She will marry and ultimately go to someone else's house, so why should we invest in educating her? We don't benefit from it," says Mangay, a Men Care Group member, glancing at his own daughter as she plays.
"If we invest in the boy, he lives with us and will be our support during old age. However, girls – if educated – can bring a wind of change in the household she goes to and bring happiness there. But society doesn't think this way. People blindly follow the traditions, like once the girl turns 14, to get her married. Then her in-laws treat the new bride as a maid. Everything is thrust on her shoulders."
Being part of the Men Care self-help group sparked a transformation in Mangay.
"It's ice cream time, daddy," says his 11-year-old daughter, Mahima, eagerly waiting to unwrap the vanilla-chocolate treat. In a flash, she tilts her ice cream, smearing her father's face with melted vanilla. Reciprocating his daughter's gesture Mangay dabs a dot of vanilla on Mahima's nose. Both burst into fits of laughter.
I love my Daddy. He listens to me and brings me treats. He's my friend.
"I never saw myself as having a friend type relationship with my children, especially my daughter," Mangay admits. "There was no concept of taking the children out for leisure. I never considered what they were eating, wearing or playing. I work and get the money into the house and that's all. The rest was not my concern. But being part of the Men Care Group has opened my eyes.
"Through visits and meetings, organised by World Vision, I learnt the right thing is to love your family, your children, motivate the children to move forward in life and not to succumb to societal pressure and make wrong decisions."
Unfortunately, not everyone got the message in time.
Bargain brides
"She was around 14-15, when I took the decision and got her married at the same time as my older daughter. I deeply regret that decision," Kumar,* father of Geeta* (both pictured above) states quietly, remembering the dilemma that poverty and tradition placed him in. "They told me, 'Get both daughters married at the same time to save dowry and marriage expenses.'"
Geeta explains the pressure her parents felt from the community, saying "They fed my mother's ear with corrupted truths like 'Get her married off before it's too late.' I pleaded and tried to explain to my parents that I didn't want to get married, it was wrong – but the societal pressure was too great.
"When the dowry was being exchanged for my sister, I saw another being exchanged at the same time. That's when I knew that it was for me. I was to get married. That day I cried. I was raging with anger. It was an awful feeling that I had to leave my education and end up there. You know I really wanted to study," she says.
"I was sent to my in-law's place. What I saw was very disturbing. My sister used to get beaten up often. Every time they came to beat me, my sister shielded me. I also realised the man I was married to drank. I used to feel rotten, I felt like ending my life."
Fearing for Geeta's safety, her sister bravely called their parents and told them what was happening.
That's when Mangay and the Men Care Group got involved. "They explained to my parents that what they did was wrong and is a serious offence, the penalty being jail. I am glad that my parents' eyes are opened now. They want me to study. If this group had existed earlier, I wouldn't be married today," says Geeta. "I am out of my in-laws' house; the will to live has come back."
Stand with her
World Vision believes we need to empower women and men to transform relationships. Men Care groups are just one way we're working with communities, families, girls and boys to end the cycle of poverty and help them build a brighter future for children.