Transforming children's lives in Mosul, Iraq
Child friendly spaces provide a safe haven for kids living in fragile contexts
Raja's story

Raja, 10, lives in Mosul, Iraq. She was badly injured by a bomb during the conflict in Mosul. Tragically, she lost her left hand and her legs were injured, leaving her unable to walk.
"There was fighting and bombs everywhere all around, I ran from my home terrified! That's when the bomb fell beside me. I remember lying on the ground and I looked at my hand bleeding and there was blood coming from my stomach," says Raja.
Thanks to supporters, Raja received medical treatment and a wheelchair.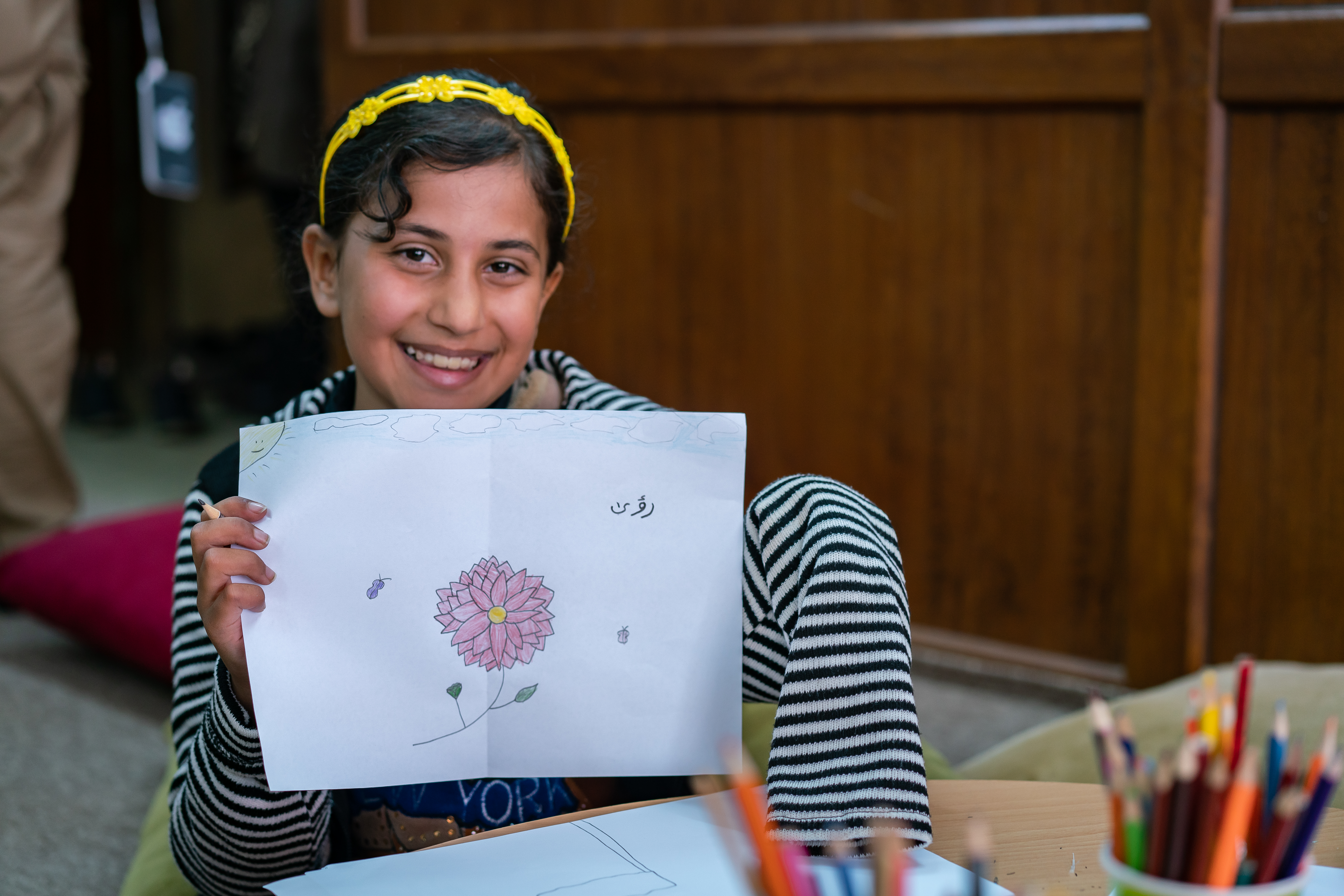 The difference we can make

Raja received support through a Child Friendly Space. This has been set up to give children a safe place to play, learn, and recover from what they've been through.
Children come to the Child Friendly Space to receive emotional support and take part in activities like painting and sports.
Raja now dreams of becoming a doctor when she grows up.
I'd like to be a doctor, so that I can be like the doctor who helped me and help others too
Iraq's political instability makes it one of the world's most fragile contexts, creating an environment which is dangerous for children and leaves families displaced in camps. Thanks to supporters, we're able to reach out to children like Raja when they're at their most vulnerable. Helping them to heal and giving them real hope for the future.
You can help vulnerable children like Raja by donating to World Vision. Your support will help displaced children and families to receive essential supplies and regain a sense of hope for the future.
Support children like Raja
Help us support them when they need us the most
Donate
What is a child friendly space?
Child Friendly Spaces are used to support and protect children. Children are extremely vulnerable during conflict and in the aftermath of a disaster, both emotionally and physically.
These environments provide children with a safe place to play, the opportunity to learn about their rights and experience healing from any trauma they've experienced.
What is happening in Iraq?

Approximately 1.4 million people are displaced within the country.
Due to prolonged conflict, 4.1 million people need aid.
Critical needs include lack of livelihood and sustainable income and shelter.
How children are affected

An estimated 1.8 million children are in need of basic essentials such as food and shelter.
Children's mental and physical health have been affected.
Violence against children is extensive and is affecting their social and emotional well-being.
How supporters are helping

More than 272,000 people received essential supplies such as food, water and hygiene kits.
1,167 children have received psychological and social support.
400 water tanks have been installed in the camps to store clean water for drinking and cooking.
Support children today
Help vulnerable children living in the world's most dangerous places
Donate