Five reasons children are back to school
Children around the world are finding ways to get back into education in 2021
Keeping access to education
Before COVID-19, about 258 million children and young people globally were already out of school. And according to the World Bank, more than 1 billion children have been affected by school closures due to the pandemic.
While children from privileged backgrounds or developed nations were mostly able to adapt their studies to online learning, more vulnerable children have been left behind.
Without access to education, children in low-income countries face growing challenges today and decreased opportunities in the future. They also face a very real increased risk of violence and child marriage.
So, there are many reasons why around the world children, teachers and communities are coming together to fill the gap and ensure empty classrooms don't lead to broken futures.
In their own words, here are just a few:
Reason 1: To be President
14-year-old Isaac (above) lives in a refugee settlement in Uganda with his little brother, his foster mother and three foster siblings. He's originally from South Sudan, but fled the conflict there in 2017, with his brother.
Before coronavirus came they would go to school every weekday and help their foster mum in the fields at the weekends. Then the pandemic closed the schools and radio lessons were introduced. But soon the family's old radio stopped working.
Fortunately, World Vision Uganda began distributing radios to the most vulnerable children and families in the settlement, beginning with child-headed households and foster families like Isaac's.
Isaac and his siblings are among 15 million children across Uganda who were affected by school closures.
"Some of my friends live very far – I could only see them at school. I miss them and I miss learning new things," says Isaac. "I want to study very hard and be the president of South Sudan in future. I want to bring back peace to our country."
Reason 2: To do my best
Nexi,12, (pictured above) graduated at the top of her class last year – in an online ceremony.
"I was hoping I could walk on the stage with my parents as we received my award. Sadly, COVID-19 prevented that from happening. But I understand it's for our safety," she says.
Like most children, Nexi prefers face-to-face learning. Nothing beats sharing stories or doing assignments alongside her friends, she says.
The coronavirus pandemic has affected more than 20 million students across the Philippines, where the Department of Education has postponed classes until there is a vaccine. Instead, distance or blended learning is being implemented, using radio, TV and online learning.
Online learning is difficult for Nexi. Her family has a mobile phone, but her community's internet access is limited. So her school is providing her with printed work instead.
For Nexi, no matter how she's studying, she's determined to do her best. "I know there will be challenges when we restart our classes, but I will still do my best. I want to study well so that I can be an engineer someday," she shares.
Reason 3: To help those who are struggling
Nahed (above) teaches English to Jordanian and Syrian refugee children, through World Vision Jordan's education programme. The aim of the programme is to prevent children from dropping out of school.
When COVID-19 hit, Nahed and her colleagues were trained to teach classes remotely using online platforms.
"I had so many concerns regarding the remote teaching methods. But since I've started teaching from home, I've noticed that it was a totally different experience than I thought. It feels like I have my students in a classroom with me. With the online interaction in WhatsApp groups and weekly Zoom sessions, I can see that the students are understanding the lessons I share and receiving the material properly. I feel happy when I see my students very responsive, and when they submit their homework correctly and on time."
Reason 4: To build community
During lockdown, women of the Wiwa Indigenous community in Colombia started teaching children and young people the traditional and practical skill of weaving bags; a tradition that goes back hundreds of years.
World Vision Colombia, in partnership with Education Cannot Wait, is providing culturally appropriate materials to the Wayú, the Wiwas and the Kogui Indigenous communities and the Afro-Colombian communities in the area, to encourage traditional art forms, like weaving, painting and storytelling.
"In our culture, weaving is very important," says María, one of the lead weavers. "When we are weaving, we are building. First, we must build spiritually. We start with something small and we grow, and as I weave, I grow too. If I learn how to weave well, I will have a good life of my own. Weaving is like community. When we start small and work together, good things happen."
While they wait for schools to reopen, children here don't have to wait for an education.
When we start small and work together, good things happen.
Reason 5: To protect children
Santos (pictured standing, above) is a young teacher from South Sudan. He now lives in Bidibidi Refugee Settlement in Uganda. He originally became a teacher to help the children in his community.
"After seeing how children struggled to learn, I enrolled at the primary teachers' college and learned the skills to help my people," he says.
When schools closed in March, he saw once again, how the children were affected by being out of school. Some were bored, some were working with their parents, and a few girls from the village became pregnant. This prompted him to start up a mobile teaching programme.
Santos teaches a maximum of 10 children at a time, usually outside so there's space for social distancing. And he always ensures that there are handwashing facilities nearby, insisting that the children must wash their hands before and after the lesson.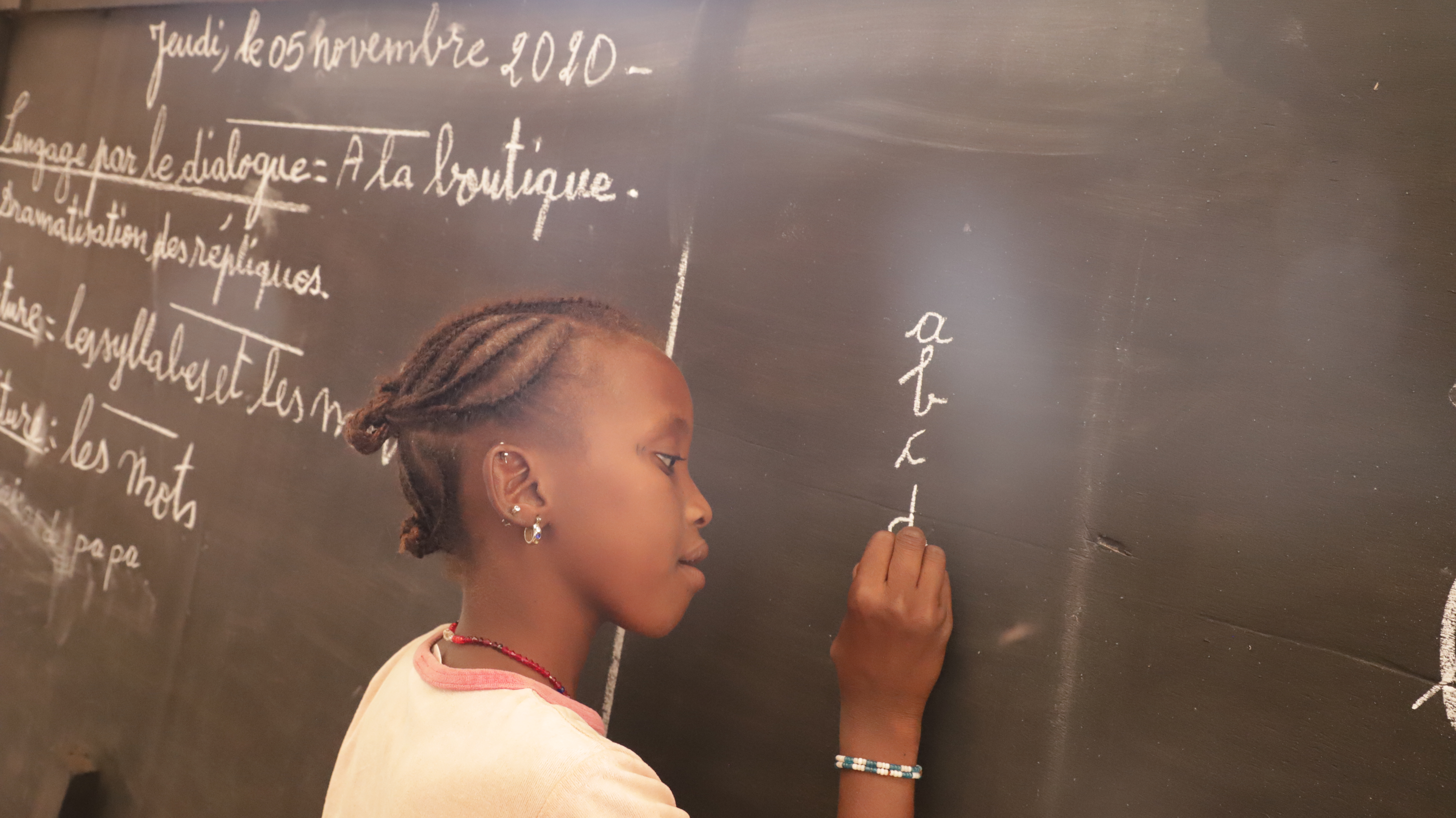 It takes a world
These children and communities are stepping up to fill the gaps left by empty classrooms. But the sad truth is that many, many children are still out of school – and some may never go back. The aftershocks of the COVID-19 pandemic are forcing families to send their children to work, or worse.
We believe that education is an essential part of child protection. In school, she can play rather than look after her husband. In school, instead of working long hard days for little pay, he gains knowledge and qualifications towards a brighter future.
In February, World Vision's 'It takes a world to end violence against children' campaign will turn its focus to education. We'll be asking the UK Government, as hosts of the 2021 G7 summit, to include a focus on addressing barriers to education at the summit. To build support for this, from mid-February, World Vision supporters will be asking their MPs to pledge their support for the issue.
To include your voice, email your MP and ask them to remember vulnerable children.
It takes a world
Call on the UK government to take action today.
It takes a world
More about our education work