Young fundraisers
Young fundraisers help children in pandemic and poverty
In the middle of lockdown, children around the UK used their precious leisure time to raise money to help more vulnerable children.
Here at World Vision, we've been really inspired by our young supporters during the pandemic. Here's a celebration of some of our youngest fundraisers.
Joel's garden cycle challenge
"I did the challenge because I like cycling and it gave me something to do while I can't go to school. I feel proud that I've raised money to help other children." - Joel, 6 years old.
Six-year-old Joel (pictured above with his bike), from Surrey, started his garden cycle challenge at the beginning of May, completing a few laps when he needed a break from schoolwork and on the weekends.
He decided to keep going and ask friends and family to donate money to a charity so that he could do something positive to remember during lockdown.
Joel chose World Vision as it's a children's charity supporting children all over the world in difficult situations. He felt, like lots of people doing various fundraising challenges, that it's important to support charities at this time when they face the pressures caused by COVID-19.
He kept count of how many laps he'd done and reached his target of 500 laps (approximately 17km or 10.5 miles), a few weeks later, raising over £900.
Joel's mum, Alison told us:
"I'm very proud of Joel for rising to the challenge and learning about how he can do something he enjoys, but can also make a positive contribution to the lives of children less fortunate than him."
Kamran & Sophia's running challenge
On 20 June, Kamran (nine) and Sophia (seven) took on a 10k and 6k run.
The brother and sister (pictured above) were upset to realise that during the pandemic, some children don't have enough food to eat or soaps to clean themselves. So, they decided to do something about it and raise money for World Vision.
They trained for weeks beforehand, whatever the weather, and raised an amazing £4,500.
Christopher's COVID-19 t-shirt
"I was really sad to read about how some children in poor countries and refugee camps can't wash their hand to stay safe from coronavirus, and don't have any books or paper to go to school. So I designed a t-shirt with all the proceeds going to World Vision, who will help them"
When seven-year-old Christopher (above) read an article about the possible effects of coronavirus in vulnerable places, he wanted to find out more – and to help.
He chose to get creative and designed a t-shirt (pictured below) to sell, with more than £300 donated to World Vision's work with vulnerable children.
Lydia – songs from the shows
"We have the NHS here which has been amazing... I feel bad for the little children who could lose everything from it [coronavirus]. It's upsetting." - Lydia, 11 years old.
Eleven-year-old Lydia (pictured above) from Aylesbury, from had been rehearsing hard for a local performance of West End hit Oliver!, when the coronavirus lockdown started and the performance was cancelled.
So, when a friend from her church suggested an opportunity to perform the songs she'd been practising, for members of the congregation via Zoom, Lydia jumped at the chance. And remarkably she chose to use it to help other children, by raising money for World Vision's Global coronavirus appeal.
"People in other countries are losing people who they love. We have the NHS here which has been amazing, but they [children living in poverty] don't have the medicine they need. I feel bad for the little children who could lose everything from it. It's upsetting. So I picked something that would make me happy and other people."
Lydia treated her church family to songs from Oliver! plus a special bonus tune from The Lion King. "My knees were shaking but I just thought 'I know all these people, so there's no point being scared'."
Lydia hoped to raise £75 for World Vision through her performance – but her audience donated a fantastic £355.
Her mum, Lisa, sums up the emotion of the moment: "I'm very, very proud of her. I was overwhelmed."
Cobie against COVID
Our youngest fundraiser so far is Cobie, from Milton Keynes.
At just 16 months old, he joined his father and grandad on a cycle challenge. Snug in his tag-along, Cobie covered 50 miles over the May half-term.
He visited local landmarks and smashed his fundraising target, with friends and family donating over £1,600 so far.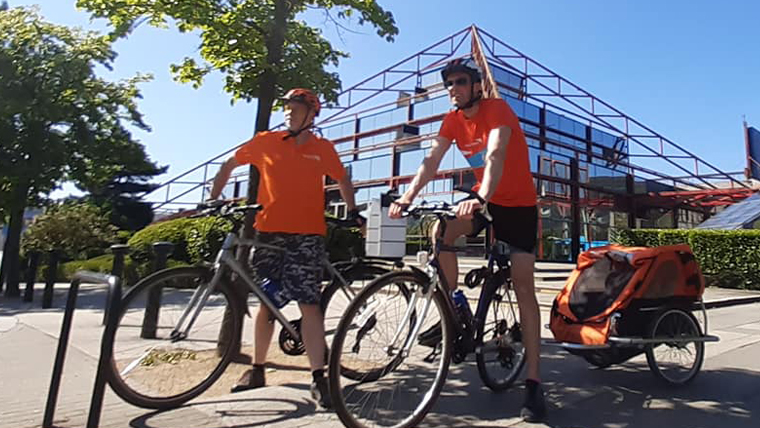 Inspired to fundraise?
If you're looking for a fundraising challenge, have a look at our Global 6k for water.
This year the Virtual Global 6K, will see the World Vision community take on 6K of walking, running, cycling, wheeling… whatever works for you.
You can take part at home, outside, alone or with others; the important thing is to stay safe, and raise money for water projects, so that vulnerable children around the world can stay safe from viruses and disease.
Share your stories
If you, or your tiny humans, have been fundraising for World Vision recently, we'd love to hear about it. Share your fundraising tales and tips with the World Vision UK community on our Facebook page.