How to make reusable sanitary pads
Our Ambassador and period poverty campaigner Amika George teaches you how.
Step-by-step guide to making reusable sanitary products
Period poverty is an injustice that World Vision and many others are fighting to end. Here, World Vision Ambassador Amika George takes you through step-by-step how to make homemade sanitary pads. Read on to discover Amika's story, how to make sustainable sanitary pads and more about the fight to end period poverty.


Amika's story
Amika was just 17 when she was inspired to take action after reading an article describing how many British children missed school due to stigma around menstruation or being unable to afford sanitary products such as tampons.

She started a petition and advocacy work to convince the UK government to provide free sanitary products to schoolchildren, leading the government to announce in March 2019 that secondary schools in England would receive funding to provide sanitary products free of charge to less affluent young people.
But her fight for period justice didn't stop there. She has called for further support and education in the UK, and globally, visiting World Vision's menstrual hygiene project in Zambia, where she saw the effects of period poverty internationally, and how World Vision is teaching people how to make reusable pads, how to manage their periods and tackling the harmful stigma often surrounding periods.
How to make reusable sanitary pads
Taking just 10 minutes, using 5 standard household items, and lasting about 2.5 years - what's not to love?!
What do you need to make eco-friendly, reusable sanitary pads?
Sanitary pad making is easier than you may think, in fact, you'll only need these 5 standard household items:
Plastic
Scissors
Needle & Thread
Blanket
Cotton Sheet
These are the basic items you'll need; you could always use a sewing machine instead of a needle and thread if you prefer.
Steps for sewing reusable pads
You can see the full guidance on how to make cloth pads for periods in the video above, but for the rough steps to follow you need to:
Fold your cotton sheet over and measure a rectangle shape, around the size of your hand. Cut this out.
Cut off the four corners in a semi-circle shape and sew the two pieces together, leaving you with an approximate octagonal piece of fabric.
Measure three fingers width on your plastic and cut out to make the protective layer.
Wrap this plastic layer in your blanket and sew to contain it.
Sew your blanket section to the centre of your cotton fabric.
Attach a button or fastening to the edges of your pad.
And there you have it, a simple handmade sanitary pad created in about 10 minutes!
Why learn how to make sustainable sanitary products?
Environmentally friendly
These handmade sanitary pads last up to two and a half years so they're much cheaper and friendlier on the environment than many other options. Learning how to make reusable menstrual pads means that you don't need to rely on single-use options and disposable menstrual products which can have a negative environmental impact due to the waste associated with them (not to mention manufacturing and distribution emissions).
Budget-friendly
It's no secret that, for those who buy them, the price of sanitary products can add up. From period pads to tampons and panty liners, and even commercial long-term options like menstrual cups or period pants, the price tag can be high. As these environmental sanitary pads are made from objects most people would have lying around at home, they are budget-friendly, and the long life means they won't need constant replenishing.
Can be donated
The price of sanitary products can make them hard to access. But, if you are a keen sewer or are looking for a new hobby, you'll be pleased to know that you can donate sanitary products to charity.
Whether you choose to donate them locally (perhaps to schools, hygiene banks or youth initiatives in your area who might be able to distribute them where appropriate) or to a larger campaign where they can be sent to those in need around the world, learning how to make reusable feminine pads can be an easy way to make a difference in the world.
Meet like-minded people
If you are learning how to make cloth sanitary pads in order to donate them, you can do so whilst meeting like-minded people in your area. Freedom 4 Girls run sewing workshops where you can meet new people and chat whilst you sew. (Please note: These sewing workshops are currently paused until COVID-19 regulations are lifted.)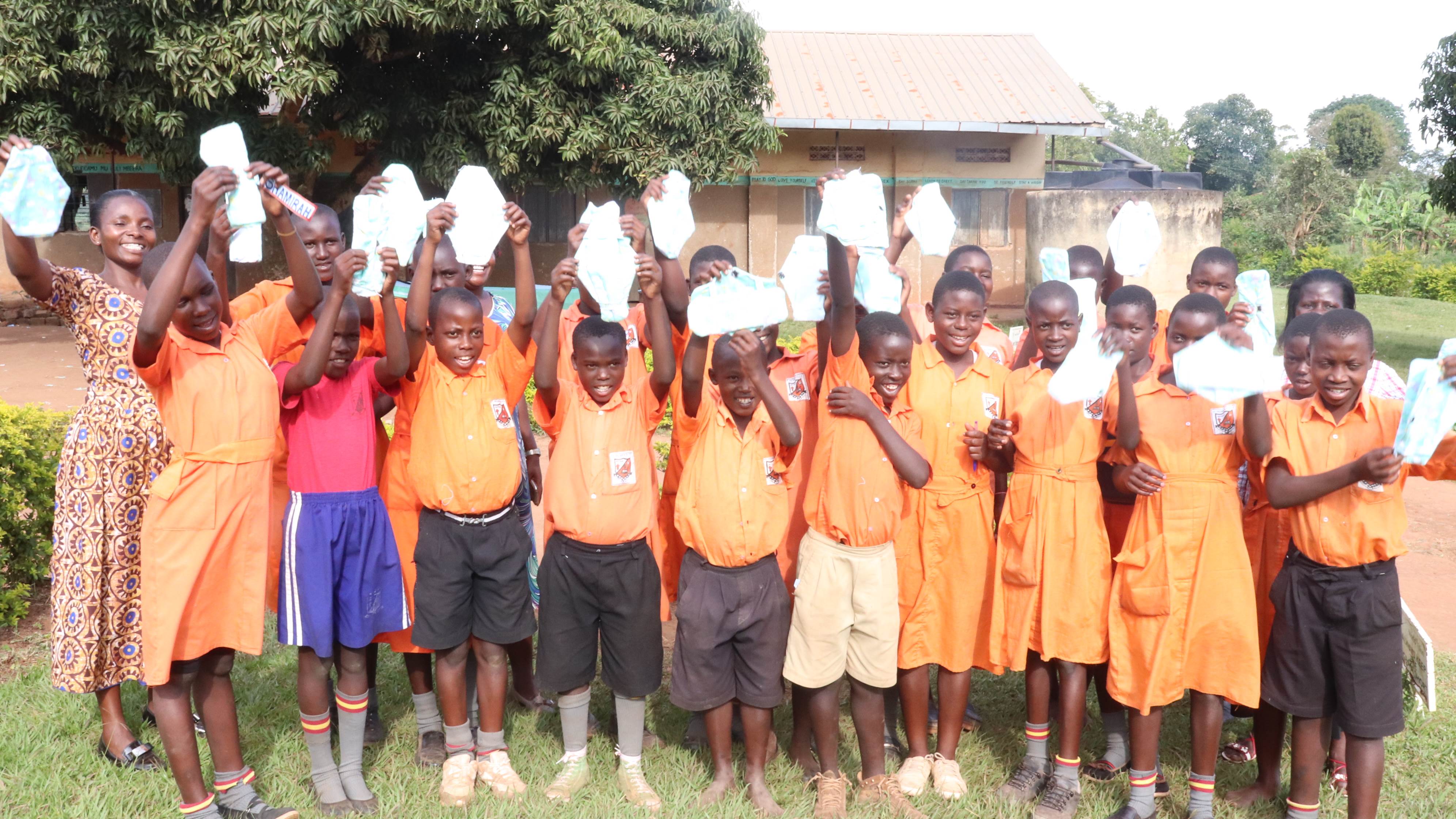 What does period poverty look like?
Period poverty is when children's futures are unfairly put in jeopardy each month because of financial restraints, lack of facilities at school and colleges or bodily stigma - from other students, from teachers or shame brought on in the wider community.

Period poverty looks like:
Having to use socks or toilet paper as makeshift pads
Schools having no suitable place to change
Stigma around periods in the community
School drop-outs and absenteeism
Shame and embarrassment around periods
Period poverty is a global problem, requiring a global effort. Governments must stop ignoring or downplaying the issue and start taking urgent action.
You can learn more about how World Vision is working to tackle period poverty and help children stay in school, including how sponsoring a child supports access to education by tackling menstrual myths and stigmas.
How we tackle period poverty
Making education and menstrual products accessible
Learn more