SMART Consortium Ebola Burial Teams Win Prestigious Bond International Humanitarian Award
The World Vision-led SMART (Social Mobilisation and Respectful Burials Through faith-based alliance) consortium has won the prestigious Bond International Humanitarian Award for its efforts in stemming the spread of Ebola in Sierra Leone.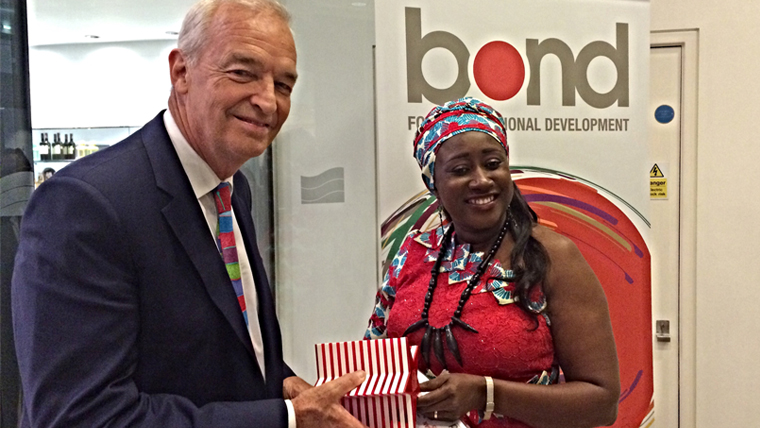 Photo: Channel 4's Jon Snow with World Vision's Grace Kargbo
Presented at a ceremony yesterday (1 June 2015) in London, the award recognizes the courageous service of more than 800 burial workers who serve with SMART, a UK government-funded consortium comprising of World Vision, Catholic Relief Services (CRS) and the Catholic Agency for Overseas Development (CAFOD).
Together the three agencies have trained and equipped burial workers to conduct Safe and Dignified burials for Ebola victims across Sierra Leone. The teams have also been commended for observing cultural customs, faith traditions for both Christians and Muslims, while preventing contamination of family members. Since November 2014, SMART's 57 teams have buried more than 16,000 people across Sierra Leone.
At a ceremony presided by Channel 4 News anchor Jon Snow, the consortium was honoured for their "inspiring and innovative work in overseas aid and development to help people in some of the world's poorest countries."
Grace Kargbo, a World Vision Sierra Leone burial team manager, who accepted the award on behalf of the consortium said: "This recognition is a tremendous encouragement after all the suffering we have seen in Sierra Leone and across West Africa because of Ebola."
"Our courageous, selfless burial team members risk their health and safety daily while being reviled and stigmatized by the very communities they serve. Receiving the Bond award will definitely help change that."
SMART has to date trained and equipped over 800 burial workers in Sierra Leone since November 2014.  The pioneering project has seen the undertakers conducting over 16,100 Safe and Dignified burials for Ebola victims and others across West African country, thus contributing massively to the decline of infections.
Michael Ghebrab, CRS Country Representative in Sierra Leone, said: "We are truly honoured and grateful for this recognition. Our teams have worked hard to provide safe burial alternatives that allow families and friends to grieve their loved ones in ways that give meaning and comfort, while protecting frontline staff and surviving family members."
In Sierra Lone, unsafe traditional practices, such as washing the deceased, have contributed to up to 80 percent of new Ebola transmissions, according to the World Health Organization. To date, more than 3,900 people have died of Ebola.
Dennis Momoh, CAFOD's Emergency Response Programme Manager for Sierra Leone and Liberia, added: "This award honours the dedication and professionalism of these ordinary people from all walks of life, who have refused to be overwhelmed by the Ebola virus."
"We remain determined more than ever to see the end of it, and we are on the right track. The number of new infections is shrinking, but we can't afford to be complacent as one single new infection could reignite the outbreak if not dealt with quickly and contained."
Bond, a UK-based umbrella organisation for development, organised the first International Development Awards last year and enlisted a high profile panel of judges and presenters for the 2015 event including Snow and Tim Singleton from ITV News.
Although the virus is abating in West Africa, new cases continue to erupt in Sierra Leone and Guinea. According to the UN, an additional $88.1 million is needed to support the "last mile" of the international response to the Ebola outbreak in West Africa.
For more information on World Vision's response to the Ebola outbreak in Sierra Leone, please visit our Ebola Crisis Update page »
MPs and policy experts will tomorrow (Tuesday 4 August, 5.30pm) discuss the future of UK aid ahead of the merger of the FCO and DFID.
The Disasters Emergency Committee today launched a Coronavirus Appeal to help the most vulnerable communities in the world who now face the new deadly threat of Covid-19.
An estimated 110 million children across Asia are going hungry due to the economic impact of coronavirus, World Vision warns today.
A new study released today and conducted by Sevanta ComRes, has found that 48% of British parents are concerned about the impact of the coronavirus pandemic on the mental health and wellbeing of their children.