Bringing hope to a country in crisis
World Vision staff from Afghanistan share successes, challenges and thanks.
Charity workers' stories in their own words
Life for many Afghan families is currently difficult and uncertain. Many are fearful about their future.
Having to face the impact of COVID-19, along with the devastating effects of drought, food is scarce and millions of children are dangerously malnourished across the country.
But whether in times of peace or uncertainty, together, our response remains the same…
To protect vulnerable children and those most at risk. And right now, children need more support than ever.
Whilst some of our projects have had to be paused, our dedicated staff have been on the ground working, bringing food, healthcare and hope to those most in need. In their own words, three staff members share how they're helping vulnerable children, the challenges they've encountered and share their heartfelt thanks for your support.
No names have been given to protect their identity.
A Nutrition Assistant brings food to malnourished children
"I work with nutrition nurses on a daily basis to identify malnourished children; to provide them with necessary supplementary food and consult with mothers about the recovery process of their children.
"The conflict and drought mean many families and mothers can't afford adequate food for their children.
"There is also a need for more health services for children and mothers. World Vision is a very well accepted organisation in the community and management is supporting us with equipment, with the necessary training and coordination support to operate safely in the field.
"We have supported a lot of malnourished children and mothers with our supplementary food, provision and support. But a lot of people are happy and our programmes help them to stay healthy. They say the nutritious food provided to severely malnourished children is effective and saved the lives of many.
"We are thankful for the humanitarian assistance, and I am proud to be a part of the people serving the communities during this crucial time.
Our activities impact many lives and provide a healthy life to people and children.
Nutrition Assistant
In Afghanistan
Monitoring and Assessment Officer in Afghanistan: "People are starving and they don't have enough to eat"
"My daily tasks and my job mostly involves travelling to communities, meeting with those we're helping and community leaders to ensure that programmes are effectively implemented, and the quality is considered.
"There was an 11-month-old girl and the team saw that her father brought her to the mobile health operating in this very mountainous province. The mother of that 11-month-old child passed a few months ago and [the baby] lost a lot of her weight.
"When she first came to the team she was only 4.3kg. The nurse started a treatment of supplementary food and started counselling on how to give proper diet and food and how to use safe practices to avoid illness. She was actually screened every week to monitor her progress. After two months of treatment, her weight had increased to 6.4kg. The family was very thankful and the child was able to smile again.
"Many Afghans are much more vulnerable than before given the current situation. Thank you, we are hopeful that you'll continue giving support to the most vulnerable people in Afghanistan.
World Vision doctor fights for health services for women and children
"My daily duties are triage of patients, visiting outpatients, performing child and mother health services and consultation for pregnant women and, if necessary, introducing them to the vaccine and nutrition work. Also giving family planning advice is one of my duties.

"With the current situation, most of the humanitarian activities have stopped. They (the communities) have no food and malnutrition is increasing among all of them, especially children. End result – they need more health services.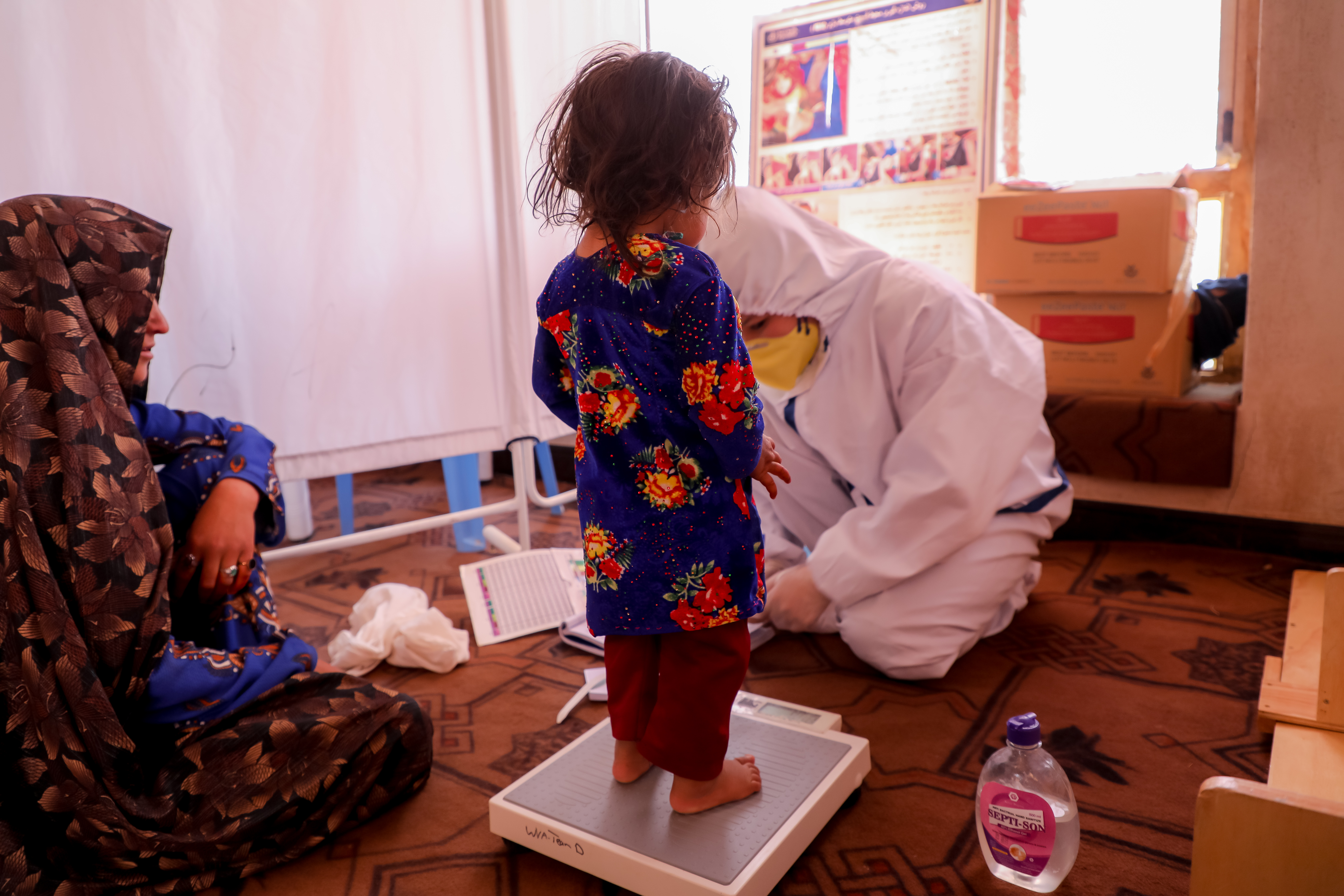 "Many clients expressed their satisfaction with our programme and say that with the beginning of our activities they have been able to experience a better and less dangerous life. Most of these are pregnant women who benefited from the mother and children's health programme.

"The British people with their material and spiritual support can stand with the suffering people of Afghanistan and help us get through this difficult time. People need humanitarian, health, nutrition and education assistance to survive this tragic situation."
I hope that with your support we can make a better life that is the right of every human being.
World Vision Doctor
in Afghanistan
Childhood Rescue is designed to deliver impact in some of the world's most dangerous places. Thanks to your ongoing support, you're helping and giving hope to the most vulnerable children. Together we'll ensure they can survive, recover from trauma and one day build a future.
Help vulnerable children
Help protect the children of Afghanistan today.
Donate