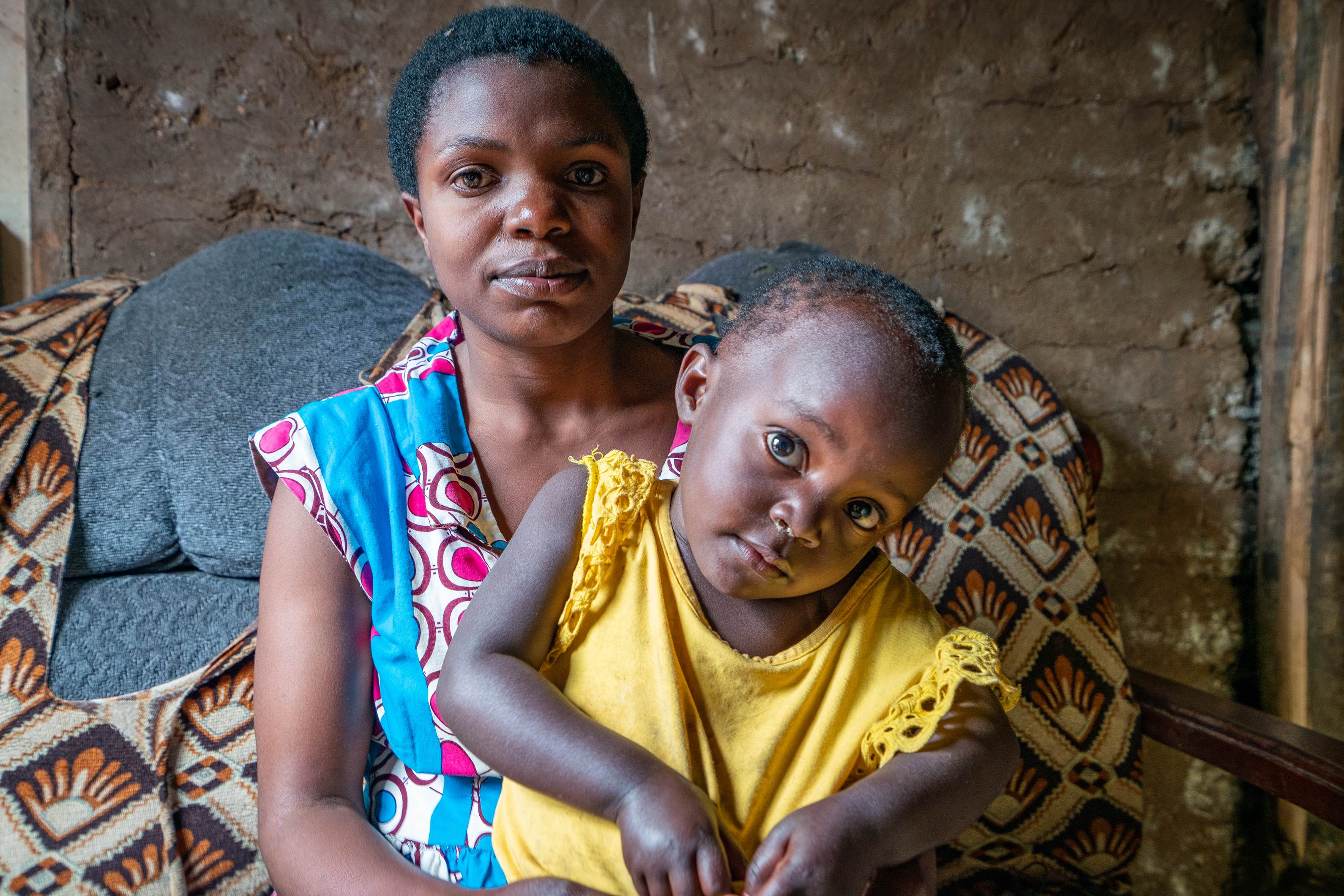 Helping communities prepare for Coronavirus
Using the lessons from Ebola to prevent the spread of COVID-19
A virus takes hold
Theresa*, seen here with the youngest of her four children, survived the recent Ebola outbreak in Democratic Republic of Congo.

"It was my mother-in-law who was the first to be infected," says mum-of-four Theresa.
"After her death I also felt sick. I felt cold, I started vomiting and had diarrhoea. I was feeling very, very bad. I don't know even how to explain it. I was feeling very bad and so weak."
Right now, we're all learning how scary it can be to live in the shadow of disease. As a new virus spreads through our community, what do we do to stay safe? Who do we listen to for advice? And as we grieve for those who've passed, how do we keep going?
My mother-in-law. My father-in-law. My husband, his brother; there were six [adults] in my family, and five died. I'm the only one who survived," she says, remembering the faces of her loved ones.
Theresa's loss and fear are echoed daily in news reports around the world today. But her story isn't about COVID-19. Before coronavirus, another disease swept across Theresa's country: Ebola Virus Disease.
Watch this video to learn more about Theresa's story and how the lessons from Ebola have been used to prevent the spread of coronavirus. 
Community hero
Between 2018 and 2020, the Democratic Republic of Congo (DRC) faced the second-largest Ebola outbreak in history. More than 2,000 people died.
In the middle of the outbreak, facing loss and illness, how did Theresa cope? And what lessons can be learnt for the current situation?
"It was my pastor who helped me," she says. "He came to us. And even now, he continues to visit."
Theresa's local pastor, Sam*, had joined World Vision's Channels of Hope programme. By partnering with World Vision's health experts, local, trusted leaders, like Sam were able to educate their communities to stop the spread of the deadly disease.
"World Vision came to us and said: 'You are pastors, you are close to your followers. You are close to the people in the community. Please, will you come and help us to erase misinformation about Ebola?'" remembers Pastor Sam.
We were trained by World Vision to teach people about the Ebola outbreak, and how we can make the public aware in the church.
For Theresa, surrounded by uncertainty, fear and rumour, Sam's advice was lifesaving: "We didn't even believe really. It was unbelievable," says Theresa. "But the pastor came and said 'Ebola exists. You must go get treated. Go to the treatment centre, please'."
"Pastor Sam is the most important person to me in this Ebola outbreak. He saved my life," says Theresa. "If he didn't come to tell me things about Ebola I would have died."
Spreading health and hope

Theresa isn't alone. Many communities felt supported and safer thanks to the work of their faith leaders during the Ebola crisis. So, right now in the DRC, we're training faith leaders to promote lifesaving messages and practices to protect vulnerable children and communities from the effects of COVID-19. And not only in the DRC.
Our 70 years of experience has shown us that faith leaders are among the most trusted people in many communities around the world. As a Christian organisation, we're in a privileged position where communities of various faiths recognise that we have shared values and a mutual understanding.
We're currently working with pastors, imams and priests – hidden heroes in 34 countries – equipping and supporting them to spread clear messages to their congregations and communities, about coronavirus and protection.
*Theresa and Sam's names have been changed to protect their identities
Channels of Hope is the inspiration of God... It came to save the lives of people.
Your donation today could save lives
Please help protect children and prevent the spread of COVID-19. Donate here.
Donate now