Carrying the burden | Syrian refugee seeks safety in Lebanon; now trapped in child labour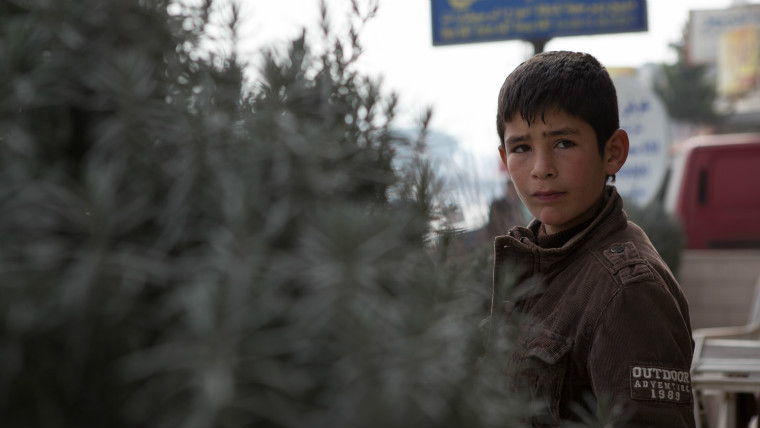 This Halloween, Khalid, 12, will spend the evening with his brothers, walking up and down busy streets, hands full of biscuits. But Khalid won't be collecting tasty treats, he'll be working; spending hours selling those biscuits to make a little money for his family.

Three years ago Khalid, 12, and his family fled Syria, when their neighbourhood become too dangerous to stay. Home was no longer safe, but neither was the journey. His parents are now both injured and unable to work, although the laws in Lebanon – where they're seeking safety – mean adult refugees can't work anyway.

So Khalid and his brothers, Mahmoud, eight, and Ahmed, 15, have taken on the role of family breadwinners. The boys wake early and then work long hours through the day and into the night walking the pavements of the nearest town. And despite their efforts, they make just £10 a day... if every customer actually pays, as Khalid explains:

"Some people hit us. Some people just take the biscuits and they never pay."

Maybe they could make more money if they each worked along a different strip - but the three boys stick together to protect each other.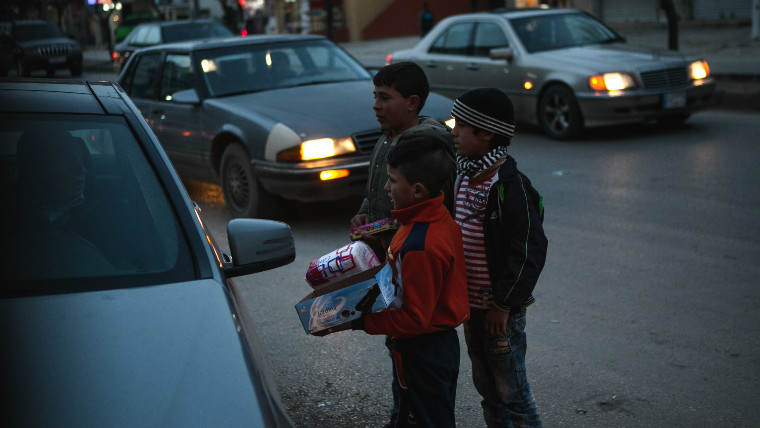 Before the war
It's a long way from their life in pre-civil war Syria, where the brothers were able to learn, play and just be children.

"I remember when I was eight years old. I'd like to go back to my school. In school we used to play and be happy," Khalid told us.

These days, if they're lucky, the boys may get time to play football. But the idea of school is an unattainable dream. And Khalid can't see how things can change.

"I would never stop [working]. Sometimes I think about stopping but nobody would provide for us."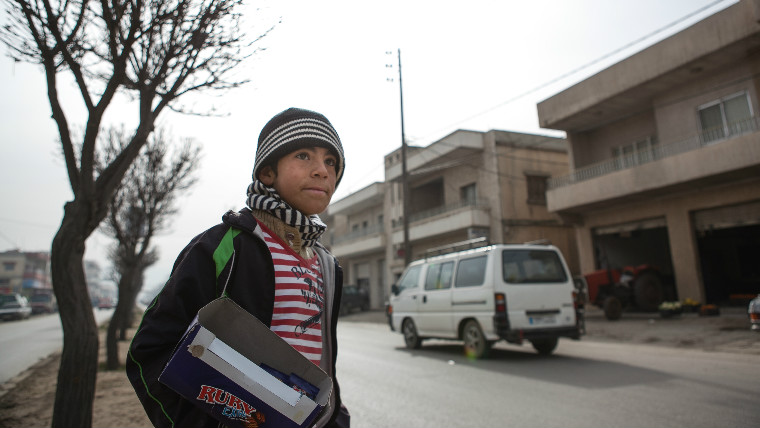 Hope for the future
But things can change.

We're working in Lebanon both with refugees from the Syrian conflict, and with the Lebanese communities hosting them.

We're helping families in crisis to afford basic groceries so that children don't have to risk their safety working to provide them. And we're offering special places for children - known as Child Friendly Spaces - where they can play, form friendships and learn, offering some stability in the middle of so much uncertainty and change.

We know that children like Khalid have seen things that no child should. Our staff hear stories of bombings, death and injury, of terrifying nights spent out in the open, and of what was left behind, the toys, friends, pets and homes.

The nightmares and fear won't fade away quickly, so our psychosocial teams work with children who aren't coping well. We help to build their confidence and self-esteem so that they can come to terms with the past, make the most of the present and deal better with life's future struggles.

A child like Khalid needs this help. His family needs to buy food - but Khalid and his brothers need to be in school, not in child labour. They need to be in a safe place. They need to be learning and making plans for the future. They need to be playing with friends.

In 2015 we helped almost 3,000 children in Lebanon through education and child protection projects. You can help more children, like Khalid, to find a safe place to play and to learn by carving a heart in your pumpkin this Halloween.
Carve a Heart for Khalid
No child should live in fear. Last Halloween people all around the UK showed their support for children in the world's hardest places, turning one night of fear into a night of hope. They chose to Carve a Heart in their pumpkins as a symbol of hope, light and love, and texted HEART to 70060 to donate £3* to help a child like Khalid.

We're doing it again this year – and you can too. We've got creative ideas for your pumpkin carving and other simple ways to support children, like Khalid, living in fear. And we'll be awarding prizes for the most creative heart, so be sure to share it using #carveaheart on Twitter or Instagram. See your entry uploaded to our gallery and vote for your favourites.


*This is a charity donation service for World Vision. Texts cost £3 plus your standard
network rate message. World Vision will receive 100% of your donation. If you have
a question about your payment call 0203 282 7863. If you would prefer we didn't
contact you again in future, text NOCOMMS WORLD VISION to 70060. Charity no
England and Wales (no 285908).




Save
Save
Save
World Vision UK's Nina Castree explores ways to keep connected with those outside our "bubbles".
Joy's worked through four emergencies in seven months. How does she keep going as a frontliner and help the most vulnerable children in the Philippines?
Grandmother Ahlam fled her home in Syria. Now she protects Syrian refugee children
Communities across the world are celebrating healthcare workers during the coronavirus pandemic. Meet Ailbhe in the UK and her colleagues abroad.