Meet our heroes of 2020
Finding strength by helping others through a trying year
What our heroes have common

What does a 12-year-old girl from the DRC, a Rohingya refugee dad, a grandmother from Syria and a UK healthcare worker, have in common?

Hardship? This may be one of the traits they have in common from the suffering they've had to endure, the fear of violence or the risk of contracting a deadly disease.
But above everything, what Priscilla, Obaidur, Ahlam and Ailbhe share, is their resilience, their courage and, along with amazing fundraisers here in the UK like Kamran and Sophia, their commitment to do whatever they can to help others. And for this, they are true heroes.
2020 has been a very challenging year for many people, but it's also been a year where hidden heroes have risen from all around the globe to fight the pandemic. From doctors and nurses on the frontline putting their lives at risk to volunteers delivering much-needed food packages or hygiene kits to help keep families safe, to fundraisers, organising events to raise money that will help support more vulnerable children and their communities.
Kamran and Sophie, fundraisers, UK
Back in June, siblings Kamran (nine) and Sophia (seven), above, took on a 10k and 6k run. The brother and sister were upset to realise that during the pandemic, some children don't have enough food to eat or soaps to clean themselves. So, they decided to do something about it, and help more vulnerable children.
They trained for weeks beforehand, whatever the weather, and fundraised an amazing £4,500 for World Vision's work.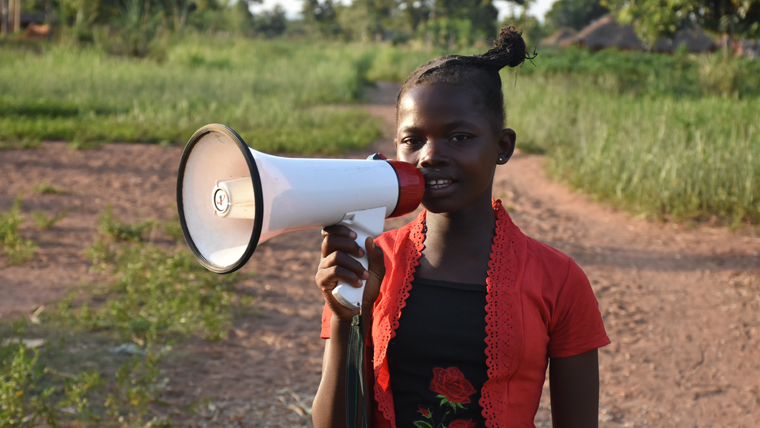 Priscilla, refugee, DRC
Priscillia (above) fled the violence in the Central African Republic, only to face a new deadly threat: COVID-19. She now lives in a refugee camp in the Democratic Republic of Congo (one of the most fragile places in the world) and has taken on a role to help her friends and community stay safe.
She explains how the virus is putting children more at risk because people are more isolated. School and churches are closed, people don't meet for fear of being infected. "We can no longer meet our friends, play with children, pray together. Even our faith is affected," Priscillia says.
This means children are more vulnerable to sexual and gender-based violence.
Amongst all of these challenges, Priscilla chooses to help children in the camp, as well as their families, with messages on how to stay safe – and she wants to build a stronger community. "My wish is to see all the children study and have a bright future," she says. "I am very proud when I see people change their behaviour based on my advice."
Above everything, they share their resilience, courage and commitment to help others. They are true heroes.
Obaidur, Rohingya refugee and father, Bangladesh
COVID-19 has sadly increased cases of violence in the home throughout the world. In Cox's Bazar refugee camp in Bangladesh (home to around 1 million people from Myanmar), restrictions put additional pressures on families, increasing their financial and emotional strain. Cases of children being beaten by parents or guardians shot up by 42% in April 2020 according to a World Vision report Aftershocks – A Perfect Storm. And half of those interviewed said that the safety and security of girls was an issue in the lockdown.
Obaidur (above), a respected local leader within the community, understands the struggles families face. "There are many reasons why quarrels and physical violence happen in the camp," he says. Obaidur is a member of a men's group in the camp. Together, they are tackling issues of domestic violence, as well as child abuse including child marriage.
Obaidur believes that with good teaching, men can create positive change in the heart of the crisis.
Thanks to their efforts, Obaidur is proud to see a drop in family violence, child marriages and community quarrels in their community.
Ahlam*, aid worker, mother and grandmother, Syria
Ahlam (above) became an aid worker after she was forced to flee her home in 2012 due to conflict. She now lives in Idlib, a displacement camp in North-West Syria. Ahlam has trained more than 6,000 humanitarian workers during her career. Every day is a challenge for Syrian families, but the pandemic is making families even more vulnerable. "I have witnessed a lot of suffering in Idlib during this long conflict, but the last few months have been the worst yet."
Ahlam does everything she can to help the people of Syria and even shares her house with families needing a shelter. "I feel the pain of others in Syria. The war and the COVID-19 pandemic have destroyed their lives, I wish I could ease their suffering," she says.
Her dedication to help the most vulnerable, particularly children and women, is truly humbling. Sometimes Ahlam feels overwhelmed by the work at hand, but guided by a strong sense of purpose, justice and defiance, she continues to give hope and positive energy to all of those around her.
*Alham's name has been changed to protect her privacy.
Ailbhe, trainee surgeon from Stoke-on-Trent, UK
When the coronavirus took hold of England in March, Ailbhe's (pictured above) life changed dramatically. The trainee surgeon, who would usually spend most of her afternoons in theatre, was re-deployed to the coronavirus frontline.
Then, the Irish surgeon picked up the virus.
She said, "I had terrible headaches at night that would keep me awake in the early hours of the morning. I couldn't take painkillers because I'd just throw up. I had a really bad fever, like a really severe flu … It felt as if I had been possessed by a demon!"
Thousands of health care workers around the world have become infected like Ailbhe with COVID-19 while treating patients. They know they are putting themselves at risk, but still choose to help others.
Luckily, Ailbhe made a full recovery and returned to work. Her story is a reminder of the courage and resilience of all these dedicated people.
To all the hidden heroes
Kamran and Sophia, Priscilla, Obaidur, Ahlam, Ailbhe and so many other hidden heroes like them deserve more than a painted rainbow, a clap or a thank you blog post to acknowledge their remarkable efforts – but recognising their strength and courage is much more than expressing gratitude.
Their stories have the power to inspire millions of others to walk in their steps and show how selfless acts of helping others can fuel our own strength, fulfilling St. Francis of Assisi's adage: "For it is in giving that we receive."
Support children through COVID-19
Donate to help the most vulnerable children and their families stay safe
Coronavirus Crisis