WORLD VISION IN TANZANIA
Helping Tanzania's most vulnerable children
Children in areas of Tanzania are facing food and water shortages. Vulnerable to disease, malnutrition and abuse, we're working to protect these children and bring them a brighter future.
We're also working with child refugees in Tanzania, from Burundi and the DRC, making sure they're protected and healthy.
World Vision child sponsors from around the world are transforming children's lives in 48 long-term programmes. Sponsors in the UK are bringing change to two of these programmes: Kilimatinde and Kisiriri.
We've been working in Tanzania since 1981, and right now we're aiming to help 15 million girls and boys – especially the most vulnerable.
Livelihoods
Issue: Children are going hungry because farmers can't produce enough food.
Aim: We're working with farmers and their communities, to boost productivity and help them to cope during weather events (droughts or floods) or economic crises.
In 2017: 10,453 farmers started up groups to share knowledge, training and resources.
1,101 crop farmers trained in Climate Smart Agriculture.
We supported communities to form 1,477 savings groups – with 10,506 members.
We worked with communities to identify the most vulnerable children in each area. Now, 17,144 children are being supported and encouraged by their communities through savings groups and community care coalitions.
Health
Issue: Malaria is rife. Almost two out of every ten children will contract malaria before they even reach school age.
Aim: To strengthen health services and help people know how to protect and take care of themselves – particularly mums and their children.
In 2017: 340 volunteer community health workers trained to support new mums and their babies.
48,783 people – including children – were treated for malnutrition in our supplementary feeding programmes.
Water
Issue: Only half the population has access to clean water.
Aim: Work alongside the government to improve water systems.
In 2017: 92,556 families got potable and reliable water.
Child Protection
Issue: Children are vulnerable to violence, abuse, neglect and exploitation.
Aim: We're working with communities – and their leaders – to prevent, act on and help children recover from abuse.
In 2017: 487 communities set up child protection teams or junior councils.
14,730 children got their birth certificates for the first time.
7,552 orphans and vulnerable children received clothes and school support.
Education
Issue: In 2010 almost half of 13-year-olds hadn't completed primary school.
Goal: To make sure all boys and girls have equal access to a quality education.
In 2017: 99% of children in our area programmes went to school.
9,504 children took part in our Literacy Boost programme.
TANZANIA: EXTRA INFO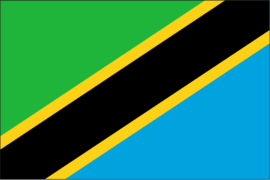 Tanzanian flag
Time: The time in Tanzania is GMT+3.
Travel: It's a holiday hotspot, with opportunities to relax on the spice islands of Zanzibar, Mafia and Pemba, visit Lake Victoria or Mt Kilimanjaro and safari in the Ngorongoro crater.
People: The population of Tanzania is now more than 51 million. 44% of whom are children under 15 years old.
Main languages: Swahili and English