WORLD VISION IN UGANDA
Helping Uganda's most vulnerable children
World Vision Uganda started in 1986 to offer relief and support following the 1981-1986 war.
Building on local knowledge and together with communities and partners, we contribute to the sustained wellbeing of children.
World Vision child sponsors from around the world are transforming lives in 53 long-term programmes. Sponsors in the UK are helping in four of them: Kibiga-Mulagi (Kimu), Ntwetwe, Busitema, Pajule.
Livelihoods
Issue: 68% of people are subsistence farmers - with 20% of Ugandans living in extreme poverty.
Aim: To break the cycle of poverty and support families to lift themselves out of poverty for good.
Impact: 26,785 farmers are now practicing improved farming technologies and techniques.
4,111 Savings for Transformation groups – with a total of 98,434 members – have started and trained
Health
Issue: Poor nutrition is a huge issue for children in Uganda. 14% of children are underweight and 33% have been stunted. Tragically, malnutrition accounts for 60% of deaths among children under five. But there are more dangers; pneumonia, diarrhoea, malaria, and measles are just some of the preventable diseases killing young children.
Aim: To work alongside mothers, children and whole communities, long-term, to ensure better nutrition, protection from disease and improved health care.
Impact: 17,863 children were tested for malaria – and over 15,000 children treated for it – in 2018.
13,418 mothers were supported by a skilled attendant during their childbirth
Water
Issue: Over 24 million people can't get basic drinking water services in Uganda. And more than 4,500 children aged under-five die each year from diarrheal diseases.
Aim: World Vision Uganda doesn't just provide water and sanitation infrastructure; we also work alongside communities so they can maintain facilities into the future.
Impact: 10,650 children now have safe water
Child Protection
Issue: 57% of girls are married by the age of 18. Only 30% of children are registered at birth, and not every one of those has a birth certificate.
Aim: World Vision Uganda partners with children, families, faith communities and care providers as well as local and government officials, to ensure children are protected from abuse.
Impact: 28,343 children (13,888 boys, 14,455 girls) have told us they now feel safe from harmful practices
Education
Issue: 60% of children who complete primary school are illiterate – and nearly two-thirds of them are girls.
Aim: To empower girls and boys to transform their futures, by having the opportunity for a quality education.
Impact: Nearly 8,000 teachers and over 1,100 caregivers have trained to support children's reading
400,000 children (nearly 13,000 whom are affected by conflict) are learning in improved and safer places, with fewer pupils per class.
UGANDA: EXTRA INFO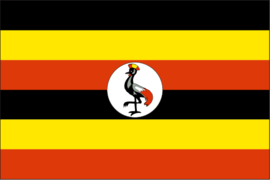 Uganda flag
Time: The time in Uganda is GMT+3.
Capital: Uganda's capital city is Kampala.
Currency: Ugandan shilling (USh)
Facts and figures from WVI Uganda