WORLD VISION IN SENEGAL
Helping Senegal's most vulnerable children
Children in Senegal are vulnerable to the changing climate – and in drier years hunger grows. Child protection remains a key issue too – particularly child marriage.
We've been working in Senegal for 30 years, and right now we aim to help 8 million of Senegal's most vulnerable children by 2021.
Today, World Vision Senegal has 29 long-term development programmes, helping 690,000 children and their families in 2018. Four of these programmes - Basa, Patiana, Loul and Mbella – are supported by World Vision sponsors in the UK.
Livelihoods
Issue: Farming is the main source of income for most families (60%). But, climate change, population growth and migration into towns and cities, mean are all affecting rates of food production.
In 2018: In the Fatick region, savings groups were set-up. We saw a corresponding fall in child malnutrition.
Health
Issue: Not enough food, coupled with a lack of knowledge on mother and baby nutrition, mean young children – and new mothers – are at risk. A shortage of health workers also means they're not getting the care and advice that they need.
In 2018 125,515 children receiving nutritional support (extra feeding, advice).
332 new members joined the health insurance mutual scheme, by using savings group funding – meaning 409 more children now have health insurance.
Water
Issue: In rural areas, 1/3 people still don't have a reliable clean water source.
In 2018 World Vision Senegal provided 60,000+ litres of clean purified water to communities.
59,039 children are now cleaner and healthier thanks to new latrine blocks and handwashing facilities.
Child Protection
Issue: Poverty and tradition are pushing children into exploitation, including, child marriage and pregnancy, female genital mutilation, child labour and trafficking. Child marriage remains a reality, with 1 in 3 girls married before the age of 18.
In 2018: World Vision Senegal supported more than 500 local child protection committees,
64 children were helped to bring cases of child violence and supported with medical, legal and psychosocial assistance.
Education
Issue: Access to education – including vocational education – and quality of teaching remain challenging in Senegal.
In 2018: 725 teachers were trained on innovative reading techniques, while 212 community reading clubs were set up.
SENEGAL: EXTRA INFO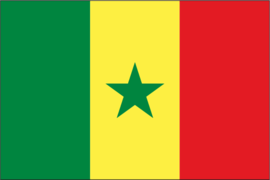 Senegal flag
Capital: The capital city of Senegal is Dakar
Main languages: French and Arabic
Currency: West African CFA franc
People: The population of Senegal is now 15.85 million (2017) World Bank
Religion: 92% of people in Senegal are Muslim
Facts and figures from WVI Senegal, WVI Annual report and CIA World Factbook