WORLD VISION IN NIGER
Helping Niger's most vulnerable children
In Niger, World Vision is focussing on water, sanitation and hygiene, health and nutrition, food security, education and vocational training.
We've been working in Niger since 1994, and right now we're helping to transform children's lives in 21 long-term programmes. Sponsors in the UK are bringing change to three of these programmes: Tera, Sirba and Komabangou.
Livelihoods
Issue: 80% of people in Niger rely on agriculture for their income. But, out-of-date farming methods and a dependency on unpredictable rains mean they're not producing enough.
In 2017 25,854 people received improved quality seeds and 1,880 savings groups developed
Health
Issue: Children are suffering from preventable diseases and malnutrition, because of limited healthcare, poor nutritional knowledge and a lack of food.
In 2017 1,227 community health workers were trained, 205,658 children were treated for malaria, 14,301 children were identified as malnourished and referred for treatment.
Water
Issue: Dirty water, lack of access to sanitation facilities and poor hygiene practices mean many people, especially children, get sick.
In 2017 50 water points were repaired, 137 boreholes were equipped with hand pumps, and 110,850 people gained access to safe drinking water.
Child Protection
Issue: 76 of girls marry before they're 18. There's little awareness among parents about child rights or birth registration.
In 2017 More than 12,200 children had their births recognised.
Education
Issue: More children are going to school now – but the infrastructure has not kept up.
In 2017 924 parents were trained and resourced to help their children study, 67 reading camps were set-up and 15,200 books were given to children.
NIGER: EXTRA INFO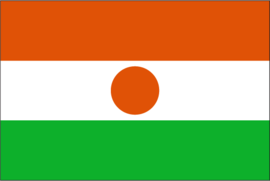 Niger flag
Capital: The capital of Niger is Niamey.
People: The population of Niger is approx. 21.48 million. (2017, World Bank)
Fact and figures from WVI Niger