No Peace Without Children
Flying into Beira, Mozambique, was a harrowing sight: hundreds upon hundreds of houses tangled together, their roofs ripped off and walls collapsed. Floods dominated the low-lying plains; hundreds of people having been drowned beneath the murky water.
<p>
Travelling through the city, the fury of Cyclone Idai – which tore through Mozambique as well as neighbouring Zimbabwe and Malawi last week – is palpable. Homes, schools and hospitals have been violently ripped apart. The ones still standing are mere shells; providing no security or safety for families forced to take shelter there.
<p>
Children play in the debris – with schools closed for the foreseeable future, they have little else to do. It's a dangerous place for a child: roads have collapsed, and rubble is strewn all around. Everywhere you look are uprooted trees and powerlines cut down. It's utter chaos.
<p>
It was amidst this carnage that I met Celina. At just 14, her entire world has been torn apart – her family had to flee their destroyed home, and are now sleeping in a school with hundreds of other displaced people. Most of them are young children.
<p>
Celina recalls being scared and confused the night the storm hit. "I have never heard anything like that. The wind was so strong," she says. She, her mum, sisters and baby nephew managed to flee when the roof of their home was ripped off and a tree fell onto their house, but a neighbour wasn't so lucky. As the waters rose he couldn't escape in his wheelchair and had to abandon it – crawling through the storm, only to be struck by a flying sheet of metal and killed.
<p>
Life at the school is hard for Celina – it's not a safe place for girls, and there's no privacy. With hundreds packed into a tiny space and sharing few toilets, disease is likely to spread fast. There's also not enough food to go around, and fights often break out.
<p>
NGOs including World Vision are on the ground in Beira working hard to reach all those in need, like Celina. With roads impassable for more than a week after the cyclone struck, the only way to reach many vulnerable communities was initially by helicopter. Our team flew with Mercy Wings, a partner NGO, to give aid to a remote community nearby the city. We met countless children there for whom this was the first sign of food and clean water since the cyclone hit. Understandably, they felt forgotten by the outside world.
<p>
These communities were already vulnerable – in that village, many children displayed obvious signs of long-term malnutrition. For them, the cyclone was a disaster on top of a disaster.
<p>
And sadly, it will be a long time before life in Mozambique goes back to normal. With diseases such as cholera and typhoid likely to break out soon, and with many communities still cut off, it's a race against time to reach those most in need.
<p>
Celina's not sure what the future holds, or when she'll be able to go home. "I want to go back to school," she told me. "I wish I could be at home with my friends. I don't know how things will be in the future."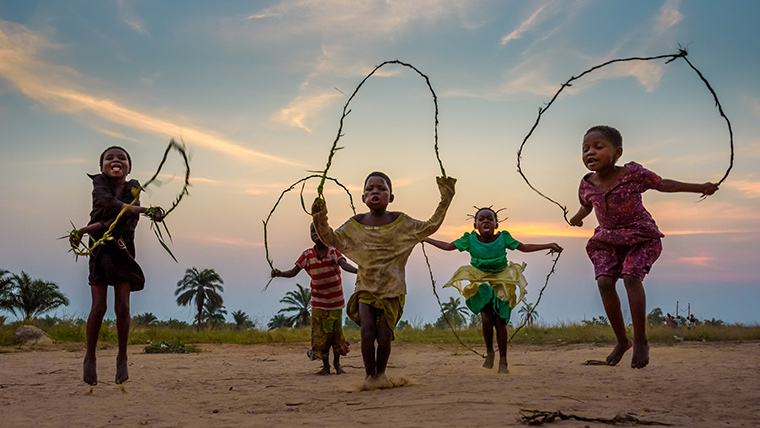 The future of children in the Central African Republic, from which I have just returned, is uncertain at best. They are forgotten casualties of a forgotten armed conflict.
Children continue to be used by the myriad of armed groups in countless ways: as fighters, as cooks, as porters, for sex. In 2016, the UN documented a nearly 50% increase in the number of children recruited by armed groups in the Central African Republic, but this may be the tip of the iceberg.
Some boys and girls are forced to join groups. Others choose to join for several reasons. They seek vengeance for someone they have lost, they emulate friends who have already joined, or they do it in order to survive (they need money, food, shelter) – often a combination of these.
Today, the UN Special Representative of the Secretary-General for Children and Armed Conflict, Virginia Gamba, is celebrating Peace Week in Geneva with an event, "Building Peace: Protecting Children in Conflict". I am honoured to be part of this event and to share the insight from World Vision's six decades of working with and for children affected by armed conflict. The event will highlight the interconnection between protecting children from violence and building sustainable peace. To quote Graça Machel from her landmark 1994 report Impact of Armed Conflict on Children:
"Children are both our reason to struggle to eliminate the worst aspects of warfare, and our best hope for succeeding at it."
- Erica Hall
We must use this moment to galvanise action to keep children safer in conflict zones. Together, the UN, donors, affected governments, humanitarian organisations, communities, and children can protect children. World Vision has been striving for this goal every day since our founder's calling to help children orphaned by the Korean War. But we need others to join us, which is why World Vision UK is today launching a campaign calling for at least 10 percent of the UK humanitarian aid budget to be spent on ending violence against children.
A recent independent investigation commissioned by World Vision UK found that only 2.5 percent of the UK humanitarian budget is spent on programmes to end violence against children, compared to more than 20 percent by the Swedish government. Thus, 10 percent represents a reasonable marker for the UK Government to aspire to.
Equally critical is to involve children in building that peace. They have no part in starting a war but suffer the long-term consequences the most: their development may be stunted by lack of food when farmers can't grow foods. They miss out on the education they need to choose their own future. And the mental and emotional effects of what they see, and experience can impact them forever.
Allowing children, a role in their own protection
Finding ways to reduce the factors making them vulnerable to violence and empowering them as peace builders have a transformative impact on them, their communities and their countries.
- Erica Hall
There are many snapshots in my mind of inspiring children I have met in places devastated by war. But two stand out in my mind today:
Agnes - whom I met in the Kasai Region of the Democratic Republic of Congo earlier this year - was 13 when the leader of her community convinced her to join the militia.
She fled after she saw her parents being killed by the army, having seen and been part of too much violence to cope with. She is now trying to rebuild her life and hopes to become a doctor. She was top of her class before the fighting, and she is determined to regain her place.
Michael, whom I met in Uganda many years ago. He had been captured by the Lord's Resistance Army aged 14. He fought for six years before escaping and being welcomed at a World Vision's Children of War Reintegration Centre.
When I met him, he had become the leader of a youth peace group and was eager to show me their latest community reconciliation play. He seemed so alive and happy. However, two days later, he tried to commit suicide. The whole community rallied around him. The next time I saw him he was doing better, but still had a long journey.
#ChildNotSoldier
#ItTakesAWorld
By Erica Hall, Technical Policy Lead at World Vision
Paulito and his family survived Cyclone Idai. Now they face major concerns for their future.
Adelino has a beautiful smile, but when he speaks of Cyclone Idai which ripped apart his community - his world - his eyes betray the suffering he's seen.
Homes, schools and hospitals have been violently ripped apart in Beira.
2019