August Edition
As the summer holidays arrive, thoughts normally turn to the opportunity to spend time with family and friends. Holidays away or at home, visiting relatives or friends - enjoying time together with the important people in our lives.
But this year has been anything but normal. For many, home has been a place for school and work and whilst this may have come with challenges and a few tears, it has also given many parents the opportunity to nurture their children in new ways.
God's plan was, is and always will be to nurture His children.
"For I know the plans I have for you," declares the LORD, "plans to prosper you and not to harm you, plans to give you hope and a future. Jeremiah 29:11(NIV)
In this verse we see God's promise to the Israelites to nurture them in their exile. This is not what they wanted to hear, they wanted to be told that their suffering was going to end, and life would return to normal. Instead, God's plan was for them to stay right where they were, and to help prosper them in their 'new normal'!
So, please join with us in prayer – as we rest in God's promise to nurture our lives, and those of our children, family, friends and children like Danfred (below).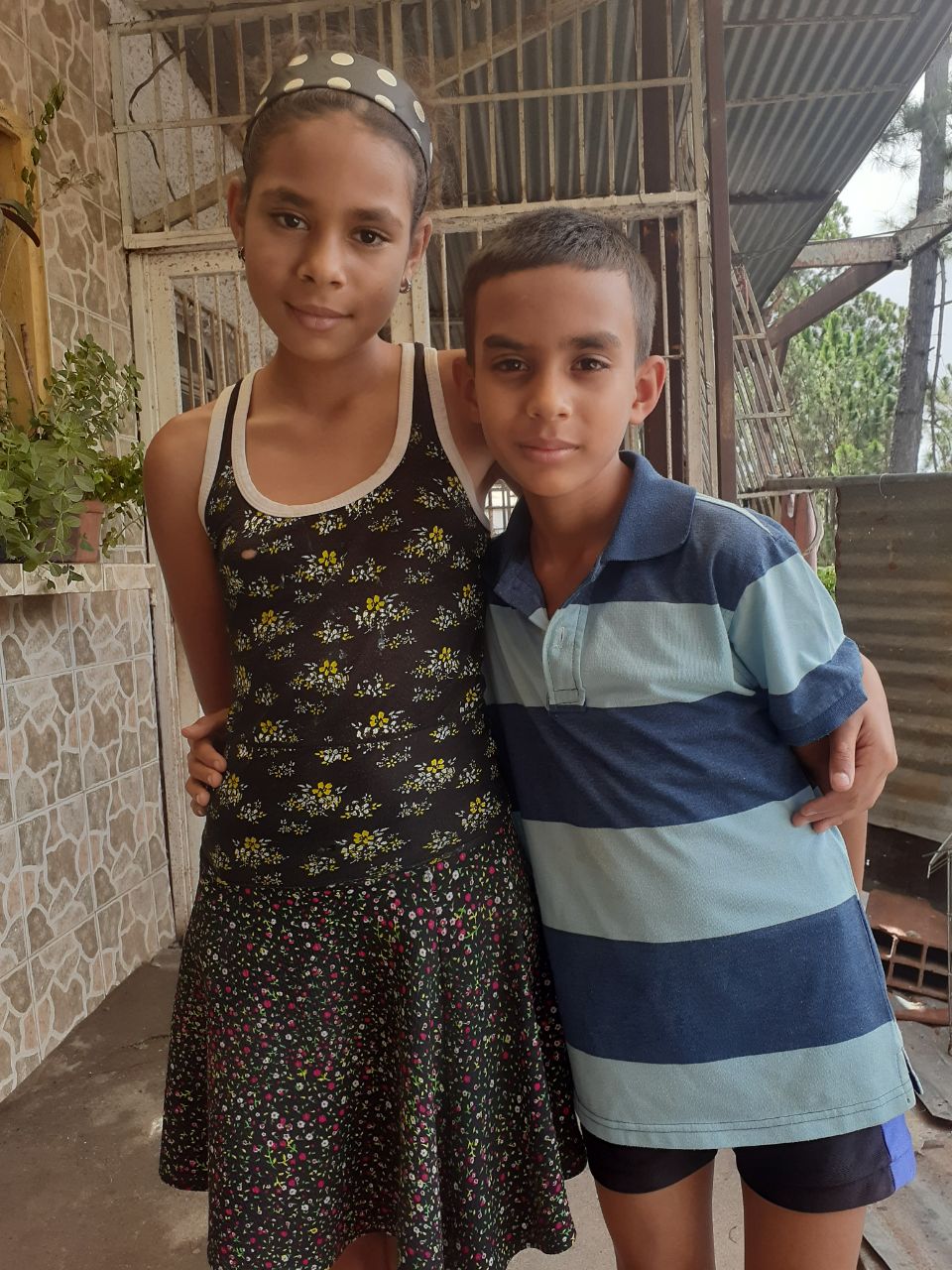 12-year-old Danfred and his sister Jehisy aged 11, live in Venezuela where they were abandoned as babies. 
Crisis upon crisis
In Venezuela where 12-year-old Danfred lives with his grandmother and sister, the COVID-19 health crisis has compounded an already painful economic crisis.
Water shortages are making hand washing difficult and putting vulnerable families at risk from coronavirus.
And increasing inflation means the family skips meals to stretch what little they have. Simple meals are made from flour and the family only eat vegetables if they earn money begging.
In the last 2 months without enough food for him to grow and thrive, Danfred has lost three kilograms and is now the weight of a seven-year-old child. And Oly takes refuge in her daily chores to avoid crying in front of her grandchildren.
"We are keeping quarantine, but it is difficult to see the weight we have lost. Since the children do not attend school, they cannot count on one of their meals a day."
A grandmother's love
At 69-years-old, Oly has exhausted herself and her resources to provide for and nurture her young grandchildren, abandoned as babies. She has frequently gone without food so that Danfred and his sister could eat what little food the family had. And many times, on her long walk to church, where Oly is supported by the church family, she has almost fainted with hunger.
Yet in a country and time full of uncertainties, the family are humbly grateful that World Vision are helping to serve their needs. Oly and her grandchildren had not eaten protein in about a year, until they began receiving home delivered food kits, full of essentials that are now helping the family to fight hunger and malnutrition.
"It is a gift from heaven that has allowed us to eat protein again after so long." Grandmother Oly
In your family and church please continue to pray with us. Because together, our prayers are empowering vulnerable children in the most dangerous places to overcome poverty and experience fullness of life.
"For I know the plans I have for you," declares the LORD, "plans to prosper you and not to harm you, plans to give you hope and a future."
Jeremiah 29:11(NIV).


JOIN US IN PRAYER


Heavenly Father, we pray for families like Danfred's and others around the world where parents are unable to provide for their children. In countries like Venezuela where the coronavirus is just one crisis on top of another, Lord we pray that we can be the hands and feet of Jesus in that place. Help us to be people that nurture others, who come together to serve others and ensure the world's most vulnerable children are kept safe.


Lord, we pray for the leaders across Latin America where the capacity to contain the coronavirus pandemic is weak. Father we ask that they seek your wisdom and strength to serve their countries well. And that good governance might return to countries like Venezuela where multiple crises are impacting the lives of millions of people.


Jesus, there are many people in our families, lives and workplaces that are being impacted by the secondary effects of the coronavirus too. Where furlough schemes are ending, jobs and livelihoods are being lost. Heavenly Father we pray you reveal the plans you have for all who are facing an uncertain future. Amen.
LIFESTYLE ACTIONS
The quiet refugee crisis. With news full of coronavirus updates, other crises are missed from the headlines. So, hear from our humanitarian expert, Peter Gape on the front line in Colombia, as families flee Venezuela for survival.
WATCH: Venezuela, the refugee crisis you might have missed
Are you a church leader, wondering what church life will look like after the pandemic? Be encouraged and ask questions at our free webinar, 13 August with a panel of New Zealand church leaders who have opened their churches.
Virtual Global 6K for Water. Be a 6K water hero and change a child's life journey forever. Did you know that the average distance a child in the developing world walks to collect water every day is 6K? Water that is dirty and will make them sick and taking up valuable time better spent in school.
Take part in our Virtual Global 6K for Water between 18 - 23 August and help bring clean water to children living in the toughest places.
If you're in the UK and affected by this email and the issue of keeping food on the table, please contact our friends at yourneighbour.org who are working with church networks and community partners across the UK to connect those in need in every local community to someone that can help.
We really value your prayers as these uncertain times continue, so please send your prayer requests to us so we can pray for you too prayer@worldvision.org.uk

Share Together Amen
Share Together Amen on social media, and your friends and family can register to get Together Amen too.