WORLD VISION IN CAMBODIA
Helping Cambodia's most vulnerable children
Children in Cambodia face dangers from the threat of trafficking and exploitation, to the problems of severe poverty in rural areas. World Vision aims to empower staff and communities to build a better future for Cambodian children.
We've been working in Cambodia since 1970 and right now World Vision child sponsors in the UK are bringing change to two long-term programmes: Koas Krala and Soutr Nikom.
Livelihoods
Issue: The most significant issue facing young people in Cambodia is making a decent living.
Impact: In 2015 877 young people took farm skills training, 862 received entrepreneurship training and 3,575 young people joined saving clubs.
Health
Issue: Malnutrition is a major issue for children in Cambodia – particularly those aged under-five.
Impact: World Vision Cambodia's health projects have reached 97,249 children under-five as well as 106,617 women.
Water
Issue: A third of families living in rural areas don't have access to a reliable source of clean water.
Impact: In rural Cambodia 192 villages have been able to improve their hygiene and reduce their risks of infection and diseases.
Child Protection
Issue: Child labour, trafficking, homelessness and violence are major threats to childhoods in Cambodia.
Impact: 550,8033 children have been helped by World Vision-supported Child Protection Groups.
Education
Issue: Only 1 in 3 pre-schoolers in Cambodia have basic literacy and numeracy skills.
Impact: We've partnered with 227,092 community members to help raise education standards. In their communities, 90% of children attending World Vision-supported preschools have achieved their development milestones.
CAMBODIA: EXTRA INFO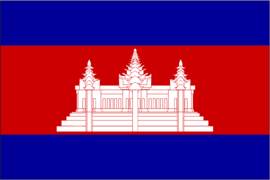 Cambodia flag
Time: The time in Cambodia is GMT+7.
Travel: Cambodian tourism is popular, with many visitors taking in the famous Angkor Wat temple, as well as the Cheung Ek Killing Fields (site of the Khmer Rouge genocide of 1975-1978)
Cambodian capital: Phnom Penh
Cambodian currency: Cambodian riel (KHR)
Facts and figures from WVI Cambodia and WVI annual development review