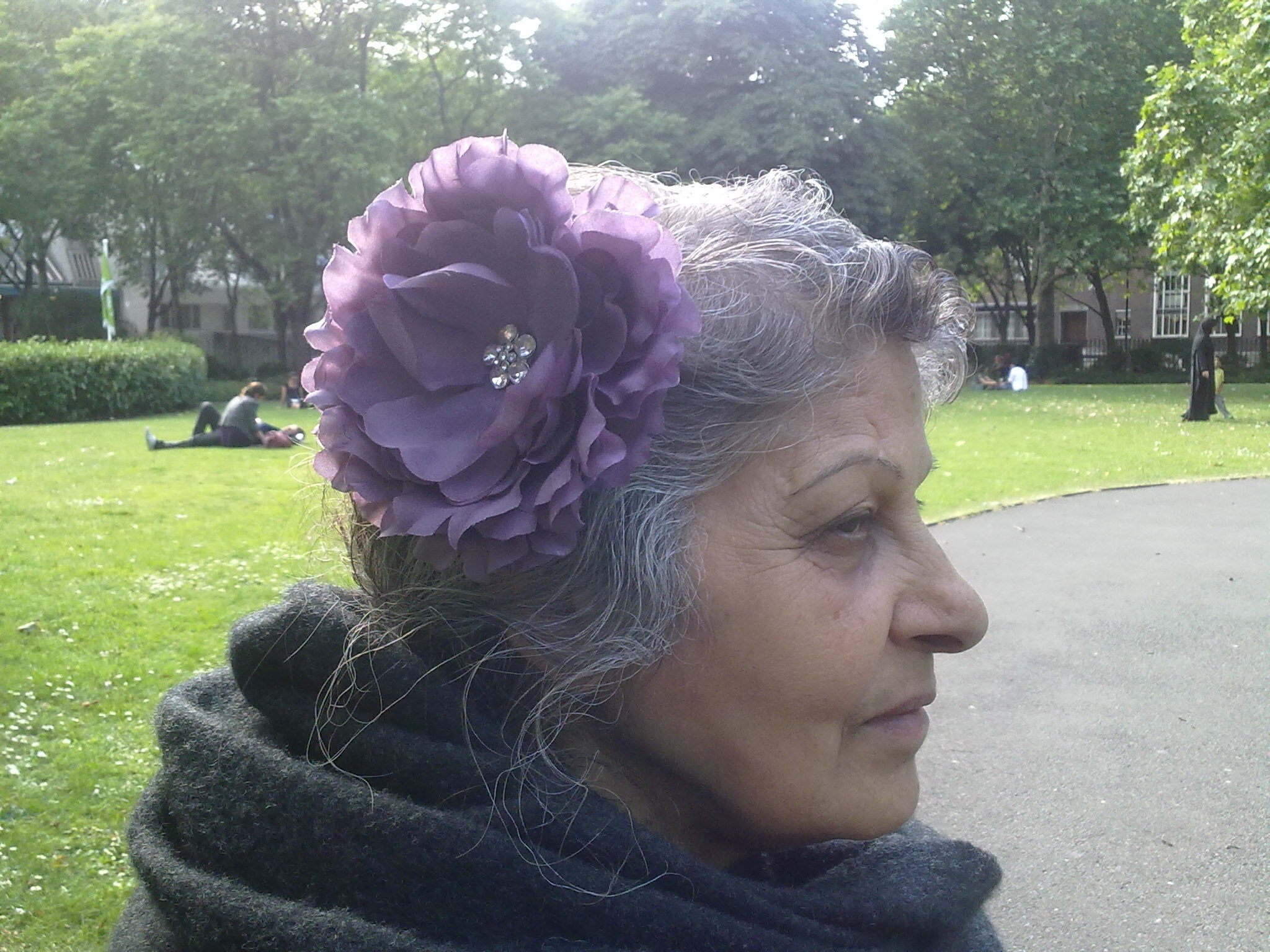 Grief no longer a foe, but a friend
Midwife Motia's legacy lives on through a gift her family made in her memory
Hope & kindness
(with a dash of resilience)
In 1970s Yorkshire, Nurse Motia Wadhawan loved nothing more, than cooking large meals to share with newcomers to the area. Gathering in the local community centre, recent arrivals from India were given a taste of home and helped to feel welcome.
This reflected Motia's mantra of 'kindness and hope'. She knew what it was like to leave her home, to struggle and to battle for a better life.
Partition
Born in 1940, in what became Pakistan, some of her earliest memories were of running through sugar cane fields with friends. But Partition forced Motia's family to flee to Indian Punjab when she was just seven, leaving their home in the middle of the night.
Childhood in a rural village in India was far from carefree. Her father worked in agriculture and struggled to provide for Motia and her 11 siblings. She was surrounded by poverty and there was little educational opportunity – especially for girls. When an accident injured one of her eyes, she was unable to get treatment – girls were simply not the priority so the money wasn't spent. She was left blind in one eye and wondering why girls should be treated so differently from their brothers.
Wealth of knowledge
Despite her circumstances, Motia managed to go to primary school. She showed a brilliance for maths and loved reading, studying in the street under the light of the gasoline lamps. This determination to learn didn't go un-noticed. Through Christian missionaries in her village, Motia gained a scholarship to high school and used her initiative by helping classmates with their work, in return for food – which she would share with her family who continued to struggle.
On one occasion, during her high school exams, she had no pencils. She arrived at the examination hall and patiently waited for a friend to complete the paper, before borrowing her pencil. Naturally, Motia passed this exam at the top of her class.
A further scholarship allowed her to pursue her interest in helping mothers and children, by enrolling in the Christian Medical College and Hospital in Ludhiana – her 'headstrong' wishes overruling her family's encouragement to work at a local switchboard.
A new life
Qualifying as a midwife in 1961, Motia then joined the Indian army, serving in action on the border's front line, before marrying in 1965. Because she'd been pursuing higher education, Motia wasn't forced to marry early like her sisters. In fact, at 25 she was considered to be marrying late. However, this was just the start of a new adventure for Motia that would come with its own set of challenges to overcome.
In 1966 Yorkshire became home, after the UK invited skilled British colonial citizens to immigrate.
Motia, once settled in Yorkshire, began working in the NHS and continued to do so until she decided to look after her family fulltime. It was during these years Motia faced many challenges including food poverty and racism. This led to a difficult decision to move to London in the mid-80s to find new work and hope for a fresh start. But throughout, she taught her girls the importance of education, kindness and hope – all the while demonstrating true strength and resilience. Those community gatherings, cooking for new neighbours, stand out as epitomising Motia and her outlook.
Celebrating her life and having this project has helped us, as a family, in our grief.
Perfect memorial
Sadly, Motia succumbed to breast cancer in 2011. For 70 years, she had battled the odds and carved her own path – from achieving an education, to following her dream career, moving across the world and providing for her family. So, it's understandable that the family wanted to create a unique legacy; one that would reflect her heart.
After much research, the family decided to give a gift in memory of their mother to World Vision. In a perfect partnership, their donation would support a nutrition project for families living in a rural village in India – matching Motia's passion for giving children a good and healthy start in life.
The family explains that Motia's career was all about "supporting those who are most in need and giving them courage to be resilient even in the most adverse of times. She would hope that this would then give them strength to pay it forward."
Now, her legacy is bringing hope to children, through the kindness she instilled in her family.
The Bhojpur nutrition project has had a huge impact on children in the area, treating malnutrition and ensuring the community can access a reliable and varied food supply.
The impact: A new lease of life
In 2016, World Vision visited four-year-old Vishwakarma who had been helped by the project. The young boy was jumping enthusiastically, running arounds the village and climbing trees.
"Two years ago Vishwakarma was not the same", his mother Jharia told us, at the time. "He was so thin and weak. He would always be lying down."
"World Vision India came to me and asked me to take my son to the nearby Nutrition Rehabilitation Centre. They examined him and said that he was malnourished. They then gave him milk, rotis (Indian bread), eggs and khichidi (rice dish). This continued for six months and after that they counselled me on what to feed him," Jharia explained. "We still get food from there every week."
When Vishwakarma stopped for a rest, he snuggled up on his mum's lap.
"I enjoy playing gilli danda [a game with marbles]", he said shyly. "I love drinking milk and eating roti. I feel very happy and I run around a lot." he added.
"In two years, there has been so much improvement in him. In fact, he is completely fine now. He hasn't fallen ill in a long time. Going to the Nutrition Centre has helped him tremendously," Jharia said, with a warm smile.
A legacy that lives on
For Motia's family, this is a wonderful way to remember her:
"Celebrating her life and having this project has helped us, as a family, in our grief. And now, looking back, knowing that while we were going through the darkness of losing Mum, something beautiful was happening alongside it is really lovely."
The experience has now led some of the family to leave gifts to World Vision in their own Wills, continuing their mother's legacy of hope and kindness, and creating something positive for their own loved ones to focus on and remember them by.
Leave a legacy of hope
Find out how you can leave your own legacy to World Vision UK
Leave a legacy