World Vision warns of mental health crisis as Indonesia earthquake death toll climbs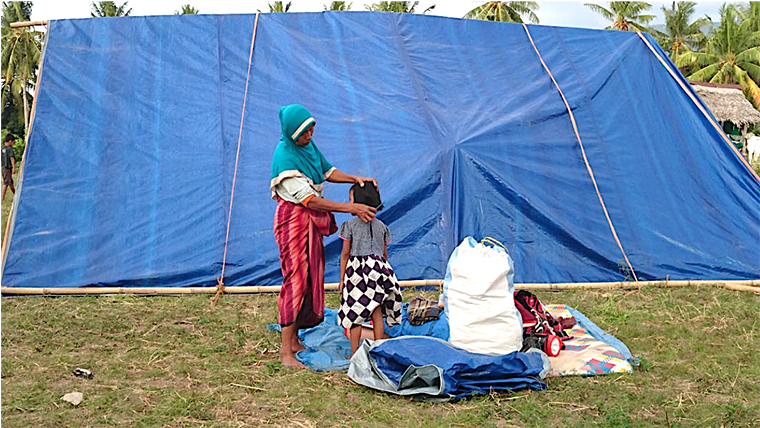 International aid agency World Vision has warned of a looming mental health crisis following a powerful 7-magnitude earthquake which struck Indonesia's Lombok Island on Sunday.
The need for mental health interventions will be huge in the aftermath of this disaster, as children will be forced to deal with loss, fear, separation from their families and a disruption to normal life.
We are already planning longer-term support, including offering psychosocial support for children traumatised by the crisis, and providing safe spaces for them to play.
- Bevita Dwi, Program Team Leader in Lombok at Wahana Visi Indonesia, a trusted local partner of World Vision.
Psychosocial support offers children ways to help process their trauma and is essential to protect and support the dignity of survivors.
The death toll following the earthquake has now climbed to 131, and thousands of people have been displaced. World Vision aid workers are distributing kits containing tarpaulin, blankets, feminine hygiene products and soap to survivors.
"Everywhere you look in Lombok is destruction. Thousands of people have been forced to flee their homes and have nothing but the clothes on their backs," Dwi continued.
"Many people, especially children, are now living in fear of another earthquake striking, and more than 70 per cent of houses, schools and other buildings are badly damaged. Our teams on the ground are identifying the most vulnerable children and their families, and providing them with vital support such as temporary shelter and hygiene products to help prevent the outbreak of disease."
The earthquake struck on Sunday (August 5) at 6.46pm local time at a depth of 15 kilometres, according to The Indonesian Meteorological, Climatological and Geophysical Agency.
Approximately one million people live near the epicentre and there have been more than 100 aftershocks.
The earthquake is the second to strike the region in recent days. A 6.4 magnitude earthquake struck Lombok Island on July 29, killing 16 people and injuring hundreds more.
Hillsong UK youth & teenage Syrian refugee discuss their past and hopes for the future
As millions of children remain out of school around the world, World Vision UK today launches its "Empty Classrooms, Broken Futures" campaign.
Over half a million children are at risk of child labour and child marriage as their families struggle six months on from the Beirut blast, World Vision warns today.
Ending violence against children remains alarmingly underfunded, despite one billion children experiencing violence each year, according to a new report.