Partnering with Microsoft & Facebook to bridge education gap and teach Syrian child refugees using digital technology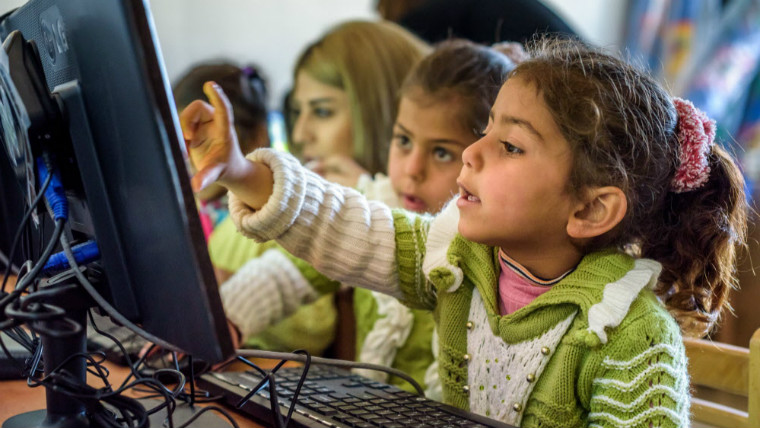 Syrian refugee children (outside of formal education) use the Tabshoura digital platform to learn
International children's charity World Vision is partnering with Microsoft, Google, Cisco, Facebook and other tech companies to host the #EdTech summit on the 1st and 2nd March. The summit aims to inspire Syrian refugee children to harness the power of technology.
The UN estimates that the Syrian conflict – which enters its seventh year in March – has set back Syrian children's education by a staggering 10 years. This summit will bring together the world's top tech talent to find innovative ways to educate children whose lives have been devastated by war.
World Vision Lebanon, partner organisation Digital Opportunity Trust Lebanon (DOT) and Lebanese Alternative Learning Alliance, are already tackling the issue head on. Together they have pioneered the Tabshoura e-learning program for three-to-six year-olds. Using Moodle e-platform technology they have digitised the Lebanese school curriculum. A total of 2,350 educational activities including rhymes, short movies and flip books can now be accessed in Arabic, French and English for free.
The #EdTech summit is scheduled to take place in Amman, Jordan on the 1st and 2nd of March. It's part of the No Lost Generation campaign, which aims to give refugee children an education that six years of Syrian war has denied them. Around 380,000 Syrian refugee children of school age are now living in Lebanon, but less than 50% of primary school-aged children have access to public primary school, compared to the global average of 90%. Additionally, less than 4% of teenagers have access to secondary school.


Technology can provide cost effective and basic education to millions of refugee children who don't have access to formal education. Countries like Lebanon and Jordan have sheltered millions of children. They are doing their best to support them, but there just isn't the capacity to absorb them into the state school system. We believe that e-learning platforms can bridge that gap
We're looking forward to getting the best brains in the room to thrash out technological solutions to improve education for children affected by the Syria crisis. There are some great thinkers with great ideas out there – and we need to harness this talent for the sake of students who just want to learn, but can't because their classrooms have been bombed, their lives uprooted, and their chances in life potentially shattered as a result.


- Mark Chapple, a former teacher and World Vision's #EdTech summit organiser
World Vision and DOT Lebanon created the innovative Tabshoura programme for nursery school children. The project trained teachers (or e-care givers) and children how to use digital technology. The programme offered structured learning to children who had no formal education.
One of Tabshoura's trainee teachers Mazen Husseini, himself a Syrian refugee, said: "At the beginning, I was against the idea because I thought children this age couldn't use computers well. In Syria, it's rare for children to be using the computers at this age. But they do actually retain the information well from computers. It is much more effective than regular learning because the information is right in front of them with a click on a button."
"The teachers were terrified at first," said DOT Lebanon's Bekaa valley manager Mariam Haidar. "The technology was new to them and they felt overwhelmed, but within weeks we saw great results. We had over a 100 nursery school kids attend the classes. They came three times a week without fail. Even though they had no computer skills at all in the beginning, they managed to master the usage of the mouse and Moodle functionality in a few sessions.
"For us digital trainers it was really exciting to see the children support one another. The children worked well together. And, early studies show that the Tabshoura e-platform users saw a 154% increase in test results. These findings are very encouraging," Haidar added.
World Vision welcomes Priti Patel's (Minister for International Development) call to, "develop and drive a radical jobs and education agenda… which will help vulnerable refugees."  With the support of tech entrepreneurs, we believe technology has a crucial role to play in getting children back into education and a step closer to the future they deserve.
A new study released today and conducted by Sevanta ComRes, has found that 48% of British parents are concerned about the impact of the coronavirus pandemic on the mental health and wellbeing of their children.
YOOX, the world's leading online lifestyle store for fashion, design and art, is marking its 20th anniversary with a donation to World Vision.
Millions of Syrians could starve and die if the UN Security Council does not renew this resolution allowing humanitarian organisations to deliver life-saving aid, World Vision warns.
The abolition of DFID is a political move, and the world's most vulnerable people will pay the highest price.