British bears bring Christmas joy to refugee children in Africa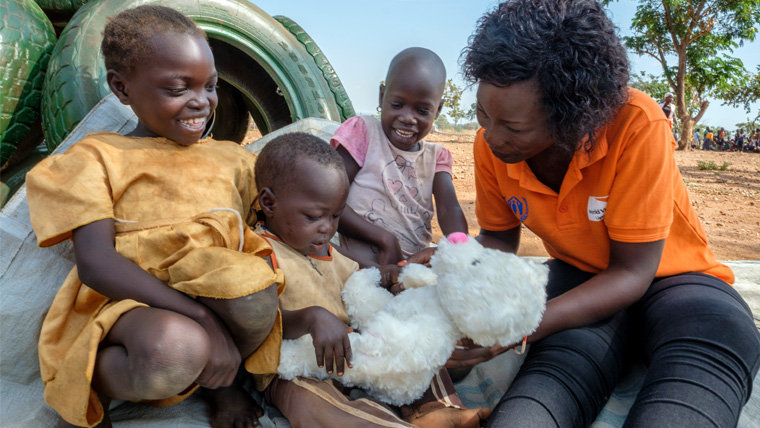 A motley crew of 700 British teddy bears today brought a sprinkling of Christmas joy to refugee children in Northern Uganda, the majority of whom have lost everything.
The teddy bears first came together in a flash-mob outside St Paul's Cathedral in the summer. The international children's charity, World Vision UK, organised a sit-down stunt on the steps of the cathedral to highlight the plight of children fleeing conflict in South Sudan.
With conflict still raging in South Sudan, thousands of children continue to cross the border into Uganda – many of them alone, sick or separated from their parents. Most of them have absolutely nothing – not even toys to play with.
Today, World Vision UK's star teddy bear Precious arrived in Imvepi refugee settlement with all 700 teddy bears in tow. The story of the 6,000-mile journey from Milton Keynes (south-east England) to Arua (northern Uganda), was creatively told on World Vision UK's social media channels.
Children will play with the teddies at World Vision's 31 Child Friendly Spaces in the settlements. The spaces provide young people with a safe place to play, get a basic education, engage in peace-building activities, learn about their rights and protection, and steadily recover from distress. They also allow children to return to healthy routines and start to feel normal again.
Children at our centres were so happy and excited to welcome Precious and her furry friends. These children have already gone through so much - it's heart-warming for them to know they are not forgotten, especially during the festive period.
We're very grateful to people in the UK who donated these bears. Thanks to them, Christmas has come a little early for children here!
- Paul Sitnam, World Vision Response Director in northern Uganda
The initiative was executed by World Vision UK in partnership with leading African airline, Kenya Airways. The collaboration was born out of a mutual commitment to supporting vulnerable communities in the developing world, which both organisations see as an important social responsibility.
We hope Precious and the bears enjoyed their flight with us. Kenya Airways was delighted to help take the teddies to refugee children in Uganda.
Everyone remembers having a teddy bear as a child, so to love and hold a bear will delight children who could do with some comfort at a challenging time."
- Katrina Hanson, Area Manager Europe & US at Kenya Airways Cargo
Conflict and a terrible famine in South Sudan have forced hundreds of thousands of families to flee their homes. Any money raised will make a real difference to children from the world's youngest country.
Visit worldvision.org.uk/bearsonstairs to find out more.
Reports of new cases of Ebola in north-western DRC confirm World Vision's greatest fear: that the country is contending with yet another outbreak in a new province – Equatoria.
Cyclone Amphan is creating crisis on top of a crisis – making it even more difficult to contain COVID-19 at a critical time in the response by both India and Bangladesh, World Vision warns.
Up to 85 million more children face physical, sexual and emotional violence at home and in their communities over the next three months, as COVID-19 spreads worldwide.
World Vision has dramatically scaled up its emergency response to the COVID-19 pandemic, as the virus continues to spread rapidly around the world.