The mobile game app feeding thousands of child refugees now looks to donate all proceeds to World Vision on #CharityTuesday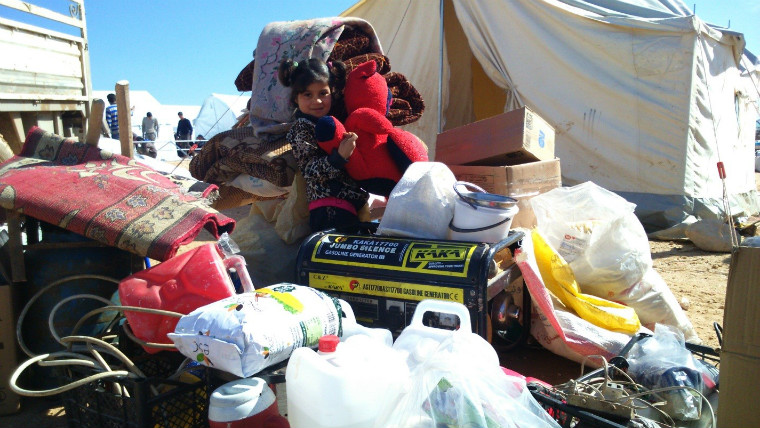 Syrian child refugee at an internally displaced persons camp
Makers of the popular mobile gaming app, Bloky Line, which has helped feed over a thousand vulnerable children have now pledged to donate all revenue generated from downloads tomorrow (Tuesday 13 December) to World Vision UK.
Catching onto the trending Twitter topic, #CharityTuesday, makers of the addictive game have extended their charitable commitment to World Vision which allows their growing fan base to be even more charitable whilst having fun.
Peter Newell, David and Goliath Games co-founder, said: "We've been blown away by the impact Bloky Line has already had in helping fight child poverty, but there is so much more potential. Within its first week of launch, the app has already generated enough funds to provide over 1,000 meals to displaced children in Mosul.
"There is so much potential in gaming and, through Bloky Line, we want to prove that the model for raising funding for charitable causes through game apps really works. The extra funding makes a difference to the hungry children World Vision supports. That's why we've gone one step further and decided to donate all revenue made on #CharityTuesday to World Vision's work," Newell explained.
Bloky Line is a rhythm-based reaction game that has been described as "satisfyingly addictive" and is available on the App Store. The game - which is free to download and play - generates revenue through game-play advertising as well as in-app purchases.
Through the existing partnership with World Vision, a quarter of all funds generated through the game are already used to directly fund projects run by World Vision, which responds to the needs of hungry children across the globe - including those caught up in the Middle East crisis.
Judi Cumberland, Head of Specialist Giving at World Vision UK, said: "It's absolutely brilliant that, within its first week of launching, the Bloky Line game generated enough funds to provide for more than 1,000 meals for vulnerable child refugees in the Middle East.
"Every donation we receive goes towards feeding some of the hungriest and most vulnerable children. All funding is matched by the World Food Programme, who have agreed to match every £1 donation with £5 worth of nutritious food. I hope that the game continues to build momentum so that World Vision can continue to provide the extra support to the children who need it the most," she added.
For more information, visit the David and Goliath Games website: blokyline.com or the World Vision website.
Parveen Devi - Phone: +44 1908244446| Mobile +44 (0)7535 650174 | 
Civilians in north-east Syria are at risk and humanitarian aid could be cut off following the launch of a new military operation in the area, leading aid agencies are warning.
Climate-driven disasters are becoming alarmingly common and more deadly, says Andrew Morley - World Vision's Global President and CEO.
Faith-based aid organisations have a vital role to play in reaching the world's most vulnerable communities, the Shadow Minister for International Development said today.
UK activist Amika George is urging world leaders to stamp out period poverty after visiting a World Vision menstrual hygiene project in Zambia.