From refugee to award-winning aid-worker: My journey as a woman in conflict zones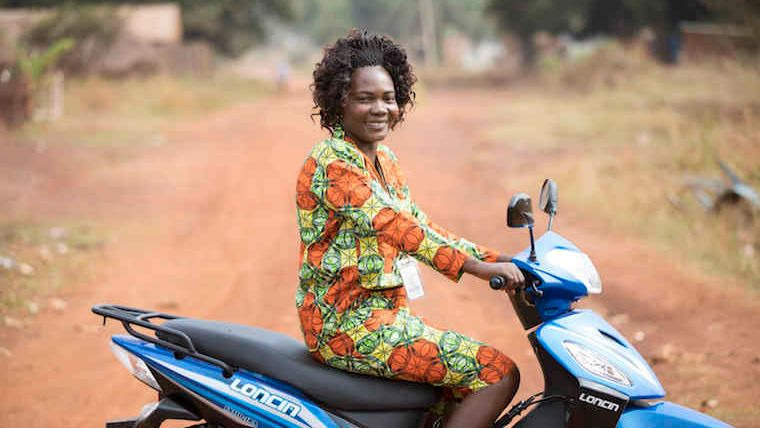 I still remember my aunt's firm, brave voice as she confronted soldiers patrolling the border separating us from freedom.
It was almost thirty years ago. My family and I had fled mounting violence in our village in Sudan, and walked three days to find safety in a refugee camp in the Democratic Republic of Congo. But at the border, some soldiers tried to stop me from crossing into the country.
I was just 13 and I was terrified, desperately afraid of what they would do to me, and fearing for my life while so close to reaching freedom. But my aunt refused to leave me there. She stood her ground until the soldiers let me go – revealing to me, for the first time, the incredible strength women have, especially when fighting for each other.
My aunt sadly died during childbirth while we lived in that camp, but her courage inspires me to this day. In fact, I can trace my journey as a humanitarian back to that day, on a dusty road trapped between safety and fear. Between the future and the past. Now, I live back in South Sudan and work for World Vision with marginalised women and children, helping them to embrace their inner strength and find hope for the future. My work has led me to support survivors of sexual violence and children born of rape, helping to break the stigma they experience and advocating for their rights.
These women and children have shared with me the most painful and heart-breaking stories you can imagine. Raped and abused by men, often at gunpoint, women find themselves pregnant, and shunned by their own families and communities as a result. Abandoned and alone, they have no one to care for them, and no way of providing for their kids. It's a harrowing prospect, made all the more terrifying in a country where women are especially vulnerable, and have few rights of their own.
I also work with former child soldiers – both girls and boys – who have been forced to fight and kill by rebel groups. Many of them have been sexually abused.
The war in South Sudan has caused immeasurable damage both physically and psychologically, but I work to help these girls and boys become children again. I work tirelessly to change attitudes and help communities accept those who have experienced extreme trauma.
There's no doubt that women and children carry the heaviest burden of conflict, displacement and violence in South Sudan. For young and old alike, tremendous physical, social and emotional suffering has become the norm.
That's why I'm delighted to have won the Bond Humanitarian of the Year Award – it has given me another kick of inspiration to keep doing what I do. And it's not just about me, of course – this award gives hope to girls and women all over South Sudan, as we rise from the shadows of conflict.
By Christine Ngbaazande, World Vision's Social Reintegration Coordinator in South Sudan and winner of the 2019 Bond Humanitarian of the Year Award
More children than ever are out of school right now. Too many of them will become vulnerable to exploitation and abuse. Find out what can you do about it.
Mark and Christine from Newcastle, met their sponsored child in India during lockdown. The virtual visit is a new way to meet your sponsored child. See how it went.
Renee became a child sponsor hoping to make a difference to a child in poverty. Read her story of how Child Sponsorship brings change and joy to her life too.
One way or another, children around the world are getting back into education. Find the top 5 reasons why it matters.