Helping refugees stay warm


By Elias Abu Ata, Communications Officer, World Vision Jordan
It's a busy day at the Princess Basma Youth Resource Centre in Ajloun city, 76 kilometres north of the capital city, Amman. A truck loaded with gas cylinders is parked outside and our staff inside are guiding and assisting people to collect their winter items.
Basic necessities are always a challenge for many of the Syrian refugees living in Jordan, and the cold winters are especially difficult. World Vision Jordan's winterisation work aims to help - families receive one gas cylinder and 40 Jordanian Dinars (£38.00) to fill it each month, and two children from each family also receive a jacket, a pair of shoes and five pairs of socks.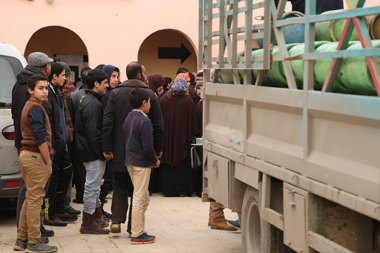 Naeema, 48, waits patiently in line to collect items for her family. She and her husband Mousa, 50, have three sons Fadel, 21, Qassem, 15, and Fares, nine. Naeema tells us they arrived in Jordan four years ago in 2012. When they reached the border they had to wait for three days before they were allowed to enter.
When they finally passed through, they stayed with relatives at first, before moving from small apartment to small apartment, and then finally arriving in Ajloun.
Even though the family is settled in their new home, it is not an ideal place to live. The ceiling is so low you have to stoop to walk, and when it snowed recently, the doors got stuck. "It was, and still is difficult to live here," says Naeema. "Life just shouldn't work this way."
Fares, her youngest son, has suffered from a brain atrophy since birth. As a result, he seems distant and finds it difficult to focus.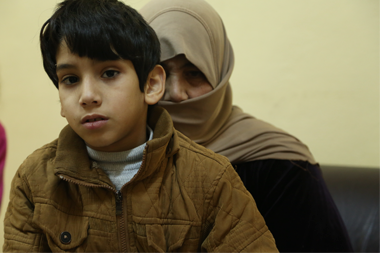 "I would enrol Fares in a private school if I had the money, because he loves school." Naeema told me. "He used to get beaten by schoolmates in public schools in Jordan. My heart aches for him; I cannot give him what he desires. I ask God to grant us patience."
Naeema has her own health issues, too - diabetes and high blood pressure.
Qaseem, 15, dropped out of school in Year 8 after he was assaulted by other Jordanian students. Naeema says that tensions still remain between Jordanians and Syrians.
Fadel, her oldest son, has recently started working for a local charity organisation, but he has received just 200 Jordanian Dinar (£195.00) in the past three months. To make up the difference, he's always looking for odd jobs and does bits of carpentry, painting and carrying items from one place to another to help his family pay their bills.
"What God is offering us is enough. We thank World Vision for the winter items we have just received," Naeema says determinedly.
Like mothers around the world, Naeema is happy when her children are safe and happy. "May God bless them and offer them a better life—a life that is free from war and destruction."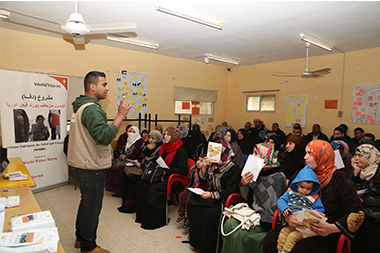 Naeema and her family is one of 700 households who received winter assistance through our winterisation work this year.
"The project came at the right time," says Ali Al-Khazendar, World Vision Jordan's Cash Programming Officer. "During worsening weather conditions, families were excited to receive the winter items, you could see in their eyes how much the assistance is needed," he concluded.
As winter descends, World Vision has been distributing essential winter kits to families to ensure they are not going cold this year. The kits contain blankets, plastic sheets, rope, a heater, carpet and mattresses.
To find out more and help, please visit our Refugee Crisis Appeal here » 

As climate change dries up water sources, Qudrat's children in Afghanistan are glad of a new water system in their village – powered by the sun.
You don't have to be an extrovert to be a great fundraiser. Discover introverts' valuable secret skills. Tips and ideas for starting your own fundraiser.
Why sponsor a child? Find out about the benefits of sponsoring a child – for them and you – from UK child sponsors.
Discover why Simnel cake was good for you. Find out how we boost children's nutrition now and join us in an Easter prayer.