FUNDRAISE AND UNLEASH YOUR HIDDEN HERO
You can make a huge difference and help protect the world's most vulnerable children from the effects of coronavirus by raising funds to support our work.
DOWNLOAD YOUR FREE FUNDRAISING PACK
Involve your children in fun fundraising activities, so that they can actively take part in fighting the spread of the virus worldwide.
Unleash your #HiddenHero - When ordinary people come together, we can make an extraordinary impact.
In places where communities live in overcrowded conditions, without soap and clean water, with poor health systems, and where families have lost their livelihoods due to the restrictions to contain the pandemic, your support is vital to help us protect children from the worst effects of the virus.
Choose your own challenge and start your fundraising. Here are some fun kids fundraising ideas to involve your children: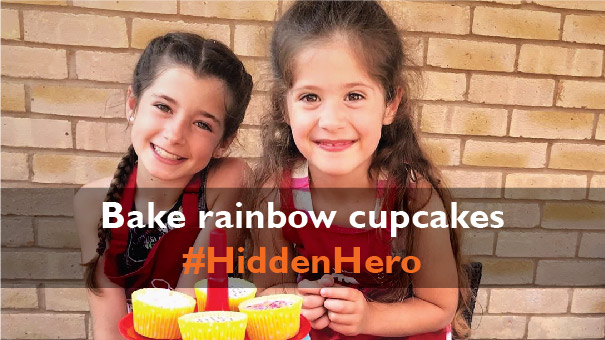 Bake rainbow cupcakes
Bake cakes, give them to local keyworkers or your neighbours and raise money from friends and family.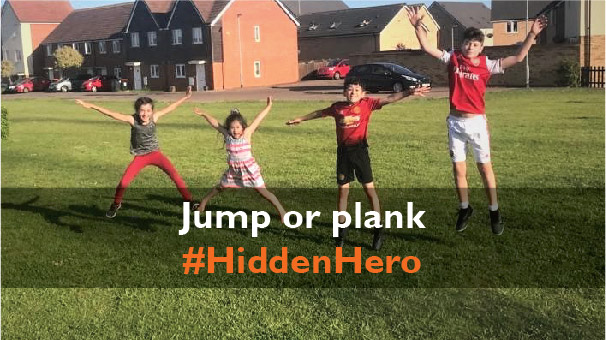 Jump or plank
Pick a physical challenge such as 100 star jumps or 2-minute plank and increase the number every day.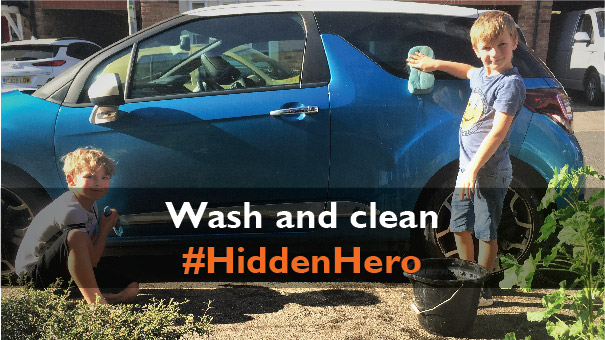 Wash and clean
Commit to doing house chores every day or help your neighbours by offering to wash their cars, weed their garden or help with other outdoor tasks.
HOW TO FUNDRAISE
It's super easy to start a fundraiser, here's how:
Set your daily challenge for you and/or your children
Ask your friends and family to sponsor you/your children (you can also set up a fundraising page on Justgiving, everydayhero, Virgin Money Giving or Facebook)
Track and complete your challenge (children can use this challenge tracker)
Download your customisable certificate and thank you cards below
Share your success on social media using

#HiddenHero #coronavirus

and

@WorldVisionUK
You can download more fun kids activities at get-involved > kids-activities.
WHERE WILL THE MONEY GO?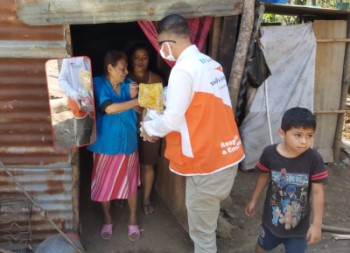 The money you'll collect through your fundraising will provide vital support to staff and volunteers around the world fighting the spread of coronavirus in communities where they have poor healthcare, live in crowded areas and can't self-isolate, and have limited resources like soaps and masks to protect themselves.
For example:
£14 - could provide a hungry family with a food package to feed them for a week
£27 - could provide a caregiver with two bars of soap, 28 masks, and a bottle of disinfectant (enough to care for a person with mild symptoms for two weeks)
£59 - could provide a cash grant for a family to enable them to buy food and other necessities to care for their children
You can find more information about how your support is helping children to stay safe on our Coronavirus response page and our Hidden Hero campaign.
SHARE ON SOCIAL MEDIA
Share with your friends and family on social media using #HiddenHero #coronavirus and @WorldVisionUK to promote your challenge and to inspire more people to join in and make an extraordinary impact.
Together, we can protect the world's most vulnerable children from coronavirus.
CONTACT US

All money raised will go to where the need is greatest.
If you have a great idea, need help or just want to talk it over:
 call Charlotte Tipping on 01908 841000
 or fill in the form below
Resources
For more helpful information on how you can raise money for World Vision UK, click on the links below