World Vision Weaves a Week for Women in Croydon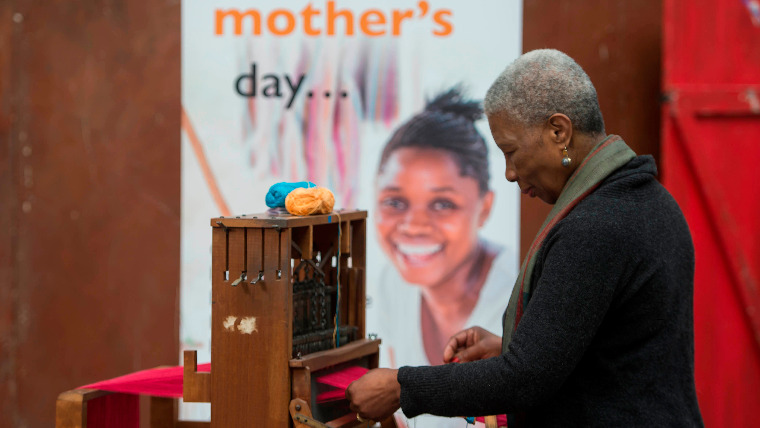 International charity World Vision is launching a Week for Women with a unique weaving event at Croydon's Whitgift Shopping Centre on Wednesday 7 March. The week will celebrate women's selfless contribution to families and communities in the lead up to Mothering Sunday this weekend.
Award winning textiles designer Doreen Gittens will showcase traditional hand-weaving skills outside two replica African huts put up by the charity. Her demonstration is inspired by Kadie, an impoverished mother in Sierra Leone, who trained as a weaver to provide for her family.
Kadie, 35 had no income to feed and clothe her family. She learned how to weave at a World Vision training programme after a UK supporter sponsored her eight year old son Moinina. She now earns enough to send Moinina, to school.
Kadie says: "My life was not good. I was suffering. But when I trained in weaving my life changed. I am very proud. I feel I am now a woman of substance."
British designer Doreen has nurtured her weaving skills from a studio in London's iconic Oxo Tower. She says: "I set up my business, Archipelago Textiles, over 20 years ago. I live a long way away from Kadie and we've never met, but our weaving bonds us together. Weaving also gives me a sense of empowerment. I think that's fundamental for every woman around the world."
William Atkinson, Private Sites Channel Manager from World Vision says. "Doreen and Kadie's stories of self-empowerment and kindness are a perfect way to celebrate International Women's Day and Mother's Day this week. This week we're inviting Croydon shoppers to step into two African huts and experience life for a mother like Kadie. We're also encouraging local children to weave bookmarks and make Mother's Day cards to show how much they appreciate their mums."
Activities will take place outside the African huts from 9am to 5pm Wednesday to Sunday. World Vision staff will help young children make colourful Sierra Leone bookmarks for Mothering Sunday in minutes, by finger-weaving ribbon onto a foam base. Children can also colour in Mother's Day cards designed with flowers and butterflies.
The two African huts recreate the home of a Sierra Leonean family. The first shows how families in the West African country struggle with poverty. Visitors can see the dangerous open fire on which mothers cook and lift the heavy can of dirty water children carry every day. The second shows how World Vision helps mums set up businesses, like weaving or growing food, so their children can go to school.
Visitors can discover how to give families nutritious food, clean water, healthcare, education and other support by sponsoring a child. They can also buy a gift – such as a financial training course - to help transform women's lives and those of their children.
As millions of children remain out of school around the world, World Vision UK today launches its "Empty Classrooms, Broken Futures" campaign.
Over half a million children are at risk of child labour and child marriage as their families struggle six months on from the Beirut blast, World Vision warns today.
Ending violence against children remains alarmingly underfunded, despite one billion children experiencing violence each year, according to a new report.
International aid agency, World Vision, has appealed to donors for US$10 million in additional funding, as it launched its humanitarian response to the crisis in the conflict-affected Tigray region of Ethiopia.