World Vision prepares to scale up work as western Mosul offensive begins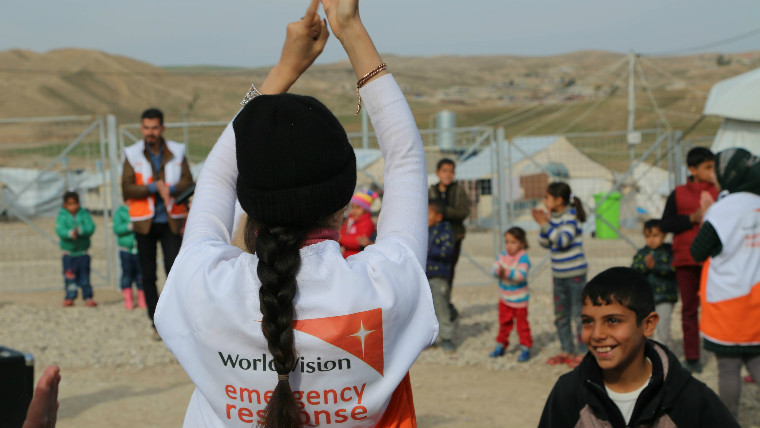 World Vision staff support children who have fled Western Mosul
The international aid agency is already supporting tens of thousands of people from eastern Mosul, who have been leaving since the initial offensive began in mid-October. Aid workers have been running Child Friendly Spaces and carrying out distributions to help families stay fed and warm during the winter in camps just outside the city.
Ian Dawes, Response Manager for World Vision Iraq, said: "We know that conditions in western Mosul are dire with food and water shortages, and that hundreds of thousands may soon flee.
"We're preparing for new arrivals in the camps where we're already supporting thousands of children who have lived through unimaginable violence in the past two years. Many of the arriving children have survived extremely distressing experiences, some even to the point of being unable to speak. Our specialist staff have been providing psychological and emotional support in our child friendly spaces, which is just as important as the immediate physical needs that people have. Many have lost everything they owned after fleeing Mosul," he added. The UN believes that up to 650,000 civilians could remain trapped in the western part of the city.
World Vision supports people who have recently left Mosul in Qaymawa, Khazer 2 and Debagah camps while helping to construct additional space in Hasansham U2 Camp. The organisation also runs widespread program.
A new study released today and conducted by Sevanta ComRes, has found that 48% of British parents are concerned about the impact of the coronavirus pandemic on the mental health and wellbeing of their children.
YOOX, the world's leading online lifestyle store for fashion, design and art, is marking its 20th anniversary with a donation to World Vision.
Millions of Syrians could starve and die if the UN Security Council does not renew this resolution allowing humanitarian organisations to deliver life-saving aid, World Vision warns.
The abolition of DFID is a political move, and the world's most vulnerable people will pay the highest price.