Young boy from Malawi teaches his friends
Young Phillip wants to be a teacher … but he's already teaching. Find out why
Barriers to education in Malawi
Asiyireni, from Malawi, dropped out of secondary school because her parents couldn't afford the school fees. She's since married and had four children. Now she's working hard to ensure her children are educated.
Through different farming interventions by World Vision, Asiyireni and her family are improving their income and livelihoods through a mix of different small-scale technologies like irrigation.
"World Vision has been helping us to improve our farming," says Asiyireni as she sits with her nine-year-old son Phillip. "So, we have been working hard in the garden where we produce maize, beans and pigeon peas for home use and for sale, so that our children can be healthy as well as have all they need for school and a better future."
But when COVID-19 hit, the local market where they sell their produce often closed. "Schools closed on 20 March in 2020 and my children were all home. I was afraid that they'd be out of school for a long time and possibly miss out on their education," says Asiyireni.
According to UNESCO (United Nations Educational, Scientific and Cultural Organisation) data, at the peak of the COVID-19 crisis, over 1.6 billion learners in more than 190 countries were out of school.
No access to remote learning
Vulnerable and marginalised learners like Asiyireni's children were hit the hardest. While efforts were made to provide online lessons, more than 60 percent of primary and secondary school learners in Malawi did not have access to remote learning resources during school closures.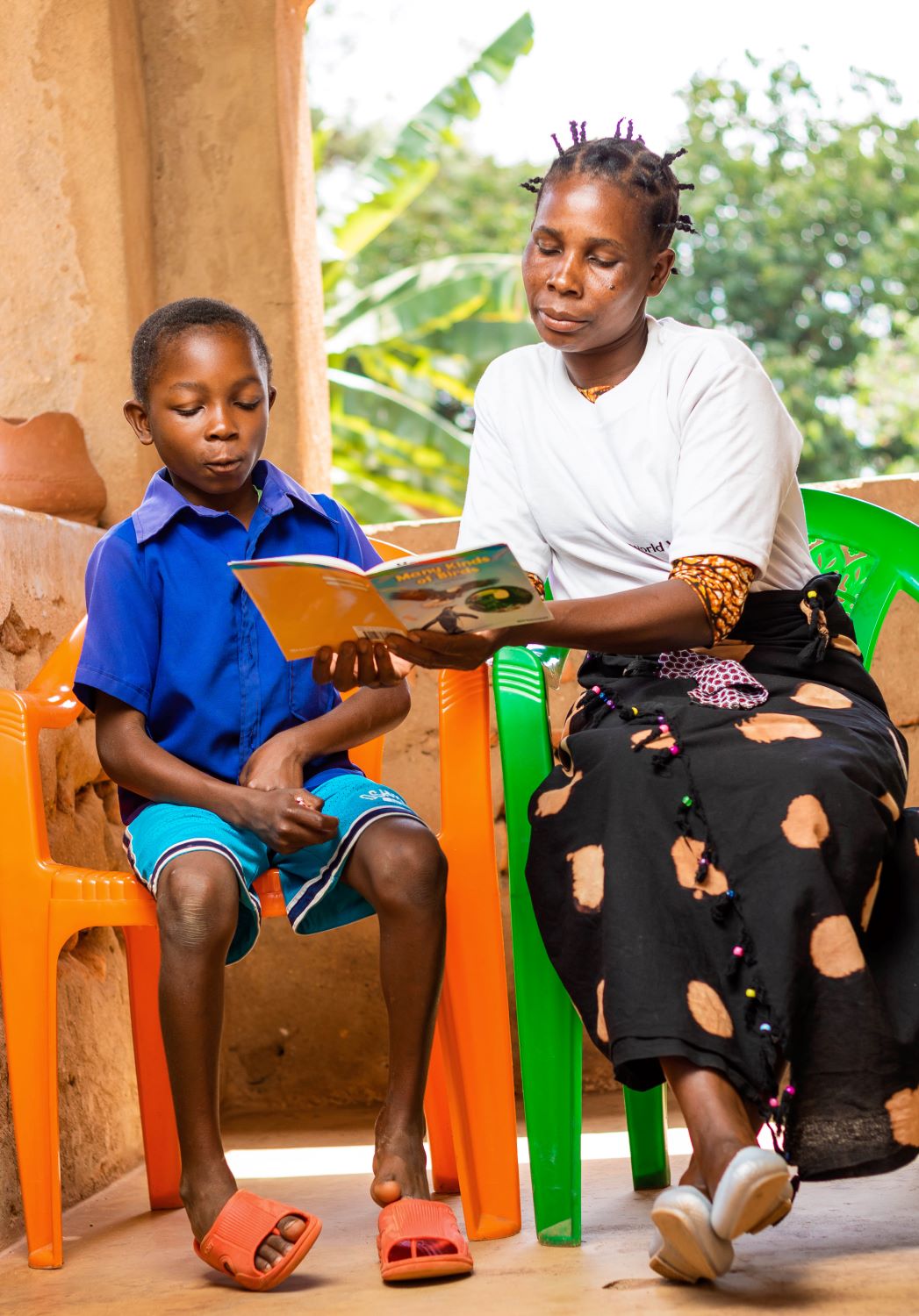 World Vision started working with parents to ensure that children, especially those from rural areas, continued learning from their homes. They initiated training sessions, and "home schooling to ensure that parents and guardians could help their children read and write in their homes," says Thandeka Nkhonde, World Vision's Manager for Education Interventions in Malawi.
Asiyireni and 99 other parents from her village went through the training.
"I embraced the home schooling initiative and got more invested in Phillip's education and my neighbours' children," explains Asiyireni, who then gave lessons to Phillip and his friends. "I was first afraid [I couldn't do it] but with encouragement from Mr Dissi (World Vision Development Facilitator), I did it and Phillip is doing well in school."
They call me teacher
In fact, ever since she started teaching her son, using the books and materials provided by World Vision, Phillip has improved significantly. Since schools reopened in October 2020, when the pandemic eased in Malawi, Phillip was ahead of his peers. "When my mother started teaching, I started performing better and my friends began approaching me for assistance so that they should catch up on the lessons they are struggling with. They call me teacher," says Phillip who aspires to be a teacher. 
Making education fun
Eventually, Phillip became his friends' teacher. Behind his house, under a big mango tree, Phillip is teaching his friends, who are improving too. "By learning together, we encourage each other and we also have fun," Phillip adds.
Having witnessed the gains being made by children in the classroom, teachers are urging parents to continue home schooling. "COVID-19 brought severe disruption in our schools," says Christopher Ndalama, a Deputy Headteacher. "Even after re-opening schools, classes now start at 8am and 10am and finish earlier, which means that children spend very little time in class."
Teachers are struggling to squeeze lesson plans to fit into the new normal. And this is where mothers like Asiyireni and bright children like Phillip are filling the gap. "The extra lessons the learners get from home schooling and reading camps complement the shortened class time in a very big and important way," explains Ndalama.
World Vision's progress in Malawi
So far, in this area alone, World Vision has trained 603 guardians, who are helping 1,394 children learn from home. World Vision, with the District Education office, has set up 48 Reading Camps, where 1,752 children learn to read and write with the support of a trained volunteer.
Across the country, World Vision is implementing the Home-Schooling initiative in other areas and so far, 10,811 children from 42 primary schools are being instructed at home by 4,601 parents, who were trained through the home school initiative.
Facts and stats
On International Day of Education, 24 January 2022, here are some facts and figures about education across the world.
According to UNESCO:
258 million children and youth still do not attend school
617 million children and adolescents cannot read and do basic maths
less than 40% of girls in sub-Saharan Africa complete lower secondary school
and four million children and youth refugees are out of school.
World Vision is working across the globe to help the most vulnerable children through running programmes and providing support to help children continue their education. Our supporters are enabling many programmes to bring lasting change and life in all its fullness. Programmes like reading clubs, advocacy classes, mobile libraries and, of course, finance for school provisions and fees.
Education allows children to realise their full abilities, reach their highest... attainment and grow up with dignity, confidence and self-esteem.
Kerin Ord
Education Global Sector Lead
What is education like around the world?
At World Vision we believe that all children deserve a good education. But 1 in 3 children globally don't even receive a quality primary education. The consequences are far reaching. Children who aren't in school are at greater risk of exploitation and lower earning potential. For many families, child marriage can seem like the only way to survive – but the consequences can be dire and far-reaching. For those who are in school, issues like poorly trained teachers, large class sizes and lack of learning materials mean that too many children still cannot read or write.
We address barriers to education and work with communities and local governments to improve access and quality of education for all children. We make sure children with disabilities are included. We focus on early years, primary and secondary education as well as helping families to support children's learning.
One of the most important ways you could help a child continue in education is to sponsor a child.