World Vision UK's Celebrity Supporters
We're very grateful to have the support of famous volunteers to promote the work we're doing throughout the world. They help us to throw a spotlight on our incredible development and emergency response work to ensure we make a real difference to the lives of vulnerable children living in the world's harshest places.

JEROME FLYNN
Jerome has been sponsoring children with World Vision for almost twenty years. In March 2019, he visited South Sudan to meet former child soldiers, and spent time with children and families in a camp for people forced to flee their homes because of war. In 2017, he spent time in Myanmar with World Vision, seeing how the organisation help children recruited into armed groups, and visiting projects helping street kids and victims of human trafficking.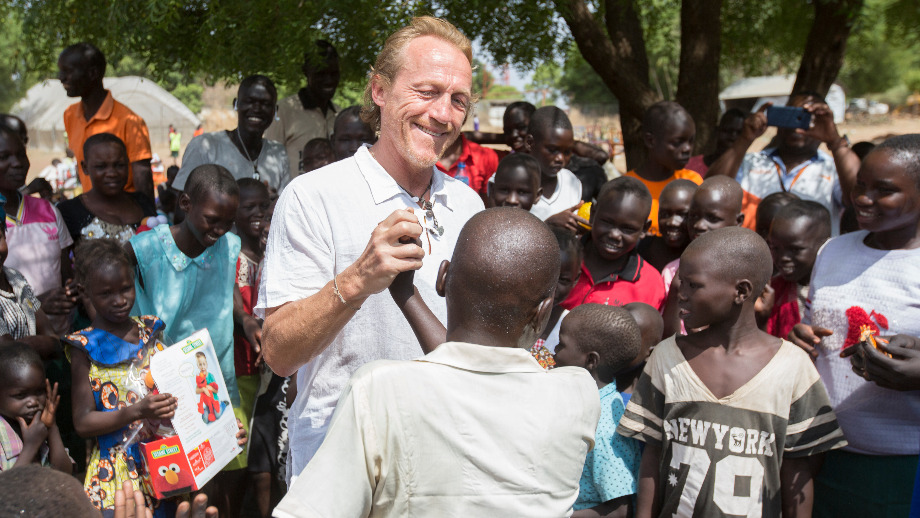 Photo: Jerome Flynn in South Sudan, March 2019.

Having that personal connection to a child and her community is a special thing. It gives you back so much more than the amount it costs each month, and that's a priceless thing to have in one's life.
- Jerome Flynn, World Vision Ambassador
About Jerome: Jerome stars as Bronn in the multi-award winning HBO show, Game of Thrones. He shot to fame in popular TV series, Soldier, Soldier, and more recently appeared in the BBC's Ripper Street.

Read fellow Game of Thrones actor Liam Cunningham's article about his visit to the Ugandan Bidi Bidi refugee settlement with World Vision Ireland ›

EYAL BOOKER
Model and TV Personality Eyal Booker visited the Philippines in December 2018, seeing World Vision's response work in the wake of Typhoon Mangkhut. The typhoon struck in September, affecting more than three million people. Read more about Eyal's charity work »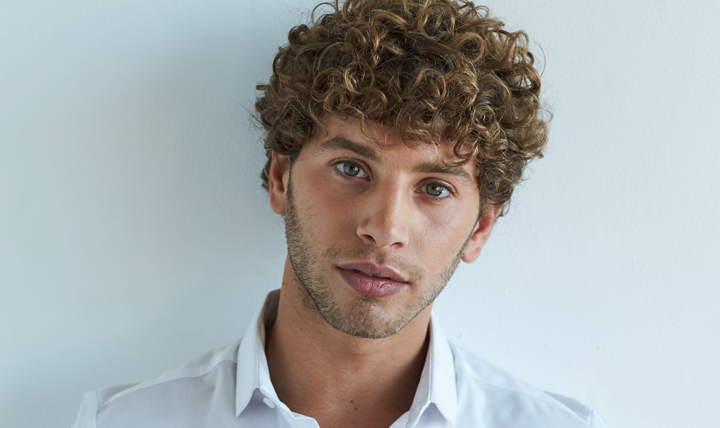 Credit: Joseph Sinclair
"I really admire the work that World Vision does, reaching the world's most at-risk children. They've helped countless kids and their communities, both through child sponsorship and their emergency work. Every child deserves to have a happy future ahead of them, and it means a lot to be able to see first-hand the difference they are making."
- Eyal Booker
About Eyal: Eyal Booker is a model and TV personality most recently known for appearing on ITV2's hit show Love Island. He was on E4's popular series, Celebs Go Dating, and continues to model for global fashion campaigns. He sponsors a child with World Vision in Sierra Leone.
MEGHAN MARKLE
In early 2016, Meghan Markle became a Global Ambassador with World Vision and travelled to Rwanda to see firsthand the importance of clean water and its impact on the lives of children and their communities. Inspired by our work, she joined us again in January 2017 on a visit to India, learning how stigmas surrounding periods and a lack of access to clean toilets prevents millions of girls from going to school, and how World Vision are working to increase girls access to education.
About Meghan: Meghan became the Duchess of Sussex on marrying Prince Harry in 2018. The pair have worked to shine a spotlight on the work of charitable organisations around the world.
IN THE MEDIA
Flick through the press clippings below to read more about our Celebrity Supporters in their own words. Mentions of our work are highlighted in yellow throughout.
Download our Celebrity Press Clippings »