SHARE A MEAL. GROW COMMUNITY
This Harvest weekend (5-7 October), World Vision along with our partners HOPE encourage you to share a meal with others – and bring communities together.
It's simple. Claim your Share a Meal pack today and get ideas and resources to help you enjoy a fun time with family, friends and neighbours.

HARVEST TIME
Harvest is a great time to bring people together to celebrate the good things God gives us and sharing food is central to hospitality.
 "Do not forget to show hospitality to strangers, for by doing some people have shown hospitality to angels without knowing it."
Hebrews 13:2
HOW TO HOST SHARE A MEAL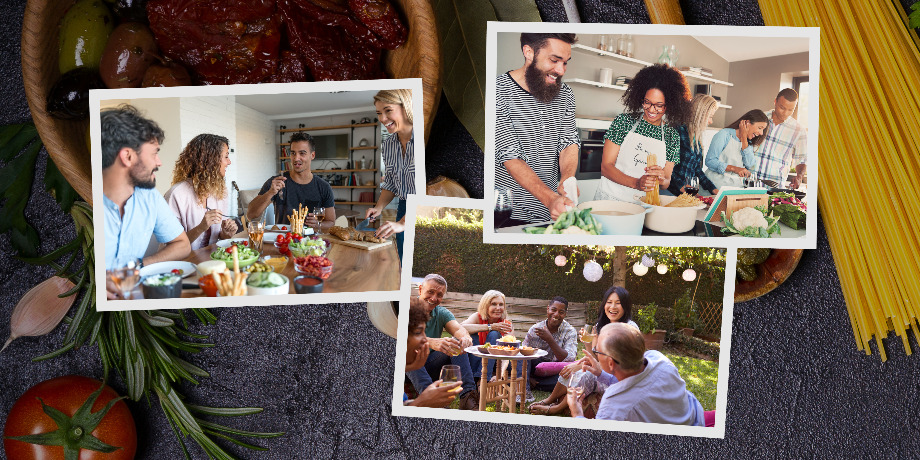 Sign-up today to download your free pack or request it by post – whichever you'd prefer. In it you'll find everything you need to help make your party a success, whether it's a simple supper or full-on evening of fun and food.

It includes:
foodie theme ideas
invitations you can personalise
name card
a quiz to help your guests get to know each other
and reflection cards to inspire your guests even after the party.

Once you've got your pack simply:
1. choose your Share a Meal party date,
2. invite your guests,
3. let the fun begin.
WHY TAKE PART?
Together we can help local and global communities grow by showing compassion for all.
"Love the Lord your God with all your heart and with all your soul and with all your mind and with all your strength. The second is this: 'Love your neighbour as yourself. There is no commandment greater than these."
Mark 12:30-31 (NIV)

By inviting guests to Share a Meal we can help to build strong and vibrant communities where we live.
And together our prayers can ensure we're beacons of light, love and hope for others we may never meet.

Nesadin age 12, a refugee from South Sudan, enjoying the harvest from a community garden project in Kenya where he now lives.
HAS SHARE A MEAL INSPIRED YOU TO MAKE A DONATION?
You can also donate to World Vision's work with vulnerable children, like Nesadin, and their communities.