Syria: 12 years since the conflict began
How the conflict has changed life for the people of Syria
On 15 March 2011, a long and brutal conflict began in Syria. The United Nations estimates that this has resulted in the deaths of over 300,000 civilians, with over 14 million displaced Syrians worldwide, all needing humanitarian assistance. Roughly half of these are internally displaced while the other half are registered as refugees.
On the 12th anniversary of the conflict, we take a look at how life has changed for Syrian refugees as well as those internally displaced.
How has the conflict affected Syrians?
Those who have had to flee their homes in search of safety have suffered the most. Living in camps or in cramped conditions takes its toll physically and mentally. For children under 12, all they have known is conflict.
Years of living in temporary homes without access to good healthcare and medicine leaves people more vulnerable to illness and disease. Poorly nourished children can experience growth issues and life-long health problems if left unaddressed.
The horrors of conflict and the trauma of upheaval increase people's risk of PTSD, depression, anxiety, stress and suicidal thoughts. These conditions can be debilitating – damaging relationships, breaking up families, and making it hard to focus at school or hold down a job.
"I couldn't stand my life"
Samar* lived a good life before the conflict. Her husband had his own business and their children felt safe.
"It was a very difficult day," Samar recalls the day when everything changed. "I feel very scared when I remember. We heard very [loud] noises and suddenly the planes started flying in the area... We heard the sound of bombing and the demolition of our neighbours' houses, and my husband was injured that day."
Samar and her husband left their home, eventually settling in a displacement camp. Her husband's injury left him disabled and unable to work, and the stress was too much. Samar developed diabetes, losing weight and experiencing seizures that prevented her from working.
The family had no choice but to move in with Samar's sister and family. An ill-equipped tent became the home of 15 people, without any privacy.
"I was thinking of ending my life," shares Samar, now 32. "I couldn't stand my life and cried every time my children asked for something that I couldn't [provide]."
Samar realised that her life couldn't continue down this road. She needed to take care of herself. A friend introduced her to a World Vision protection project which aims to empower women. Samar enrolled on a sewing course, picking up a new life skill.
"I now have a certificate in the sewing profession, and thanks to it, I am currently working in a workshop," Samar shares.
Samar also received psycho-social support. Along with 1,334 other women, she attended awareness sessions and learned how to deal with conflict, set goals, solve problems and make friendships.
"I attended physical lessons in the centre, as well as videos sent on WhatsApp groups, in addition to awareness sessions. All of this contributed to improving my psychology and made me able to face depression."
Samar has high hopes for the future. She has started overcoming her insecurities, facing her emotions, and discovered a passion. She wishes to support her husband in getting the treatment he needs to recover. She also hopes to run her own sewing workshop to give her children the best possible upbringing.
How else is World Vision helping?
With the help of our partners, World Vision has been supporting displaced Syrians – including 6.5 million children – since conflict broke out. Beginning with families fleeing to Lebanon, our work among Syrians later expanded to Turkey, Jordan and Syria itself.
Not only do we provide essentials such as food, water and medical items. We also provide healthcare, education, safe spaces for children to play and psychological support.
Further crises
The need for humanitarian assistance has increased since the pandemic and resulting global economic crisis, as well as an outbreak of cholera. People have been driven even further into poverty because of rising costs and lack of opportunity.
And now three earthquakes have brought further devastation and heartache.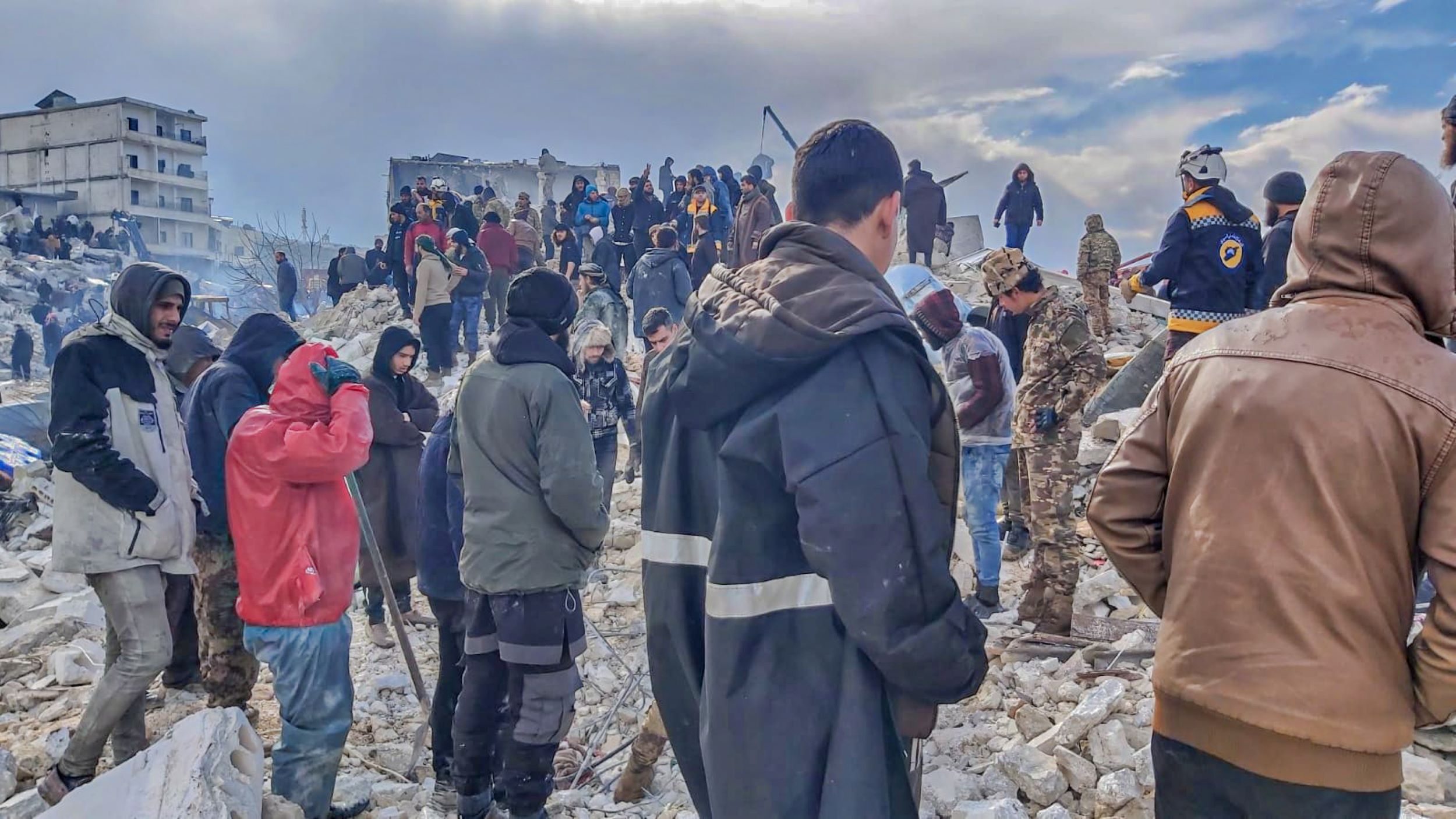 The first earthquake
When the first earthquake struck near the Syrian border of Türkiye, World Vision staff were already there supporting displaced communities.
Team members were awoken by the earthquake and, like everyone around them, driven out of their homes and onto the streets as buildings collapsed. Many slept in their cars, experiencing freezing temperatures in those cold early morning hours. They saw first-hand the devastation brought to communities, the loss of lives, homes and schools. Included in this loss was a teacher with close ties to our team, who died along with her family.
Fuel and essentials
Our teams in Northwest Syria have been providing fuel to help keep people warm during sub-zero temperatures. Wells damaged by the quake have become polluted, so World Vision has been providing water.
In emergencies like this, children are at greater risk, so safe spaces for them while schools remain closed are essential.
Food, blankets, hygiene kits and shelters for those made homeless by the earthquakes have also been provided.
Finding hope
World Vision works with communities, donors, partners and governments to create opportunities for better futures for vulnerable children. And we do this even in the toughest places, where change seems impossible.
We see the difference being made by our teams in and outside of the country. And with your help, together, we can do so much more.
*Name changed to protect identity