How your donations are spent
In 2020, for every pound spent by World Vision UK, 83p went towards our work for vulnerable children around the world and 17p was spent on raising another pound. Together, thanks to supporters like you and the support of gifts-in-kind and grants from donors like the UK government, we're giving children hope, a voice, and brighter futures everywhere we work.
How World Vision UK spends your donations
In 2020 we raised £69.6 million in total. These donations from the UK transformed the lives of nearly 2 million children in some of the world's toughest and most dangerous places.

36 countries

24 countries with emergency responses

174 projects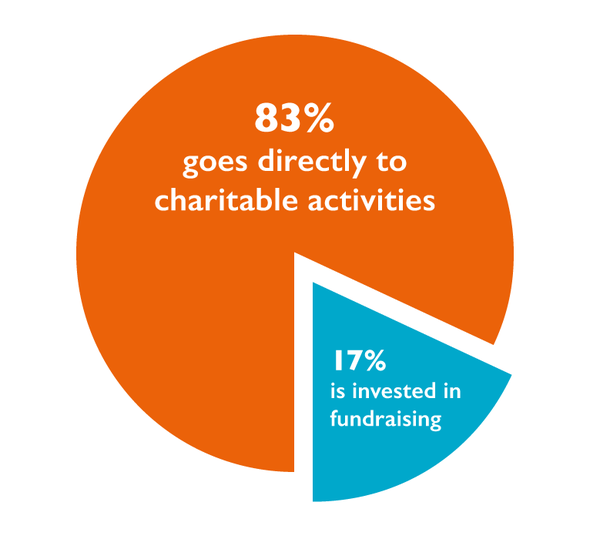 83% was spent on our work to care for and protect children.
The remaining 17% was spent on fundraising, so we can continue our life-changing work.

Through our work, and thanks to World Vision supporters and partners around the world, every 60 seconds a family gets water, a hungry child is fed, and a family receives the tools to overcome poverty.

For every £1 of World Vision UK's total income


83p

is spent reaching the world's
most vulnerable children
17p

g

oes towards raising
the next £1

How can I be sure my donations will reach those who need it?
When you give to World Vision your donation will be well spent to have the greatest possible impact on children and communities who need it most. Our accounts are independently audited, and we are regulated by the Charities Commission. Finanical accountability for how we spend our donations is important to us. You can find out what we've achieved with supporters' donations in our Annual report and annual Impact Report.

Why should I choose World Vision?
With 70 years of experience, we've learned how to bring hope to children and communities in some of the world's most poor and dangerous places. Thanks to our supporters globally, we work in almost 100 countries and have changed the lives of over 200 million children in the past five years alone.
When you give to World Vision, you know your donations will be well spent, for the greatest impact. We always work alongside communities, with a focus on the most vulnerable children and families helping them overcome poverty and injustice. So you know your donations will go to the children in greatest need.

How can you help?
There's still so much we need to do. There are millions of children struggling to survive, who risk losing their childhoods, their families, and their hope.
Inspired by our Christian faith, we are called to serve the neediest children, of all backgrounds, to relieve their suffering, and bring real transformation. We respond whenever and wherever we can. We won't rest while children suffer in situations that can be changed. This simply wouldn't be possible without supporters like you.
Donate today, and together we can continue to make a difference.

Our promise to you when you support World Vision
We're committed to fundraising in an open and transparent way. To find out more about what you can expect from us when you give, please read our Supporter Charter.