Indonesia – Central Sulawesi Earthquake and Tsunami – three months on
WHAT HAPPENED?
An earthquake with magnitude of 7.4 struck Central Sulawesi Province, Indonesia on 28 September 2018. The quake triggered a tsunami with waves up to six metres high in Dongala, Palu and Mamuju.
More than 2 million people have been affected by this disaster. And 170,000 are still displaced from their homes. Devastatingly, over 2,000 people lost their lives, more than 1,300 are still missing and thousands more were seriously injured. Nearly half a million children across four districts are affected by this disaster.
HOW CAN YOU HELP?
Donate
You can give to our Indonesia Tsunami Appeal to support children and families in their recovery from this devastating disaster.
Join us in prayer
for those affected by the crisis, still searching for missing family and friends
for those who are in need of even the most basic supplies and protection. There is a desperate need for shelter, food and water.
Almighty Father, we ask for Your mercy for those affected by the earthquake. Protect people. Guide aid workers and emergency responders in the hard-hit areas and as relief measures continue.
WHAT ARE WE DOING TO HELP?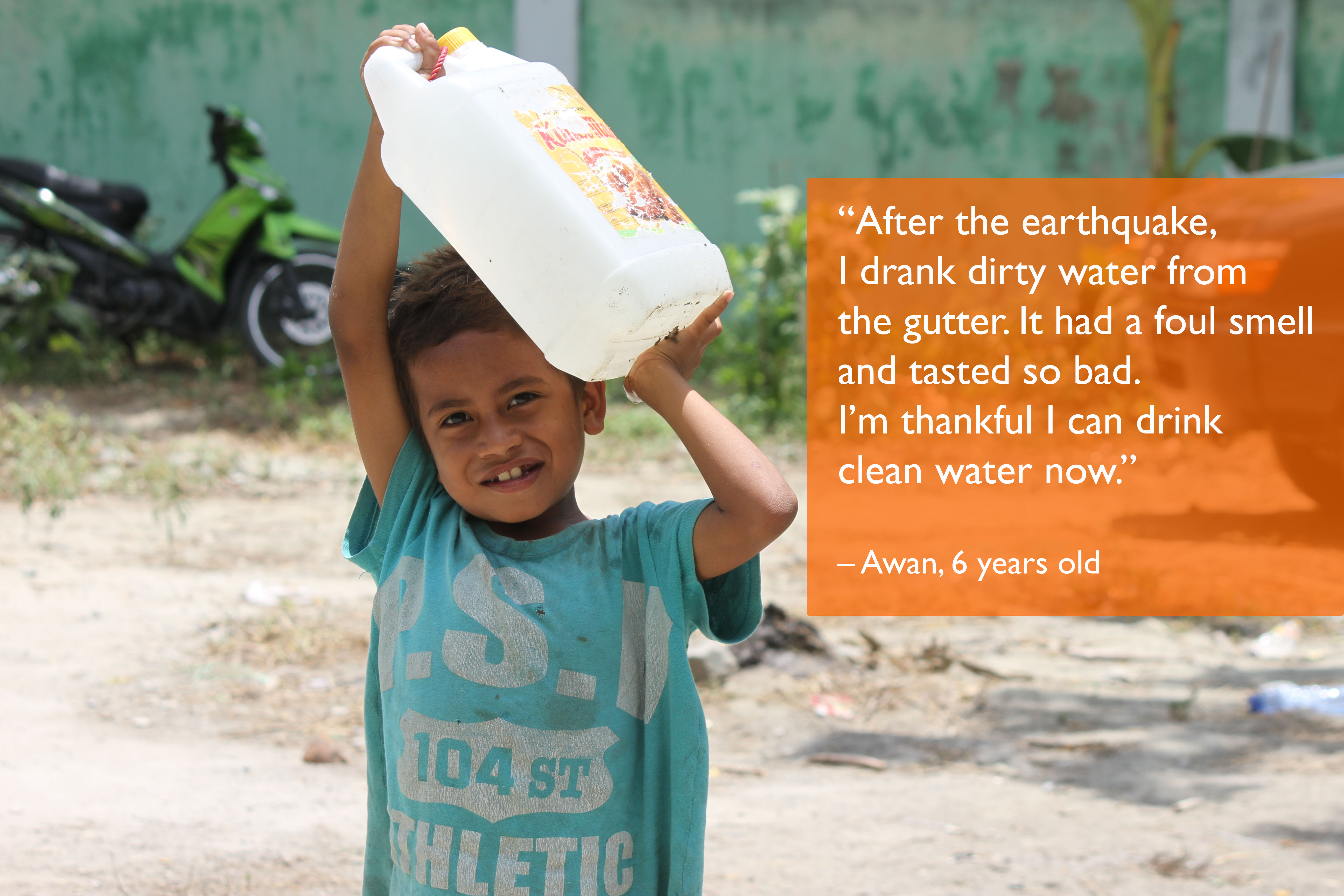 Our partner staff were on the ground immediately ready to distribute food, tarpaulins and blankets to those affected.
Three months on
See how your support has been helping three months on: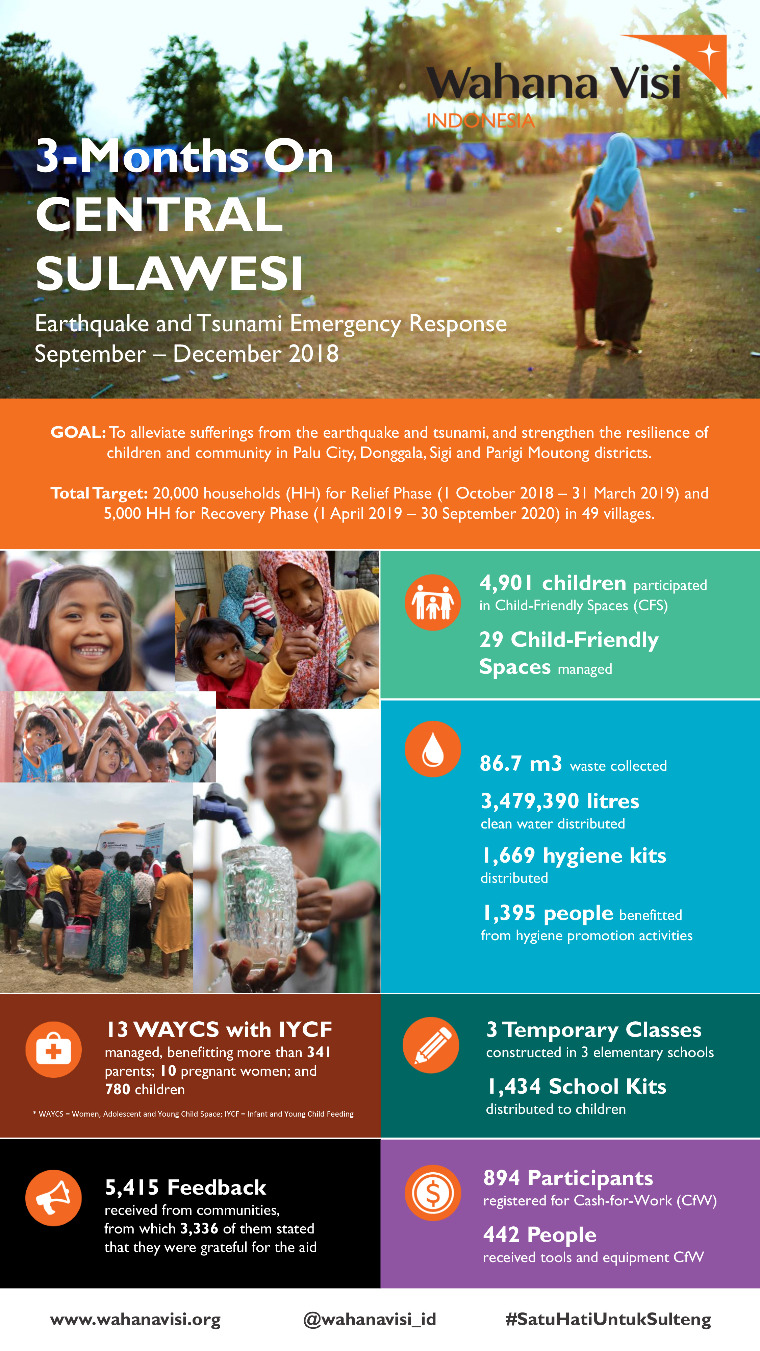 Three months after the disaster (as of 17 December 2018), World Vision's partner, Wahana Visi Indonesia is working closely with the Government of Indonesia and aid agencies to help people in Central Sulawesi province through a six-month initial response plan (until end March 2019). For the immediate relief phase, we helped to meet urgent humanitarian needs through child protection, food, health and nutrition, Water, Hygiene and Sanitation (WASH), and shelter, reaching over 20,000 households (around 100,000 people) .
Child friendly spaces
4,901 children joined Child Friendly Space (CFS) activities. We have set up Child Friendly Spaces in different locations that enable children to deal with the distress of witnessing the destruction caused by the earthquake and tsunami. These are safe spaces where children can continue learning, playing and just being children. We have opened 29 CFS in 24 villages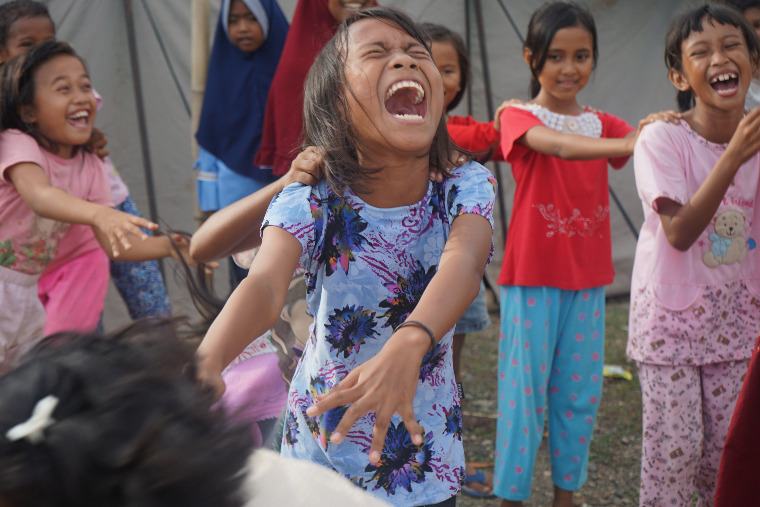 The joy of children while playing together in the Child Friendly Space (CFS).."Happy, I have a lot of friends here," Zulfikar said while playing in the Child Friendly Space.
Trained facilitators at the centre are also talking with children about disasters by sharing information on how to protect themselves from natural disasters and how to prepare for any future disasters.
Disaster relief
Through the disaster response, Wahana Visi Indonesia has provided:
21,182 people with food packages
39,098 people with family packs and shelter kits
10,912 people with access to clean drinkable water
infants and young children in 177 households with nutritional support
More than 4,000 children with access to Child Friendly Spaces.
Next steps
With generous funding from the UK public we are aiming to support 80,000 people (over the next two years) through food security, WASH, psychosocial support (basic services and protection), livelihood and disaster risk reduction.
With Disasters Emergency Committee (DEC) funding, in particular, from the UK public Wahana Visi aim to do the following during the 6-month emergency phase
7,000 children will be provided with school kitsv
4,700 children will receive hygiene kits, while latrines and hand washing facilities will be established in affected villages and internally displaced people's camps benefitting 10,000 people
Community health posts (called Posyandus) will be repaired and 13,600 people will receive emergency WASH, health and nutrition messaging through community health promotion campaigns.
Future plans
We are committed to providing ongoing support and assistance to these communities to support their recovery for the next eighteen months until September 2020, and then beyond this as long-term development programmes resume.
The monsoon season poses further risks. The soil condition is prone to landslides and loose mud. Boreholes have been damaged and are no longer operational, and in tsunami affected areas water sources have been contaminated. Rubbish is also piling up and can cause serious hygiene issues in the affected area. Wahana Visi Indonesia and UNICEF are conducting a clean and healthy life campaign in each evacuation camp.
WAHANA VISI INDONESIA BACKGROUND
Wahana Visi Indonesia has been working in Indonesia since 1998, covering 60 districts in 14 provinces It was already responding to an earthquake in August that killed more than 400 people in Lombok. Wahana Visi strives to bring sustainable changes to 2 million of the most vulnerable girls and boys in Indonesia through prioritising six types of intervention: health; quality education; child protection; social accountability and action on pro-child policies and regulations; economic development and resilience; and emergency response strengthening. We work closely with the government from national to village level and empower local partners to ensure the sustainability of the programmes.
STORIES AND BLOGS
Sunday 23, Dec, 2018
Aid agency World Vision has rushed an emergency crew to the area hit by Indonesia's deadly tsunami, which has killed at least 22…
Wednesday 10, Oct, 2018
Ten-year-old Olivia lost everything she owned during the Indonesia earthquake and tsunami - including her favourite toy.
Friday 05, Oct, 2018
"Living in a disaster-prone country like Indonesia, I'm not a stranger to scenes of grief, but the devastation brought by the re…