Supporting your child's emotional wellbeing in tough times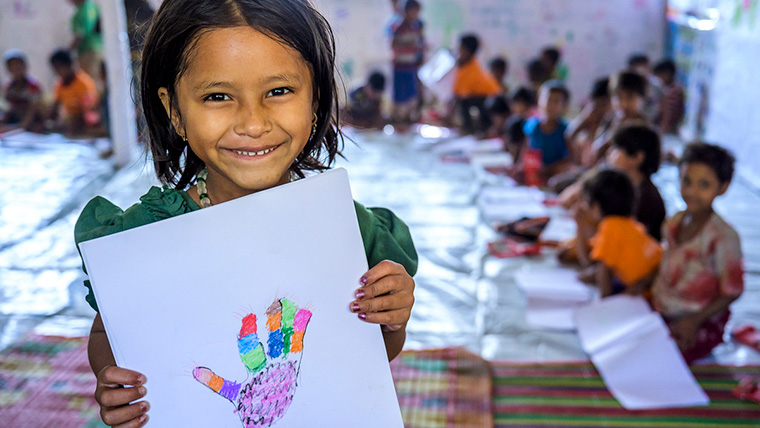 A World Vision survey of parents in the UK revealed that more than one in three UK children aged between five and 18 years old (36%) have felt lonely since schools were closed.  
The survey also shows that almost a third of parents have noticed negative changes in their children's behaviour since lockdown, including tantrums, nightmares, fighting and crying, as well as physical symptoms such as stomach aches.
Whilst the findings of this survey are cause for concern, there are many things which parents and caregivers can do to help children not just survive through this lockdown, but thrive. 
Download activities for children
Child-friendly help
At World Vision, we have decades of expertise helping children deal with the many challenging experiences, trauma and changes to their circumstances that some of the most vulnerable children have gone through.
Events such as natural disasters, the loss of parents, or being forced to leave everything behind because of war in your homeland, can cause immense stress on a child's mental wellbeing.
In such circumstances, it's important to help children connect with their emotions and understand how they feel at different times. And it's vital they can express these feelings to help the adults around them support them. 
World Vision's Child Friendly Spaces become a haven for children, giving them opportunities to leave their worries behind and become children again, to play, draw and create.
They are also given ways to explore their feelings through games and exercises which will help their mental wellbeing, and strengthen their ability to cope with life in the future.
At the centre, I felt relaxed. The most beautiful activity was the 'wheel of emotions'. I learned how to be happy through making new friends or to express my sadness [with pictures].
- Raaja, 13, used the Emotion Wheel at a centre for child refugees in Lebanon.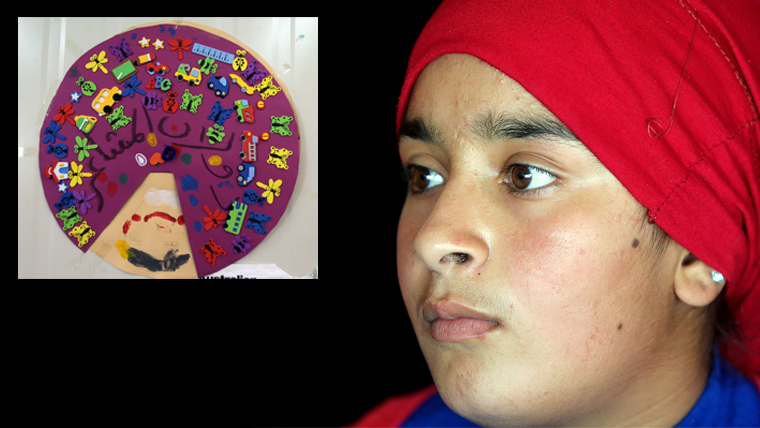 Helping children in the UK
We thought that families in the UK might find these activities useful too at this challenging time. We hope that they are helpful and would love to hear your feedback on our Facebook page.
This sequence of activities uses an emotion wheel to help children name their feelings and discover healthy ways to respond to them.
Emotion wheel activity set including:
Building the emotion wheel:

 This creative idea helps children own and name their emotions.

Emotions and behaviours:

 Help children become familiar with different kinds of emotions and how they can come out in actions.

Things to do when big feelings are in your heart:

 Learn helpful ways of responding to difficult emotions.
Managing my emotions: These calming activities, helping children to be aware of their feelings and to control their physical response.
 Use these activities as often as your children need them.
And please feel free to share them with other families who might find them helpful.
How they help
In our Child Friendly Spaces, we call this 'emotional learning'. It helps children in these ways:
Enable children to acknowledge and name their feelings.
Help children to understand that everyone has different kinds of feelings, and that emotions are neither good or bad.
Recognise other people's emotions.
Strengthen children's ability to help themselves to feel better when they are upset, sad or angry.
To realise that everyone can choose to respond in healthy and respectful ways to their feelings.
More children than ever are out of school right now. Too many of them will become vulnerable to exploitation and abuse. Find out what can you do about it.
Mark and Christine from Newcastle, met their sponsored child in India during lockdown. The virtual visit is a new way to meet your sponsored child. See how it went.
Renee became a child sponsor hoping to make a difference to a child in poverty. Read her story of how Child Sponsorship brings change and joy to her life too.
One way or another, children around the world are getting back into education. Find the top 5 reasons why it matters.