Pumpkin Heroes 2022
Free activities for kids this October half-term
Looking for free alternative Halloween kids' activities?
World Vision's Pumpkin Heroes is back, encouraging children to care for our world and each other. In this year's story, Patch the Pumpkin Goes Green, Patch, together with his friends, learns that looking after the world around us makes it a better place for everyone.  
The free pack is perfect for churches, primary schools and families. It comes with a storybook, video and lots of other fun-filled activities for your kids to enjoy this October half-term. 
Join Patch on a green adventure
Patch's Pumpkin Heroes pack is full of activities for children to have fun going green – not orange – this Halloween. 
The pack includes: 
Patch the Pumpkin, Goes Green

storybook and film.

 

Extra games and crafts in the handy guide for parents/leaders/teachers.

Activity sheet.

 
All are suitable for smaller groups, families at home or light parties. 
How, when and what you do for Pumpkin Heroes is up to you. On Halloween, 31 October, or during autumn half term, the choice is yours. You might want to plan an alternative Halloween event/party for your kids at church or school where you watch or read Patch the Pumpkin, Goes Green, play the games and do the activities and crafts.  
Check out World Vision's superhero Patch the Pumpkin's free Pumpkin Heroes pack, for children aged 4-10. 
"The Lord God put the man in the garden of Eden to care for it and work it." - Genesis 2:15, International Children's Bible
The effects of climate change are felt in many parts of the world. Climate change causes more natural disasters like tsunamis, droughts and floods, which are impacting so many people. But there are things we can do in our everyday lives that help care for the world and each other.  
Children can make a big difference
Climate change makes hazards such as droughts and floods more frequent and more intense, which causes problems for families like Anita's. 
Anita, 11, lives in an arid area in Kenya. 
Her family relies on maize farming since it is the country's staple food crop. But during dry seasons, the maize crops fail, causing the family to face hunger issues.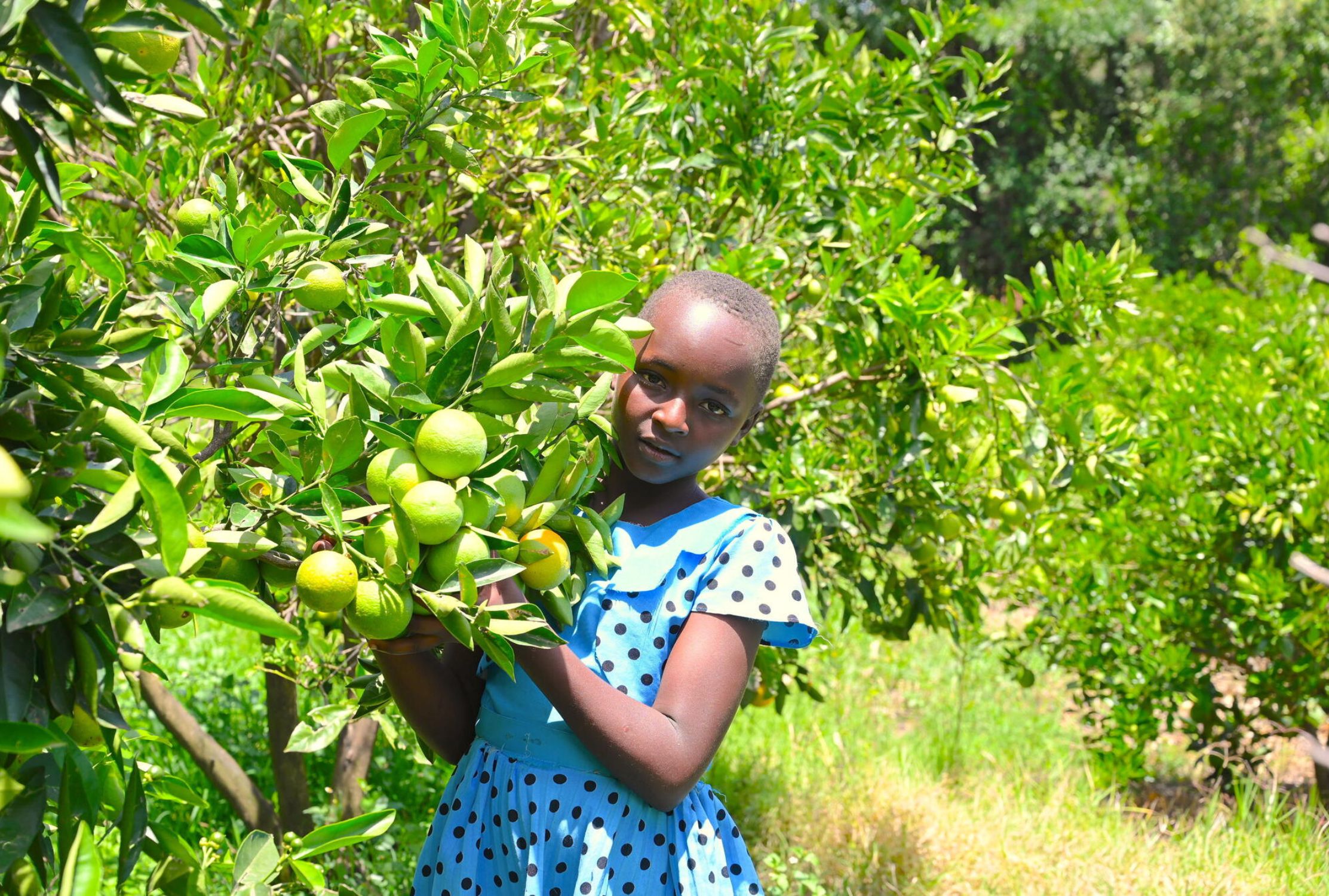 Anita had an idea
This challenge motivated her to embrace farming. She discovered effective agricultural practices from her dad, who learnt about climate-smart agriculture from World Vision.  
Her favourite subject at school is Science and Agriculture, which has increased her knowledge of the best farming practices. Thanks to these lessons, Anita can encourage her family to grow a wide variety of crops. 
"Instead of just maize, we now grow bananas, sugarcane and fruits such as apples and mangoes. We also have vegetables and sweet potatoes that provide us with different types of food. So, even if the maize does not do well, we will not sleep hungry because we have alternatives. My parents will also continue to get income from the other food crops," she says with a beaming smile. 
Anita has gone ahead to empower her siblings as well as other children in her community to embrace farming so that they can improve their resilience during droughts. 
"I remind children that even though we are young, we can still make a difference and improve our lives, as well as the lives of our family." - Anita
We support families like Anita's to be more resilient to the challenges they face when fighting climate change. 
How green can your kids be?
Patch wants your kids to get involved with the Be Green Challenge.  
We've come up with lots of ideas for how you can spend the autumn half term going green - perhaps these can become life-long challenges for the children too. With a special award from Patch the Pumpkin for caring for our world! 
We're seeing the effects of climate change on the world around us. But we can all join Patch the Pumpkin to care for our world and make it a better place for everyone. And your children can fundraise to help vulnerable children who inspire the stories in Pumpkin Heroes.  
This Halloween, why not challenge your kids to Be Green?