Our work: Empowering girls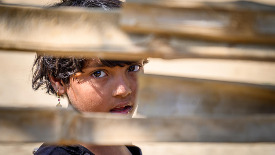 Today, 64 million girls are working.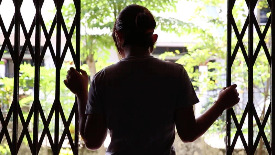 And 24 more girls are married every minute.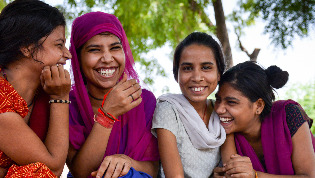 Girls who should be in school. Or playing with friends.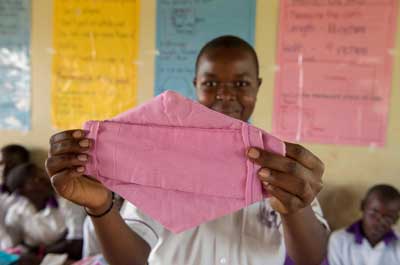 In school for every period
Traditionally, girls in Uganda, like Dorcas, 15, had to miss school whenever their periods came. Hygiene difficulties and bullying meant some girls even dropped out of school altogether. But now, as part of their Life Skills club, girls and boys are sewing reusable sanitary pads. Dorcas and her friends can go to school every day now – and the boys are much more understanding.
Sign-up to hear more about our work with vulnerable children.

Empowering girls, changing futures
When a girl is educated - and empowered to know their rights - she's twice as likely to send her own children to school.
Girls with eight or more years of education are four times less likely to be married young.
With your support, girls can build a future to look forward to and enjoy opportunities they could once only dream of. We actively empower girls and women throughout our work, fighting against discrimination, abuse and oppression. We work together with community leaders, teachers, families and girls themselves, to provide support and awareness ensuring they have equal access to education, skills, opportunities, choice and the promise of a brighter future.


Education
Education is the key to unlocking girls' potential and creating brighter futures; not only for themselves, but also their families and future generations. 
We aim to see girls able to go to school, on time, safely. And to be supported well, both in school and at home.
Our IGATE project in Zimbabwe has helped 48,997 girls get a better education so far - by working with the whole communtiy, challenging gender assumptions, building school toilets and providing bikes. 



Health
Girls shouldn't have to miss a week of school every month because of their periods. We ensure schools provide appropriate toilets, giving girls their dignity and privacy, so they can continue to learn.


Protection
We work with mother - and fathers - to train, inform and support them, to support their daughters. We highlight girls' rights and the importance of education, while also making parents aware of the damage that child marriage and FGM can do to their girls'.
One of our children's forums in Bangladesh has already been able to stop 22 child marriages.
Livelihoods
Period poverty is a global thing. If girls can't afford sanitary protection, they're forced to miss school. We work with families to improve their incomes - so they're able to provide for their daughters. And we give girls (and boys) and parents the skills to make (and sell) re-usable sanitary towels.

One project in Ghana helped women in 145 communitiesto earn a better living. Their incomes doubled and education for girls increased by 50%.
Water
Collecting water for the family is traditionally a girl's job in many communities. By providing clean water, close to home, girls have more time and energy for school, homework and playing. And they're safe from the dangers that can too often lurk along those long water treks.