Sponsor a child for Christmas
Help a child in need this Christmas, give a gift that lasts a lifetime
We're sorry, none of our children match your search at the moment.
Maybe you'd like to sponsor one of the children below instead? Alternatively, you can try a different search or call our Supporter Care team on 01908 84 10 10 who can help you with your original search.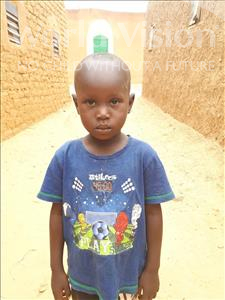 Hello, my name is
Tahirou
Sponsor
Tahirou
Gender: boy | My age: 6 |
My home: Sirba, Niger
My birthday is on the 1st January and I have 2 brothers and 2 sisters. My favourite game is playing football. In Sirba life is hard for children like me. But sponsor me today and you can help change my life.
Every child is precious and brimming with potential. But too many are suffering.
This Christmas, you can transform a child's life by giving the gift of sponsorship.
No child should go hungry, sleep without a roof over their head, or drink dirty water. We believe all children are a gift and deserve to be safe, cared for, and go to school. That's why we work tirelessly around the world to bring this vision to life. So far we've impacted the lives of over 200 million vulnerable children by tackling the root causes of poverty.
When you sponsor a child for £26 a month, you help their family and other vulnerable children live in a healthier, safer community. 
When you sponsor a child, you'll change their life - and yours too. You'll get letters and photos from your child and see the transformation in their community. By becoming part of your sponsored child's life, you'll experience first-hand the joy of watching them grow and reach their true potential - thanks to you.
Experience this life-changing journey and sponsor a child today.
How does child sponsorship work?
When you sponsor a child this Christmas, you'll be their only sponsor.  You'll get to know each other through letters and you'll receive drawings, videos, and regular updates about their progress and the work in the community. As a sponsor, you'll experience the following: 


Choose a child to sponsor
On our website you can see all of the children that are waiting to be sponsored. You'll see their age, birthday, home country, and their hobbies, so you can choose a child from a country you feel a connection with, or who's the same age as your own children.


Receive a welcome pack
When you first decide to sponsor a child, you'll receive more information about them, as well as photos and maybe even a greeting video. You'll also receive a set to help you write to your child and friendship bracelets - one for you, and one for you to send to your sponsored child.


Bond with your sponsored child
Throughout your time as a sponsor, you'll receive handwritten letters and drawings from them, created especially for you. You can send them letters, or emails, and we'll send you birthday and Christmas cards to fill out and pass on.


See their life change
The most extraordinary thing about child sponsorship is seeing the difference that your donation is making. You'll see them grow through photos, their writing improve in their letters, and you'll see the progress of our work to transform the community.


Water
You'll provide access to safe water through well-drilling, pumps, and training in hygiene and sanitation decreases child mortality and frees up time for education instead of water collection.


Food
World Vision goes beyond food distribution but also focuses on creating sustainable food supplies through agricultural programmes and nutritional training. Healthy children have more energy for life.


Healthcare
Your sponsorship provides access to things like medical clinics, vaccinations, training in disease prevention and other healthcare programmes.


Education
Books, uniforms, classroom repairs, and training for teachers and parents provide your sponsored child with opportunities for the future.
Sponsoring a child changes two lives - the child's and yours
Meet our sponsors - see how child sponsorship has changed the lives of long-time sponsors Harriet and Shemi, and actor Amanda Redman.
Actor and ambassador Amanda Redman began sponsoring with World Vision in 1997 when her daughter Emily was 9. Emily and their sponsored child Diaw developed an incredible bond as they both grew older.
Shemi and her family have sponsored two children over the course of 14 years. Her and her children have loved receiving letters and finding out about the lives of Racheal and Vincent as they grew up.
Harriet began sponsoring a child over ten years ago. Even with two young children she finds it rewarding to see her sponsored child grow and learn through letters and photos.
Frequently Asked Questions