Child hunger: Why do children go hungry?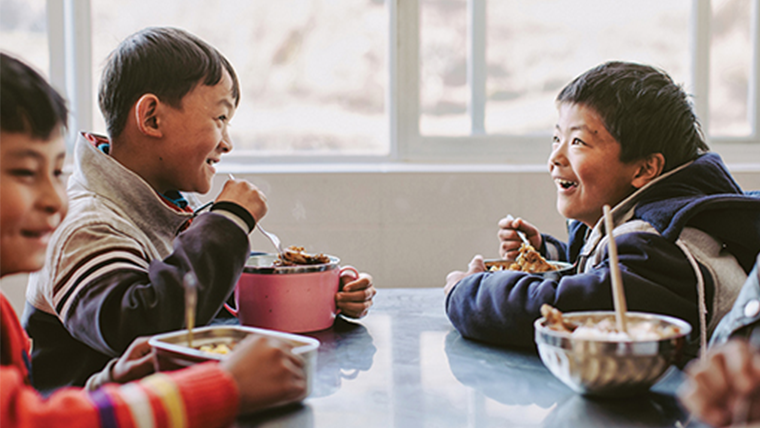 Why are children going hungry?
The answer is a simple, yet deviously complex one: Poverty
Globally, 265 million children are missing out on school meals right now.
Every day, families around the world have to choose how to use the little money or resources they have. Pay the rent? Keep the electricity on? Get their medication? Buy healthy food for 3 meals a day for the whole family?
Poverty has so many complex causes and affects every aspect of family life.
Here are just a few:
sudden unemployment (how many redundancies have you seen in 2020?);
a rise in the cost of living (rent, food prices etc), which means money won't stretch as far;
an emergency (such as a natural disaster or conflict) forcing you to leave your home or workplace – or both;
Insufficient – or non-existent – welfare system;
Loss of the family breadwinner (whether through death or separation), leaves – most often – mothers with simultaneously a much larger financial burden and less free-time to earn a living.
Often, families facing poverty are experiencing a combination of these – and other – factors.
And in 2020, a growing number of families at home and abroad are dealing with at least one of the above. It could happen to anyone.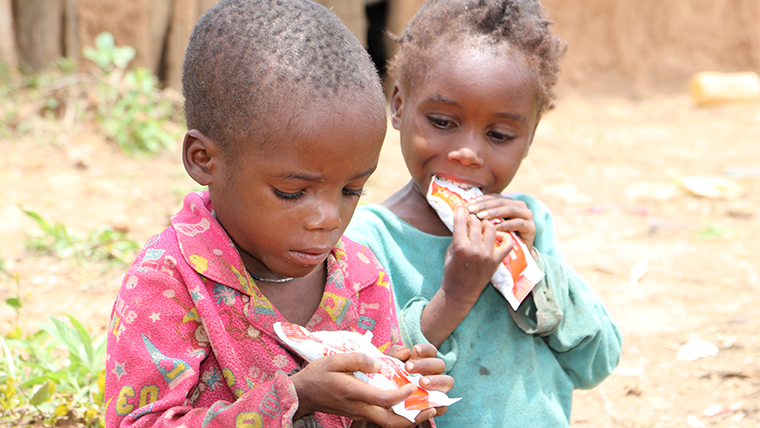 Pedro (left) and Teresa (right) in Angola, eagerly eat Plumpy'Nut nutritional paste, just a day after they were diagnosed with severe malnutrition (2020)
5 effects of hunger on children
Malnutrition: There are many forms of malnutrition. In essence, it's the physical effects caused by not having enough nutrients for healthy growth. This can be due to a lack of food, eating foods that aren't nutritious or certain illnesses. Malnutrition can affect children in several ways, including; stunted growth (if this happens before the age of three, the damage can be reversed with treatment. But after that, it's irreversible)  and, in case of sudden and severe lack of food, wasting.
Impaired development: If a child doesn't take in enough micronutrients, their intellectual and physical development can be harmed. This can cause lifelong disability. developmental delays and mental disorders. For example, iron is key in a baby's brain development, as is iodine. An iodine deficiency before birth can cause irreparable brain damage.
Low immune system: Higher risk of other diseases.
A stunted future: By stunting brain development, making it hard to concentrate over an empty belly or repeatedly keeping a sick child from school, hunger robs a child of a good education – and limits their prospects for the future.
Reinforcing poverty: If a family has to use the resources they have on health costs, they'll have even less for housing and food.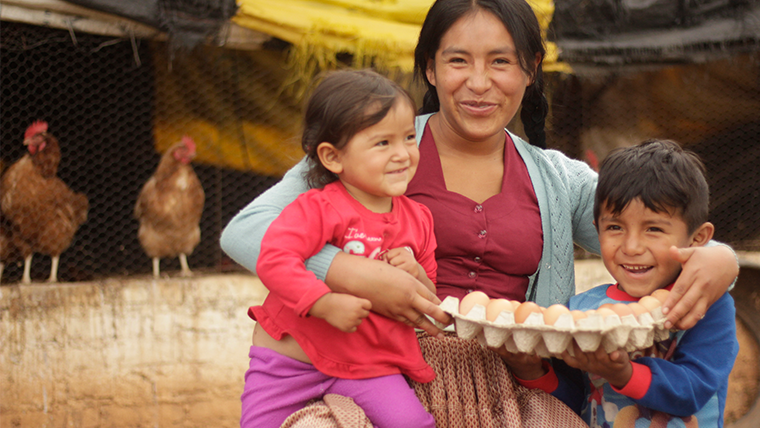 How can I help?
World Vision has been working with vulnerable children and families for more than 70 years. We know that there is no one-size fix for poverty. Instead there are often many things that need to change or improve.
Over the last five years, 89% of the severely malnourished children we treated made a full recovery.
We're currently in almost 100 countries. And while we don't have programmes in the UK, many of the methods we use can work here too.
When it comes to keeping children fed and healthy, here are some of the ways our communities are helping each other:
Community kitchens: community members come together to share resources and recipes, feed their more vulnerable neighbours and build stronger relationships.
Vegetable gardens: families – and even schools – grow fresh, nutritious fruit and vegetables to feed and nourish their children with.
Parents' groups: meeting together to share tips, recipes and experience.
Better family incomes: through training in a new skill or strengthening their business practices.
Savings and Loans groups: small groups each contribute to a pot every month. They're able to take loans from this fund and pay it back at low interest. In some of the communities we work with, successful groups have been able to help families in their area hit by hard times. Similar community savings groups and credit unions have been growing here in the UK over the last few decades.
School meals: making sure all schoolchildren can have at least one nutritious meal a day.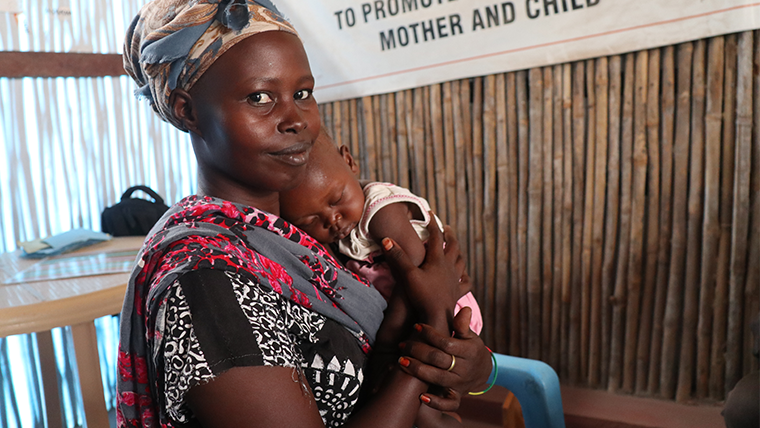 In South Sudan, mother Hanan Mahamud, 27, takes part in a nutrition session with her baby.
Child hunger in the UK
Over the summer in the UK, approx. 1.7 million children – that's 12% – didn't always know where their next meal was coming from.
World Vision works in the toughest places around the world. But we know that children everywhere are vulnerable to the effects of poverty – especially in a crisis.
Our methods and projects work because they bring communities and experts together – finding out what the main issues are, and what support families would like.
Perhaps you can start something similar in your community?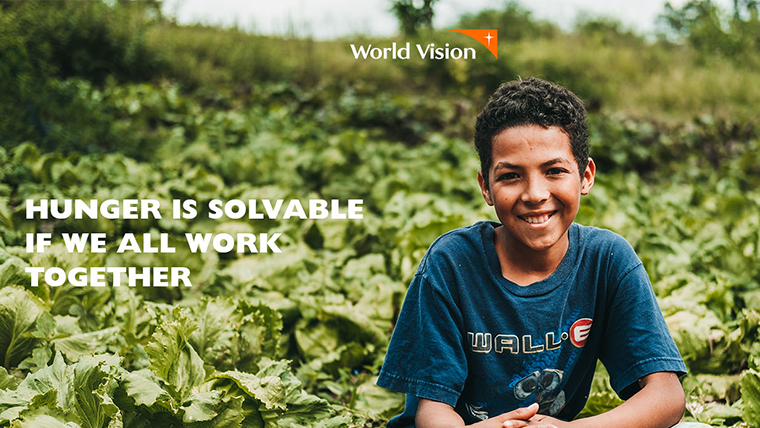 More children than ever are out of school right now. Too many of them will become vulnerable to exploitation and abuse. Find out what can you do about it.
Mark and Christine from Newcastle, met their sponsored child in India during lockdown. The virtual visit is a new way to meet your sponsored child. See how it went.
Renee became a child sponsor hoping to make a difference to a child in poverty. Read her story of how Child Sponsorship brings change and joy to her life too.
One way or another, children around the world are getting back into education. Find the top 5 reasons why it matters.