Bears On Stairs
700 children flee conflict in South Sudan and cross over the border into Uganda every week. Alone, sick or separated from their parents.



Bidi Bidi refugee settlement in Uganda is now the largest in the world. The majority of children arriving there have witnessed their parents killed, or have no idea where they are. Many walk for more than a week with no food. They reach the settlement terrified and with no one to turn to for help.


On 27th July 2017, 700 teddy bears arrived at the steps of St Paul's in London to raise awareness of the plight of South Sudan's children.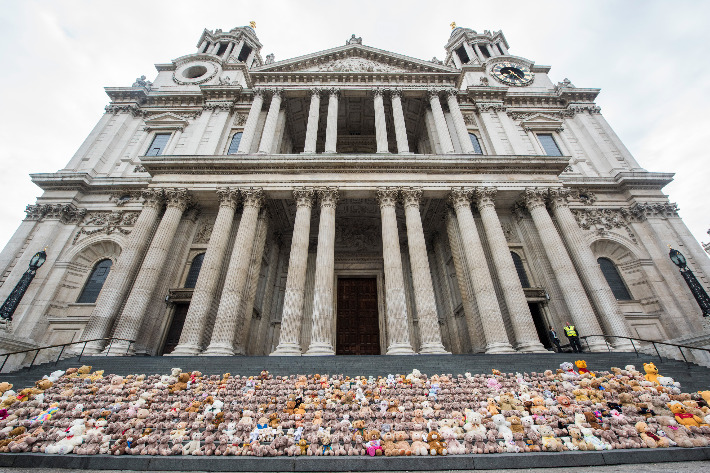 With conflict still raging in South Sudan, thousands more children continue to cross the border into Uganda – most of them have absolutely nothing – not even toys to play with.
In December, the 700 bears embarked on a 6,000-mile journey to the refugee settlements in northern Uganda to give the children a little bit of Christmas joy.

We asked people to show their support by taking a picture of their Bears on Stairs and sharing it using the hashtag #BearsOnStairs.
Stories & Blogs
Monday 18, Mar, 2019
Christine Ngbaazande from Yambio has been awarded a coveted humanitarian honour at the Bond International Development Awards in London.
Tuesday 19, Jun, 2018
Jacob is 17 years old. He should be enjoying school and thinking about his future, but instead his short life has been marred by struggle.
Thursday 14, Jun, 2018
As the World Cup gets underway, we visit a group of girls in South Sudan using the beautiful game to make a difference.
South Sudan Refugee Appeal
Conflict and a terrible famine in South Sudan have forced hundreds of thousands of families to flee their homes.