Amika George calls for global action to end period poverty after Zambia trip
UK activist Amika George is urging world leaders to stamp out period poverty after visiting a World Vision menstrual hygiene project in Zambia.
Amika says: "A 14-year-old girl in Kenya killed herself last week after a schoolteacher period-shamed her in class. This terrible incident should be a wake-up call for the world. Period stigma is not a trivial issue or simply a matter of insensitivity.
"Governments everywhere need to step up their efforts and consign outdated attitudes towards menstruation to history. They need to implement sustainable solutions to period poverty and educate men and boys about this natural process."
Amika launched her Free Periods campaign against period poverty in the UK in 2017. The teenage campaigner successfully lobbied the UK government to provide free menstrual products in schools and colleges earlier this year. She is now calling on other governments to follow suit.
Amika says: "Period poverty is a global problem and it requires a global effort. Governments across the world must stop ignoring or downplaying this issue and start taking urgent action.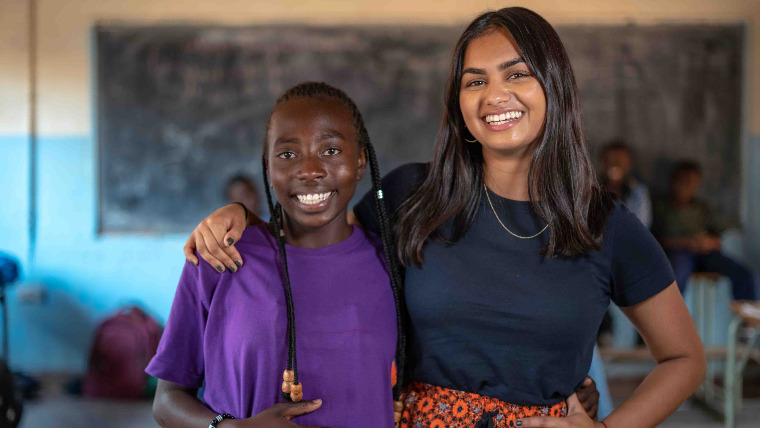 In August, Amika visited World Vision projects in Zambia, where children and their families learn to tackle the stigma around menstruation. They also make reusable period pads that last for more than two-and-a-half years and are environment-friendly and cost-effective.
"I've seen first-hand from my trip to Zambia how lives are transformed when menstrual myths are dispelled and communities come together," Amika explains. "Those who suffer from period poverty are no longer shamed or isolated. Instead, they are empowered and given the tools to thrive and become who they want to be."
"What we have achieved in the UK is encouraging, but my work is far from over," she explains. "I will continue to highlight this issue and ensure that communities and governments work together, so that tragedies like this one never happen again," Amika concludes.
Amika George visited Zambia in connection with World Vision UK's 1,000 Girls campaign, a movement to sponsor 1,000 Girls by International Day of the Girl on 11 October.
The foreign secretary's speech today reinforced the government's broken promises on overseas aid and its failure to stand with the world's poor at a time of global crisis.
The Government has today broken its promise to the world's poor by cutting back support at a time when more is needed.
Violence seen and experienced by children has surged worldwide during the COVID-19 pandemic, new research by international aid agency World Vision has found.
Coronavirus has brought significant challenges to the UK's economy, but cutting  the aid budget – which will be devastating for the world's poorest and most vulnerable – is not the solution.