Every step you take is one she won't have to…​
Run or walk at the Global 6K for Water to help build a world where more children have access to clean drinking water. ​

Register to take part in an event hosted by your organisation, church, school or community group, or join one of our events:
Saturday 4 May – Richmond Park, London
Saturday 11 May – Willen Lake, Milton Keynes

Register NOW for FREE and get your free T-SHIRT whilst stocks last.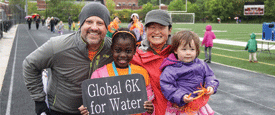 Our events
Saturday 4 May
Richmond Park, London
Saturday 11 May
Willen Lake, Milton Keynes
You'll find here all the information you need about the events and resources to promote your own event.
Why 6K?​
Six kilometers (or 3.7 miles) is the average distance people – usually women and girls – walk to get water for their families in the developing world. Often, the walk is dangerous, children miss school, and the water is dirty meaning children get sick. ​
Helping children like Cheru​
Five-year old Cheru from Kenya walks everyday to fetch water from a dirty source. Watch her video to see the challenges she faces when fetching water and how you can make a difference.