Skip to Content
Give girls a future to be proud of
Your gift today will help vulnerable girls to thrive and reach their full potential tomorrow.
Empowering girls for a brighter future
Today, 31 million girls are out of school. And nearly every two seconds a girl is married….
Yet when a girl is educated and empowered to know their rights she's twice as likely to send her own children to school. Girls with 8 or more years of education are 4 times less likely to be married young.
With your support, girls can build a future to look forward to, and enjoy opportunities they could once only dream of. We actively empower girls and women throughout our work, fighting against discrimination, abuse and oppression. We work together with community leaders, teachers, families and the girls themselves, to provide support and awareness ensuring they have equal access to healthcare, education and the promise of a brighter future. We aim to reach over 1 million people including 668,000 girls over the next three years through our programmes.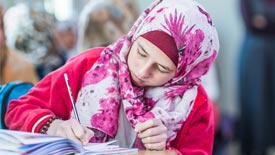 Education
Education is the key to unlocking girls' potential and creating brighter futures for not just themselves, but also their families and for future generations. If all mothers had completed primary education, maternal deaths would be reduced by two-thirds, saving 98,000 lives a year. We work to improve girls access to education as well as the quality of the education they receive. Seeing girls getting to school safely and once they are there, learning to the best of their ability.
You can… give girls an education and a future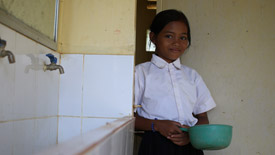 Girl-friendly toilets
Girls shouldn't have to miss a week of school every month because of their periods. We ensure schools provide appropriate toilets, giving girls their dignity and privacy, so they can continue to learn. We also provide schools with clean drinking water, so children can quench their thirst at break time, making sure they can concentrate in class.
You can… keep girls safe and protected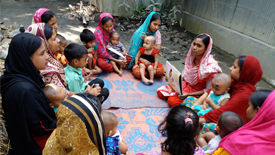 Mothers groups
We form community groups through which we can train, inform and support mothers. Learning together how to spot the signs of malnutrition, gaining new skills such as tailoring and grasping the chance to voice their concerns and have their say in community life.
You can… give women the skills to provide for their families
---
£214 could provide 30 teachers with training support including manuals, ensuring girls receive the best possible quality education when they're at school.
£750 can set up a mothers' group, providing a safe place for women to share knowledge and learn new skills together. Including how to run their own business, keep their babies healthy and advocate for their rights.
£2,500 could enrol 100 girls onto our mentorship programme, empowering them to know their rights, to support them through school and make the right decisions when they leave school. Seeking to grow up as active leaders in their community, they can advocate for a better future for both themselves and their communities.

Back to top